AboutTOKYO SEEDS PROJECT

2018
The second Tokyo Seeds Project was held over a nine-day period from October 17 to 25, 2018, with six designers invited to explore areas around the Yamanote line.
We divided the teams into Ikebukuro, Nippori and Hamamatsuchō areas so that the designers could explore each area in greater detail, as an improvement from the previous year.
Employees from each station accompanied the designers, providing them background information on the areas and introducing them to locals, making this a truly personalized, once-in-a-lifetime experience.
2018
designers
teamIKEBUKURO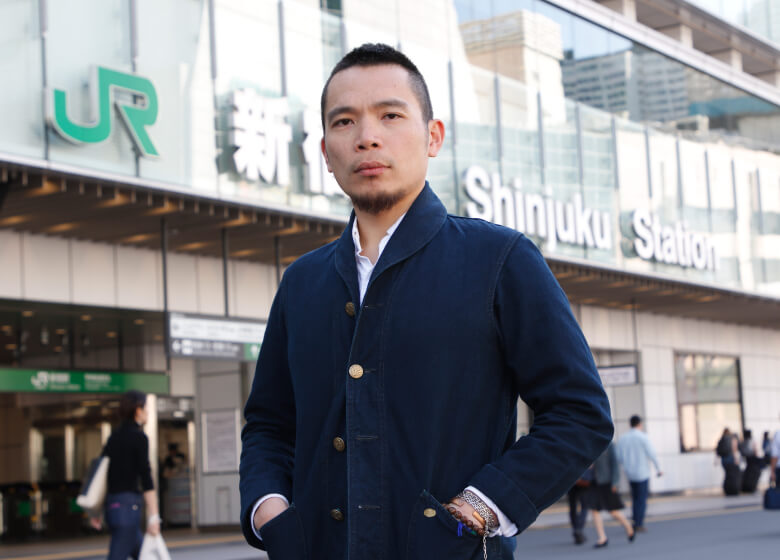 Australia
Wing Lau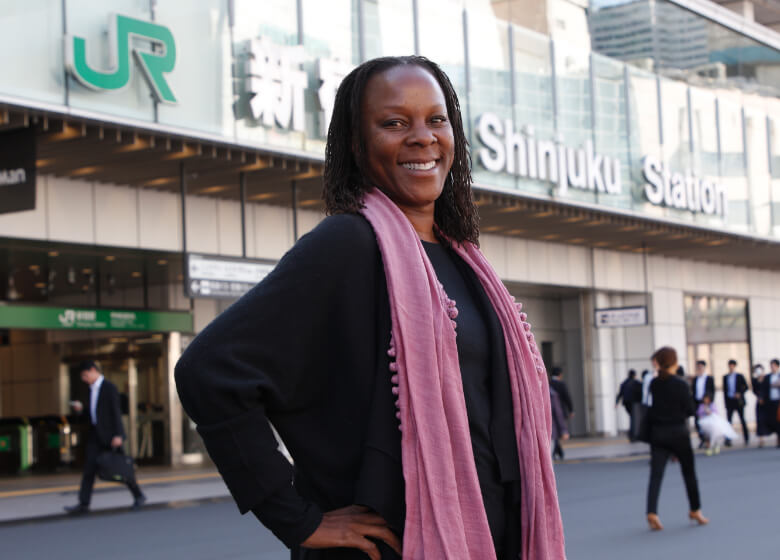 Uganda
Bathsheba Okwenje
teamNIPPORI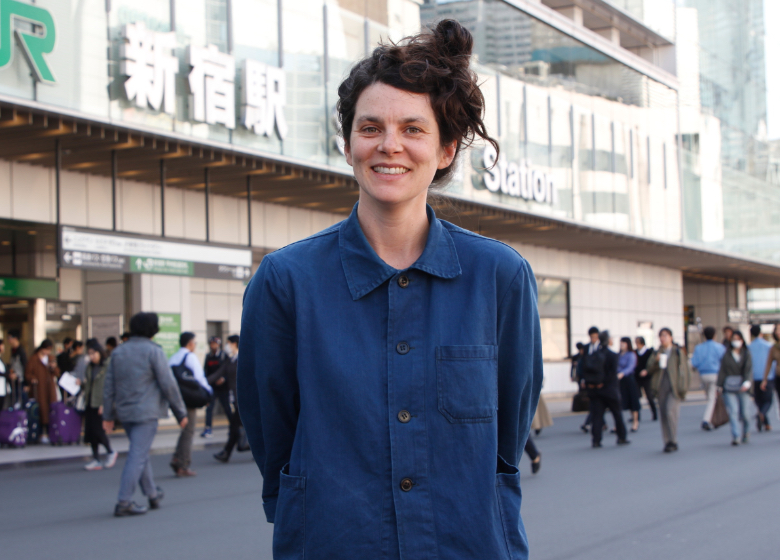 USA
Nicole Lavelle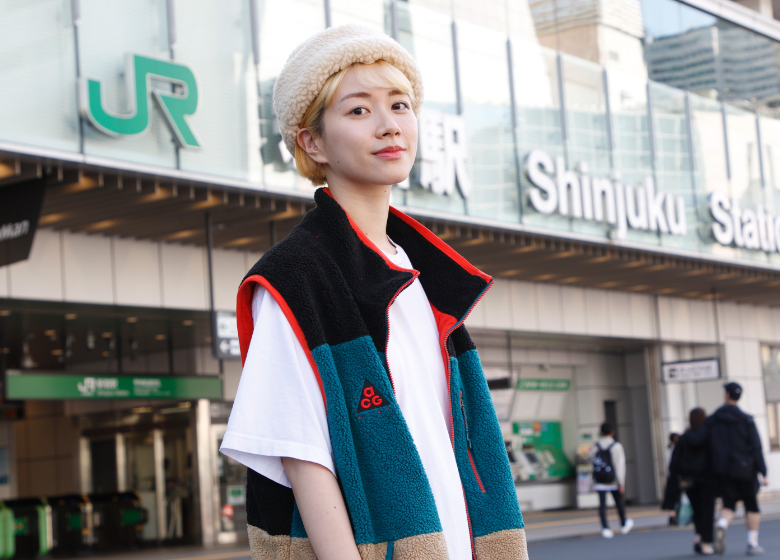 Taiwan
Pip Lu
teamHAMAMATSUCHŌ

Ireland
Karl Toomey

Brazil
Fernanda Queiroz
2018
schedule
Schedule
Program
10/17
Overview (attended by all designers)
10/18・19
The designers split into three teams for two days, with each team exploring one area around the Yamanote Line in detail.
10/20〜24
Field research
Research and creative work
10/25
Promotional design presentation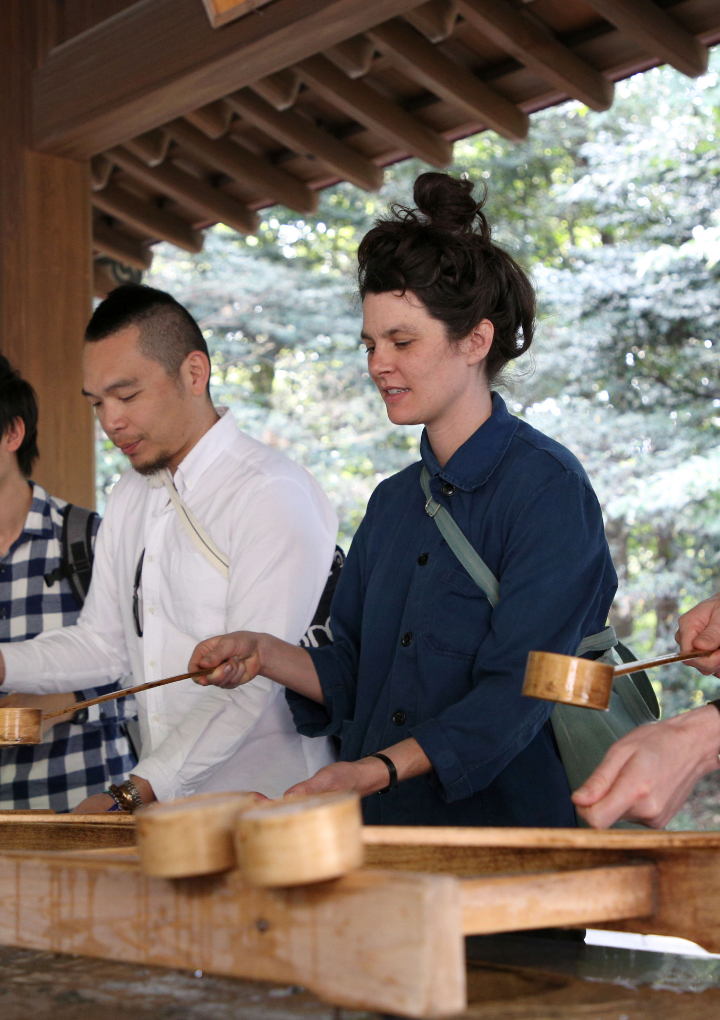 TOKYO SEEDS PROJECT
2018
The designers split into three teams for these two days,
with each team exploring one area around the Yamanote Line in detail.
They then presented their findings.
IKEBUKURO
Trying the aerial VR experience at the Sunshine 60 Observatory

Visiting the head office of the MUJI retail chain with Akira Nakajima, who leads community activities in the area. Wing and Bathsheba asked him about the corporation's initiatives to contribute to the community.

Participating in a tea ceremony lesson at the Omotesenke teahouse. Wing and Bathsheba learned about the spirit and strict rules of this traditional practice.

Visiting Kishimojin in Zoshigaya. Wing and Bathsheba learned the origin of Kishimojin's name and were fascinated by its rich history.

Outside Sheena & Ippei, Our accommodation in Shiinamachi. This was originally a tonkatsu restaurant before being converted to a guesthouse. Everything about it wowed our Ikebukuro team.

At Rikkyo University. Wing and Bathsheba were shown around the enriching campus by current students.

At the redesigned Minami-Ikebukuro Park. Wing and Bathsheba experienced the latest ways to make use of public spaces.
Itinerary
10/18
Sunshine 60 Observatory
MUJI (Ryohin Keikaku) Head Office
KAKULULU
Hinode Factory
Riddle.
RYOZAN PARK
Rakusuian(Tea ceremony lesson at Omotesenke Teahouse)
Toden Arakawa Line
Onigiri Bongo
Kishimojin (Nichiren Buddhist service)
10/19
Sheena & Ippei
Rikkyo University
Minami Ikebukuro park
Tour of the Ikebukuro Station
Izakaya Enza
Presentation
Please note that the ideas in this presentation and words here are suggestions by the participating designers.
Implementation of these ideas is not guaranteed.
LIKEBUKURO
Fall in love with Ikebukuro
Using the strategic idea "Let's fall in love with Ikebukuro" as the basis for the proposal,we've arrived at a long term town development vision activated with the phrase "Like-Bukuro".
This idea is visually demonstrated in the campaign identity "LIKEBUKURO" with an additional letter "L" placed in front of "Ikebukuro", accompanied by a tailored Tone-of-voice approach.
The proposed creative utilize the high traffic, highly visible outlets at the station.
DESIGNER
Wing Lau
Born and raised in British-HK, resides in Australia, Wing Lau is proud to be cross-pollinating idea and craft in the cross-cultural, multi-lingual domain, partnering with clients to launch visionary business ideas, communicate meaningful purposes and build memorable identities. With 10+ year experience, Wing has worked with leading agencies including Re Agency, M&C Saatchi, Frost*collective and the ONE Centre, handling projects for clients like Woolworths, Australian Broadcasting Corporation, Commonwealth Bank, Optus to name a few. Between 2008-2011, Wing has been a sessional academic at UNSW Art& Design. In 2016, his work is included in "The Typography Idea Book: Inspirationfrom50 Masters".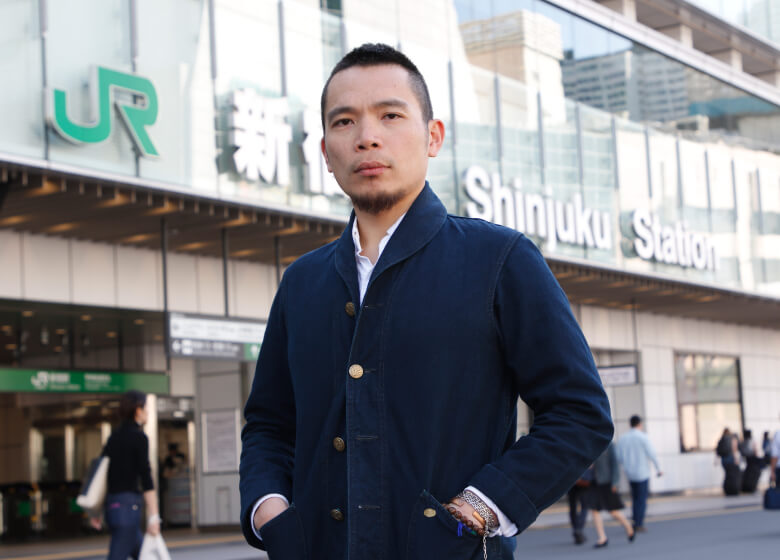 Australia
Ba
Wandering around the neighbourhoods that surround the Ikebukuro station, I was struck by a sense of isolation. It appeared there were hardly any spaces to fostertogetherness and community building. My proposal was for JR East to view the secommunities as an extension of the Ikebukuro Station and to take the JR Eastmandate of enriching lives as well as the Suica Technology out of the stations and into these communities. I proposed that they take over some of the abandonedbuildings and fill them with the vast resources at JR Easts disposal, turning the buildings into communal spaces: Engawa, Ochakko, Ichibi, Omoide.
DESIGNER
Bathsheba Okwenje
Bathsheba Okwenje is a Ugandan artist living in Rwanda. Her practice involves interdisciplinary research and creation at the intersection of information practices and aesthetics. Her work investigates hidden histories, the interiorlives of people and the interactions between them. Bathsheba spent 16 years working with the United Nations on global and regional, rights-based responses to the HIV epidemic and health inequities. She is a member of the artist collective Radha May. She received her MFA from the Rhode Island School of Design. She is currently a Visiting Fellow at the LondonSchool of Economics working on a radio drama and an artist book about love in the after math of war in Northern Uganda.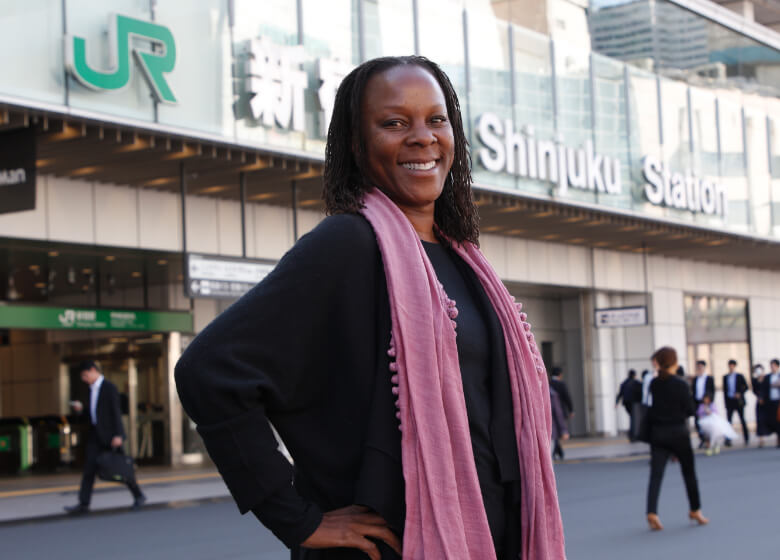 Uganda

NIPPORI
As the gateway to Narita Airport, Nippori Station sees many visitors from overseas. We hear all the details.

Walking through Nippori Fabric Town. This was an exciting experience for our two fashion-loving designers!

Nicole and Pip took a bus trip to Kappabashi Kitchenware Street. There are so many interesting stores to see here!

The torii gates of Nezu Shrine. It's hard to believe this is so close to such a busy railway line.

Kiri, a restaurant in Nippori that specializes in eel dishes.

Making candy at Amezaiku Yoshihara. This was tricky!

Watching one of the many trains from Nippori Train Museum.
Itinerary
10/18
Tour of the Nippori Station
Nippori Fabric Town
Toei Bus
Oku-Asakusa walking tour
Kappabashi Kitchenware Street.
Izakaya Bandai
Nippori Saito-yu
10/19
hanare
HAGI CAFE
Nezu Matsumoto
Isetatsu Yanaka Flagship Store
Kiri Yanaka Flagship Store
Amezaiku Yoshihara
Yanaka Ginza
Yuyake Dandan
Ueno Sakuragi Atari
Presentation
Please note that the ideas in this presentation and words here are suggestions by the participating designers.
Implementation of these ideas is not guaranteed.
GUEST HOST
When I came to Japan for the first time, I was a tourist. I saw the things you are supposed to see, but it was a bit of an isolating experience. On my trip for TOKYOSEEDS, it was totally different. I had been invited, I had a host, I was a guest, and I had a transformative experience immersed in the omotenashi of My proposal for JR East suggests that we can rethink the local-tourist binary as more of a guest-host relationship. This abstract concept manifests in Nippori station and itssurrounding neighborhoods in tangible forms like: a staff vacation for Nippori stationJR employees, to learn more about the neighborhoods and become hoststhemselves. An artist residency for international textile artists on the Fabric Street, who would be connected to art student interns and invited to do pop-up shops and installations in the train station; a cultural textiles hub called QUILT HOUSE toconnect visitors with artisans and elders with youth; and a re-branding of NipporiStation to "Fabric Station" to mark it as a gateway to the Yanasen neighborhood, a rich quilt of cultural and artistic energy.
DESIGNER
Nicole Lavelle
Nicole Lavelle is an artist and graphic designer who lives in the woods in NorthernCalifornia. She works for large technology corporations and small arts and culturenon-profits in the Bay Area and beyond. Her work engages people, place, paper, language, and landscape. She practices intuitive research, she is obsessed with her community, and she is compelled by visiting.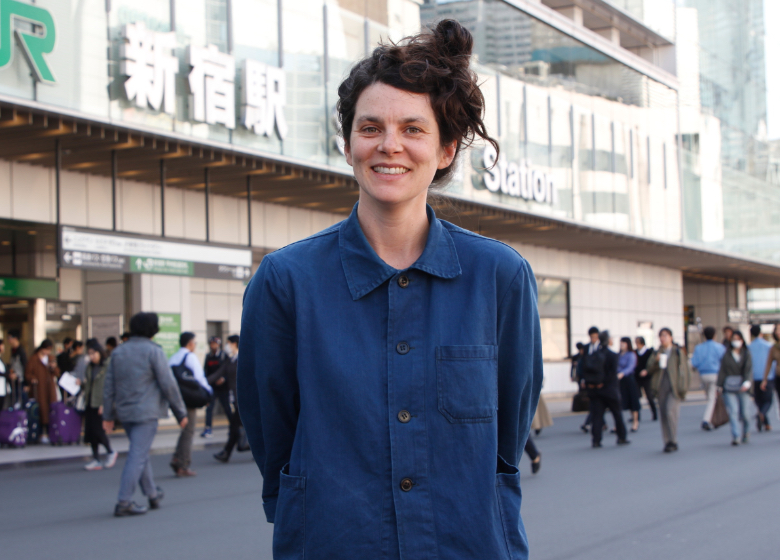 USA
TV Reality Show
JR has already done many things in different areas,and it looks perfect from the outside. When aseemingly perfect big company like JR invited me for this project, I was very surprised, so I decided to think out of the box to come up with wild ideas that JR has never done before. I am proposing an idea that JR can become a pioneer, and that idea is a reality TV show.
DESIGNER
Pip Lu
She is a graphic designer also an owner from O.OO Risograph& Design ROOM .O.OO is a design studio based in Taipei, Taiwan, run by Pip Lu and Forty Liu, Since opening they have been offering Design and Risograph printing solutions. She believe that with every new project or challenge, they can uncover solutions, and discover the possibilities of Design and Risograph printing.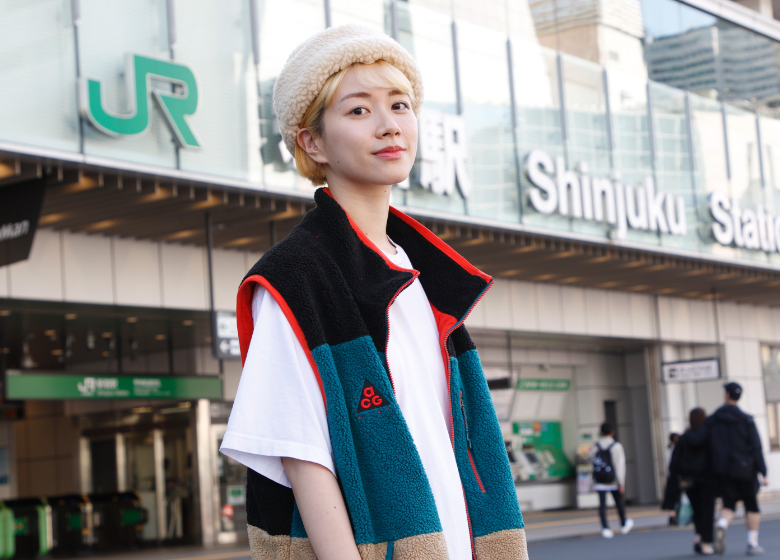 Taiwan
HAMAMATSUCHŌ
Meeting the Ajisai Craft Group, which has handmade little costumes for the "Peeing Boy" statue on the platform of Hamamatsuchō Station for many years. Karl and Fernanda were charmed, and made sure to get a photo of the statue before they left.

The contrast between Zojoji Temple and Tokyo Tower is a quintessentially Tokyo scene.

Getting to know the locals for some valuable cultural exchange!

Learning tea ceremony at Hama-Rikyu Garden. A lot of it was just as new to their Japanese guide!

Fishing in an unusual spot right underneath Metropolitan Expressway. Not everyone knows that part of the Yamanote Line is so close to the water.

Having a go at cooking a Japanese meal in a shared kitchen. Karl and Fernanda tried seaweed for the first time!

Their cooking was a success! Karl and Fernanda toast their new friends.
Itinerary
10/18
World Trade Center Building
Tour of Hamamatsuchō Station
Meeting the Ajisai Craft Group, which makes costumes for the "Peeing Boy" statue.
Zojoji Temple and Maruyama Burial Mound
Azabu Juban Shopping Street (taiyaki, public bath)
Izakaya Sanbansen
10/19
Teahouse at Hama-Rikyu Garden and Kyu Shiba-Rikyu Garden
Waterfront fishing
Making Sushi and hotpot in shared kitchen
Presentation
Please note that the ideas in this presentation and words here are suggestions by the participating designers.
Implementation of these ideas is not guaranteed.
Hamamatsucho - Connections
Although perhaps not as iconic as Shibuya and Shinjuku, to us Hamamatsuchō is a distinctlocation because it connects visitors to 'other' places, and 'other' views of Tokyo. For example inaddition to being connected to the national rail system and to Haneda Airport, Hamamatsuchōstation is a 15 minute walk to the Takeshiba coastline and ferry port which offers day trips to theunspoiled islands of Oshima and Toshima. In this way Hamamatsuchō connects land, sea and air. Building on this idea of connection,Hamamatsuchō is also a place that offers unique views of Tokyo. For example visitors can enjoy cityscape views from the Observation Deck at the World Trade Centre, glimpse traditional Edo culture at the Kyu-Shiba-rikyu Gardens and enjoy beautiful views of Tokyo Bay and the Rainbow Bridge. The idea of Hamamatsuchō as a place to connect to more was something we wanted to further explore.
DESIGNER
Karl Toomey
Working in the creative industries for over 12 years, Karl Toomey is an Irish designer living in London. During his career he has lead multi-layered creative projects for global brands such as Nike, BBC, Uniqlo and Google. Working across a wide variety of disciples, from interactions and experiences to content and campaigns, his goal is to help each organisation find new opportunities to build more meaningful and generous relationships with their audiences.Alongside his commercial work Karl has maintained his own creative practice that focusses on using humour and playfulness to engage people with the many ways our world is changing, including books, prototypes, exhibitions and large scale pranks.
Ireland

Fernanda Queiroz
Fernanda Santos Queiroz was born in Salvador(BA), Brasil, and graduated inGraphic Design at Buenos Aires University (UBA) where she now teaches "Morphology I". She owns "Carta", a creative company based in Buenos Aires, Argentina, that offers unique stationary objects and seeks inspiration in daily life to develop new ideas and select functional, beautiful and coherent products. Known for paying special attention to design and utility, emphasizing creativity, quality of materials and manufacturing processes. She is also a freelance, working with individual artists to corporate projects such as concept development, branding, art production, social media manager.Colour and photography lover, she uses differents techniques to provide to every graphic piece, product or project an unique graphic language and style.
Brazil

2018


TOKYO SEEDS PROJECT SECRETARIAT
Yuichi Tomohiro(a general incorporated association TSUMUGIYA Representative Director)
Mikiharu Yabe(Agent Hamyak Inc. )
Naoyuki Suzuki(Diagram Co., Ltd.)
Chika Gukawa(Diagram Co., Ltd.)
Junichi Takahashi(Photographer)
Kohji Arai(Photographer)
Hiroki Yajima(Photographer)
Dennis Chia(Interpreter coordinator)
Shiori Nakamura(Interpreter coordinator)
Mai Iida(Interpreter coordinator)