Take a trip on the SAPHIR ODORIKO
for a sophisticated Izu experience
SAPHIR ODORIKO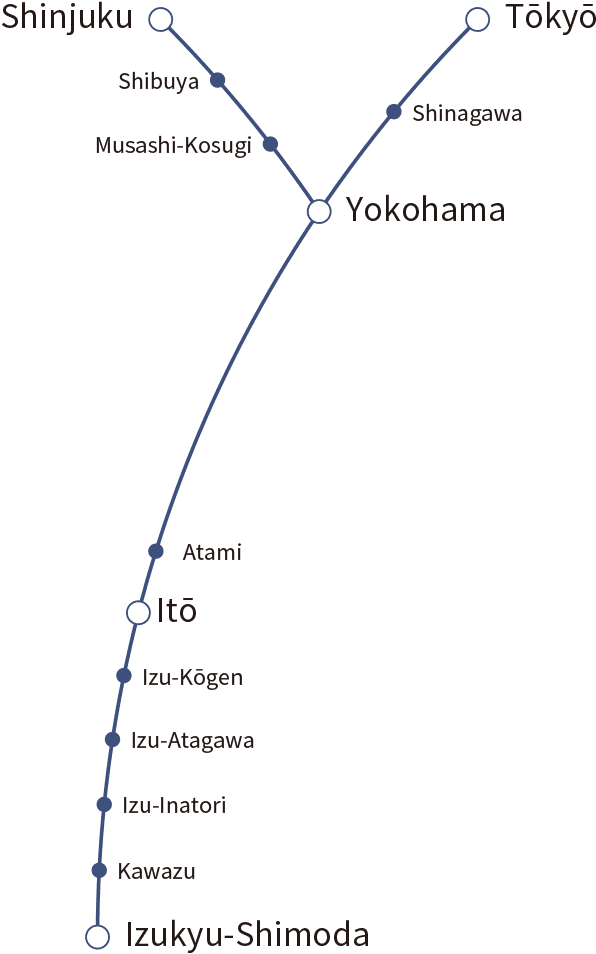 Izu is rich in authentic attractions, including places of natural, cultural and historical interest. Easily accessed from the capital, it is one of the foremost destinations in Japan for pleasure trips with family or friends.
Admire the changing scenery through the windows and immerse yourself in elegance even while you travel. Enjoy the real Izu with the SAPHIR ODORIKO.
SAPHIR is the French word for sapphire. We decided on this name because we wanted to evoke the sparkling, bright sapphire blue of Izu's ocean and sky, and add a touch of high-class luxury to your journey.
All the seats provide typical Green Car comfort.
Private compartments and a cafeteria are also available
Green Car seating throughout the train. Enjoy the quality and elegance of a journey on the SAPHIR ODORIKO. Its features include JR East's first-ever Premium Green Car, and a cafeteria where you can enjoy food prepared in the open plan kitchen.
Enjoy noodles or drinks along with your journey
We have prepared noodles and drinks that perfectly match the elegant mood of your trip.
Click here for further details
In order to prevent the spread of COVID-19 (the novel coronavirus), when using the SAPHIR ODORIKO cafeteria:
・ Masks should be worn while on the train, except when eating and drinking.
・ The number of people who can use the cafeteria is limited.
・ Payment with SAPHIR Pay is limited to online payments, pay on the train cannot be selected.