Green Car seating throughout the train. The Premium Green Car offering the ultimate in comfort. Green Car private compartments if you like your privacy. A cafeteria where you can enjoy the freshest of noodles and drinks. The SAPHIR ODORIKO ensures that you will relax and enjoy your journey.

Car No.1

Premium Green

Travel in your own relaxing, private space with separate single seats in each row. Gaze out through the impressive windows and enjoy a top-quality journey as the sunlight streams in through the skylights.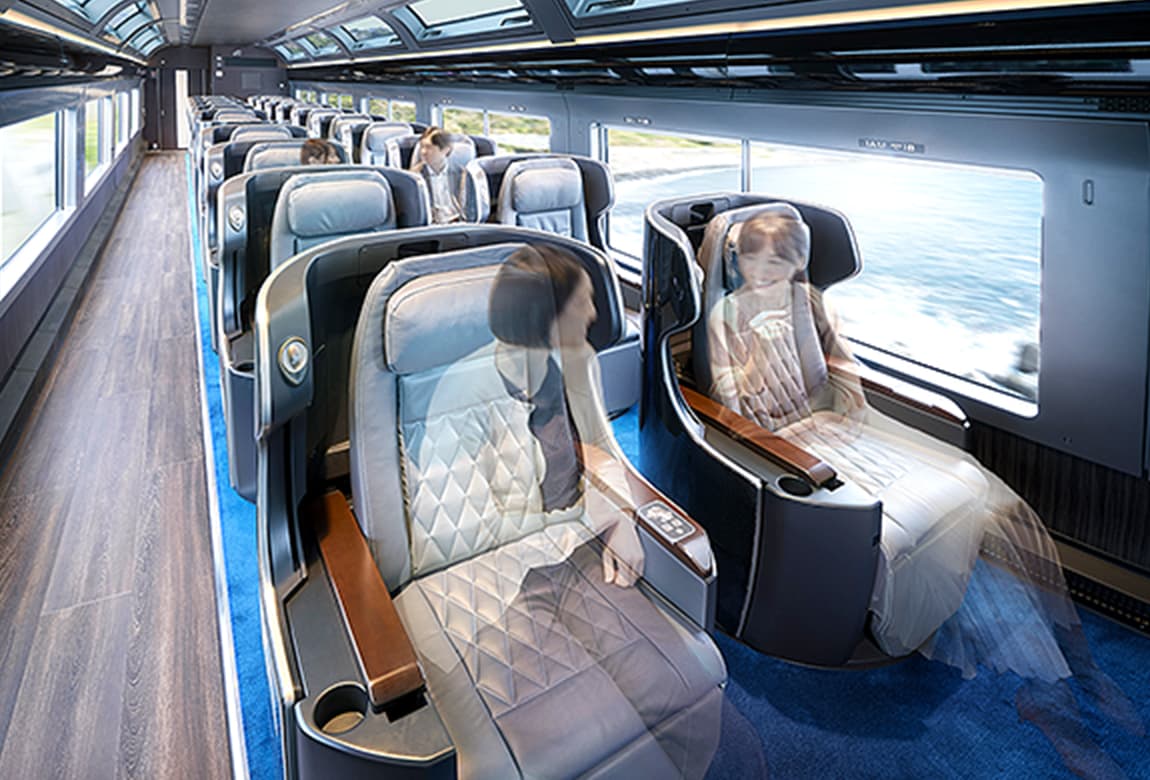 Two separate single seats in each row create a roomy private space.
Massive windows offer great views of Izu's natural beauty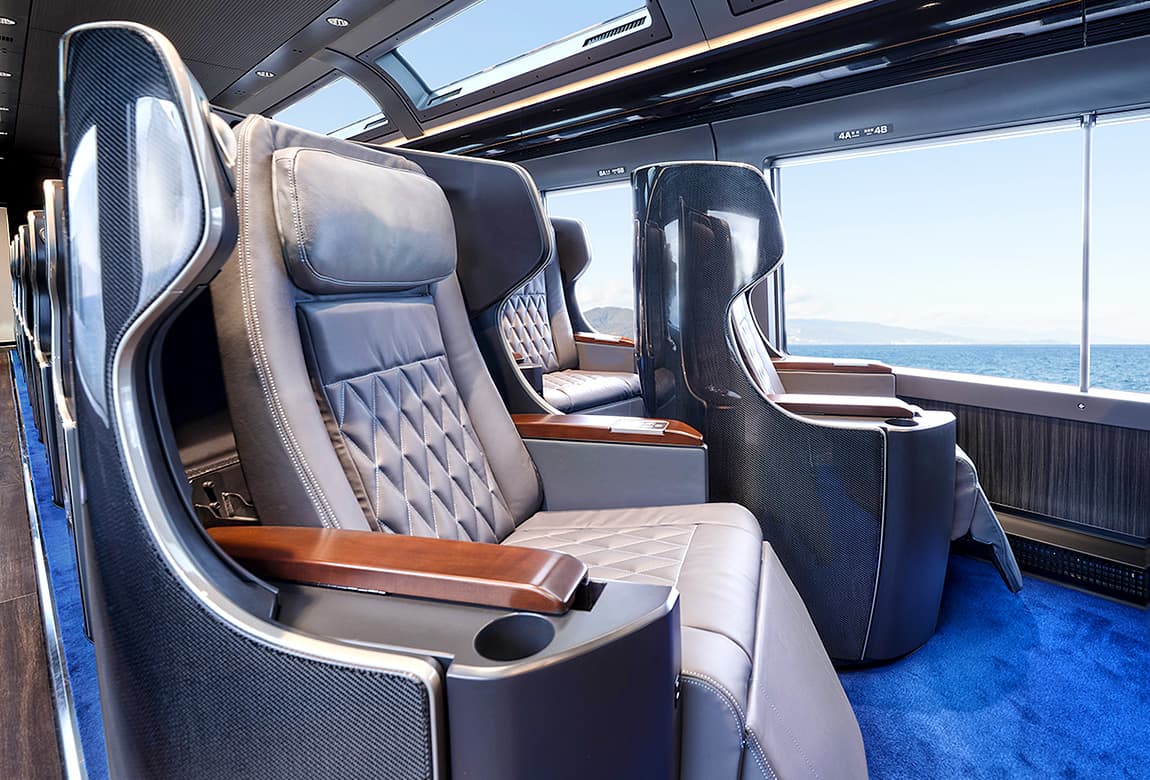 The seat swivels towards the window side
(Operate via the lever on the headrest)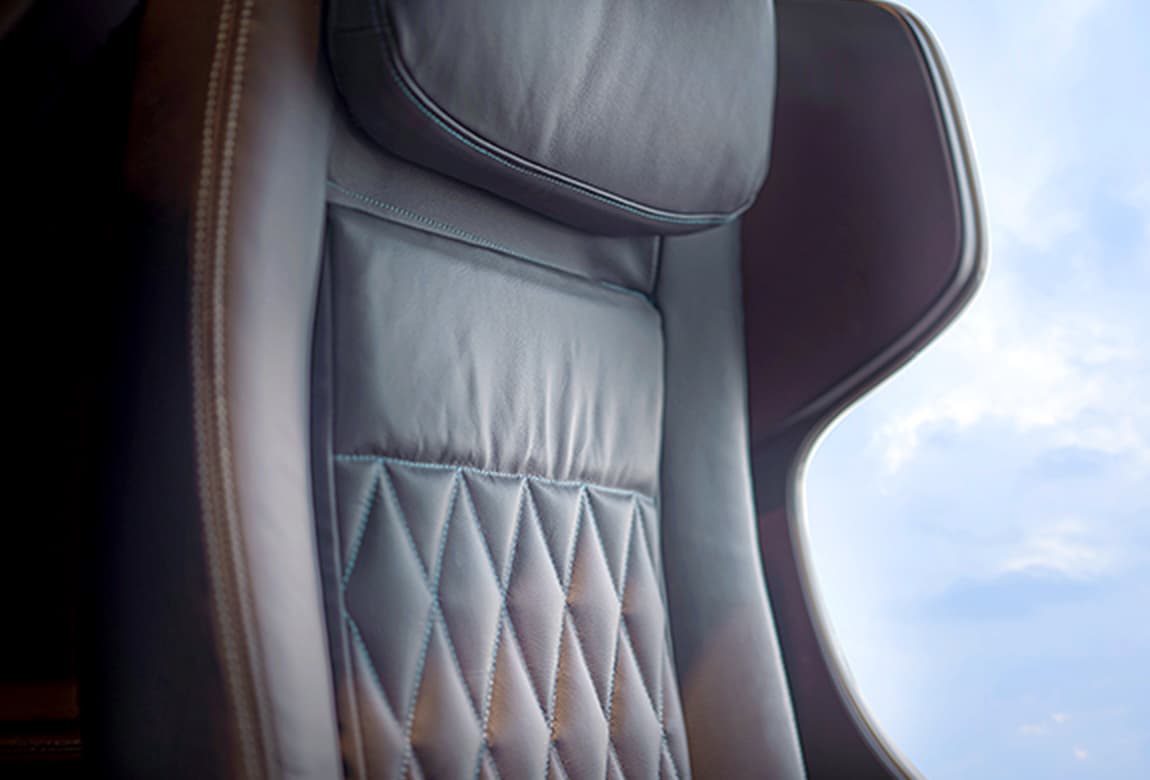 Classy and comfortable leather seats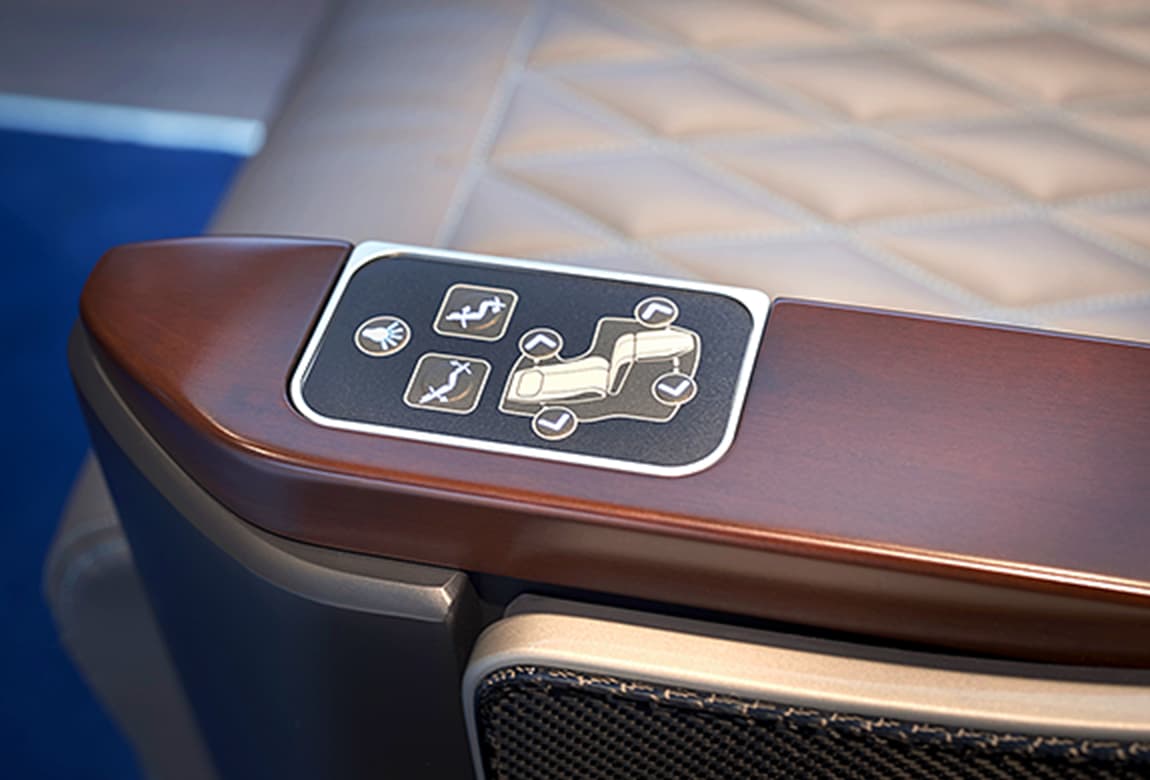 Powered reclining seats with leg rests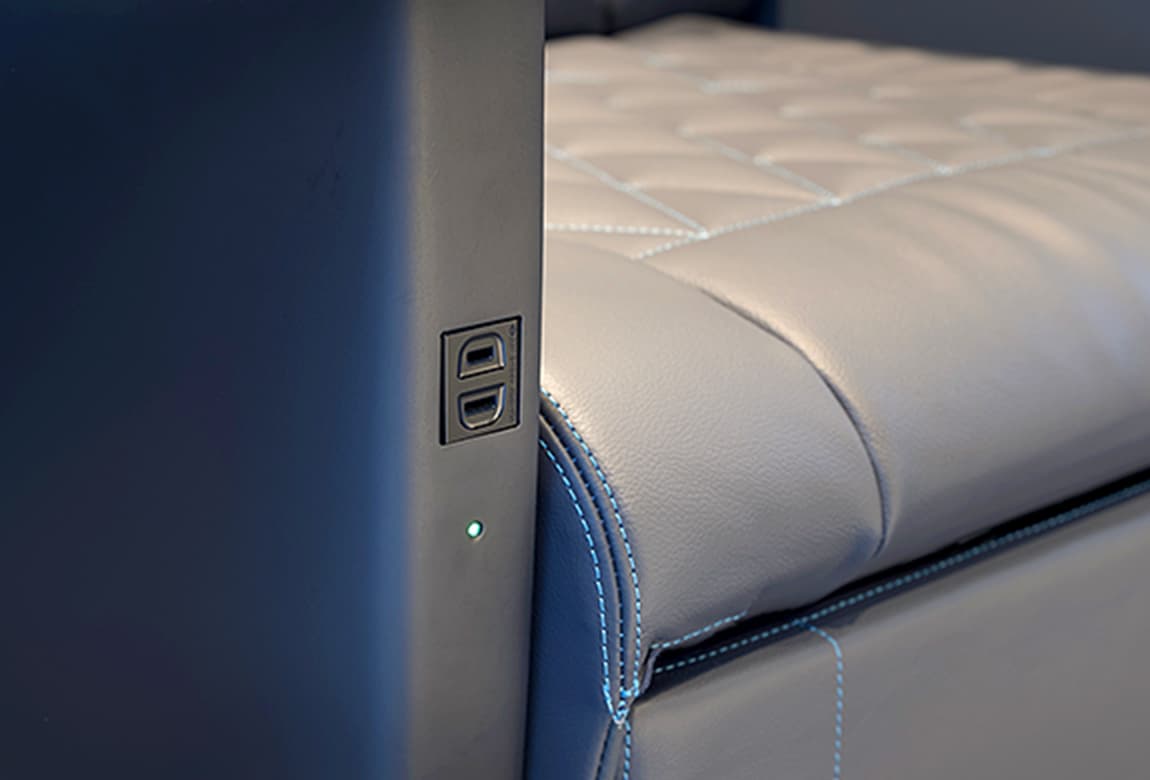 Fully equipped with electrical outlets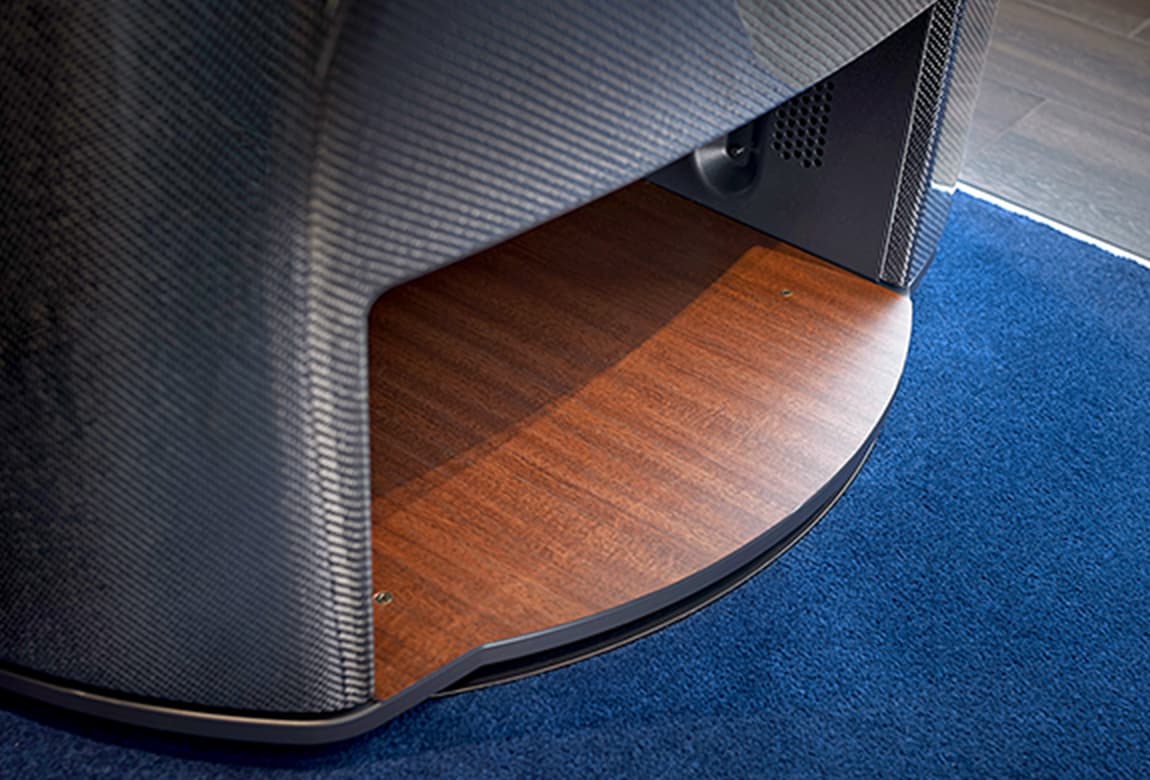 Luggage space by your feet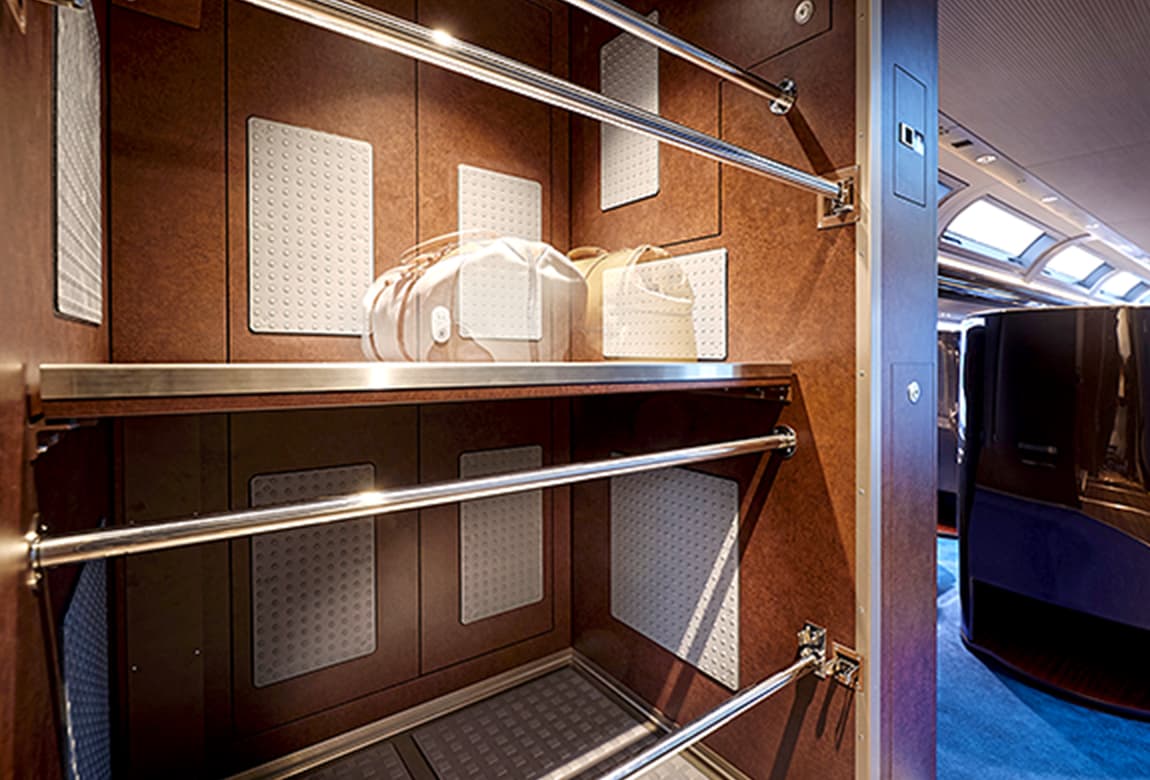 With a storage area for large luggage

Cars No.2 and 3

Green Car private compartments

Enjoy a relaxing time with good friends or beloved family members in a Green Car private compartment until you reach your destination. There are two types of rooms: ones for 1-4 people and ones for 1-6 people. Luxuriate in a secluded space designed to feel like a quiet, relaxing cafe.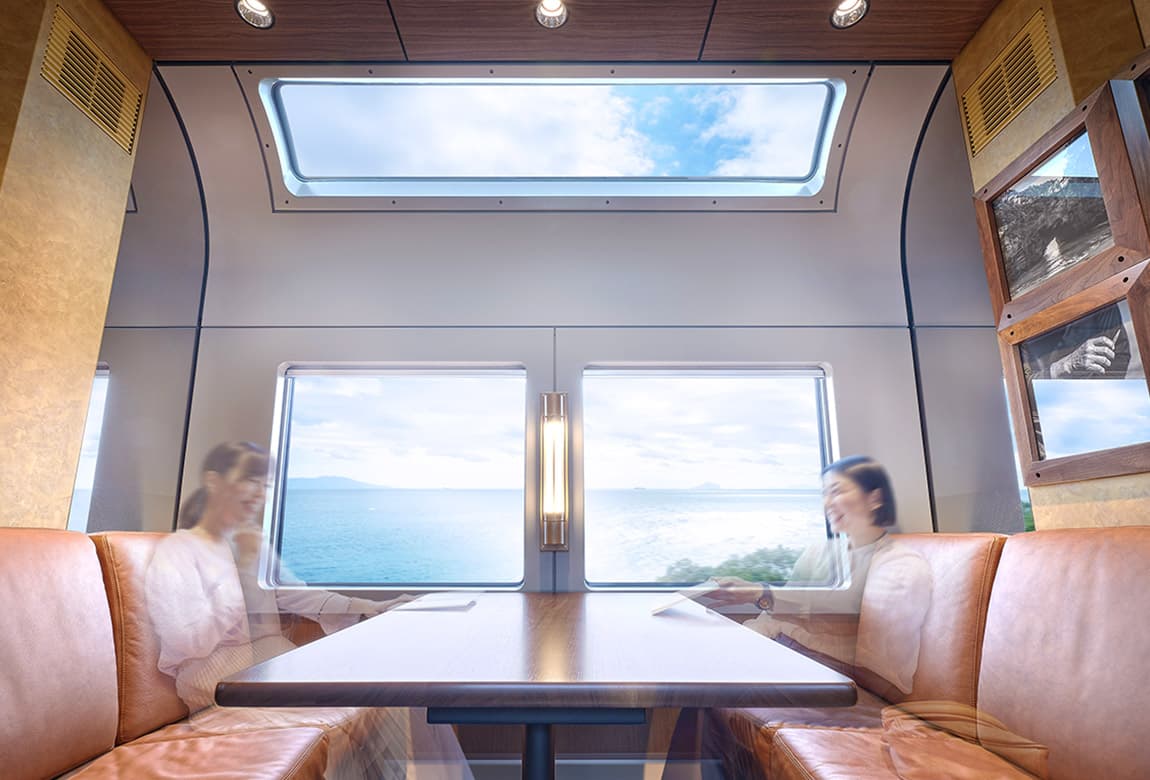 Green Car private compartments for a more intimate space (for 1 to 4 people)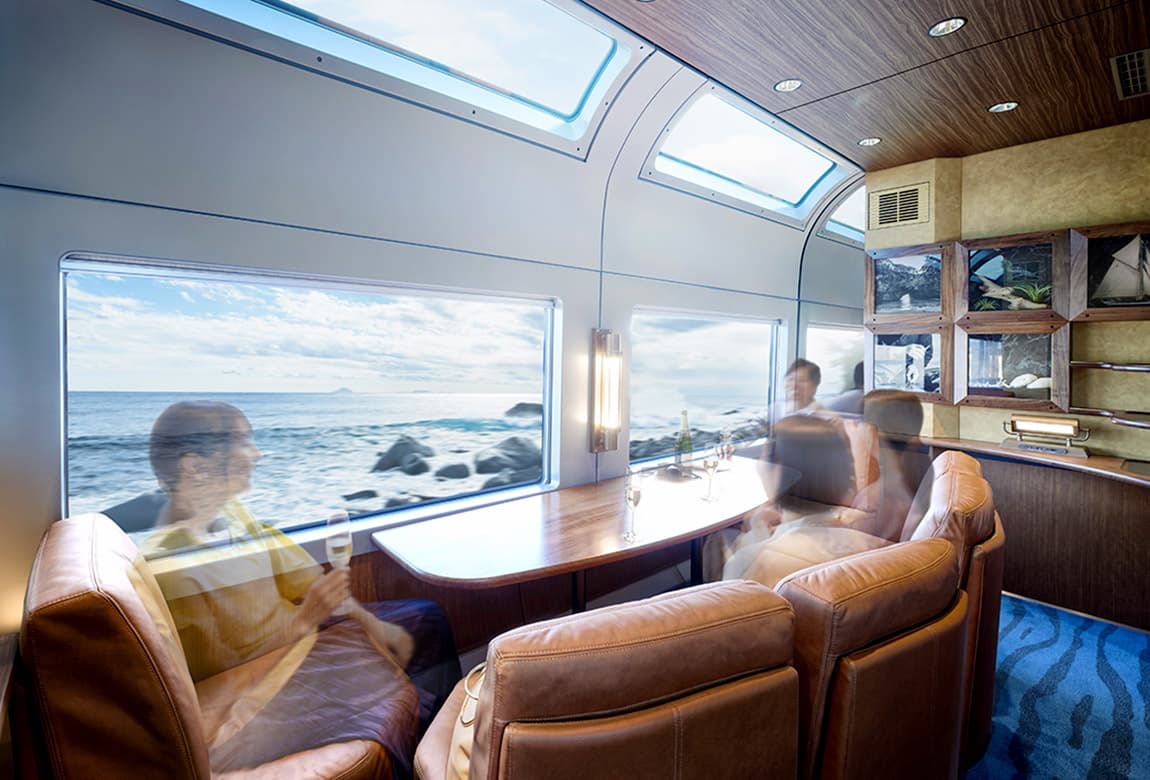 Green Car private compartments can be used by up to 6 people (for 1 to 6 people)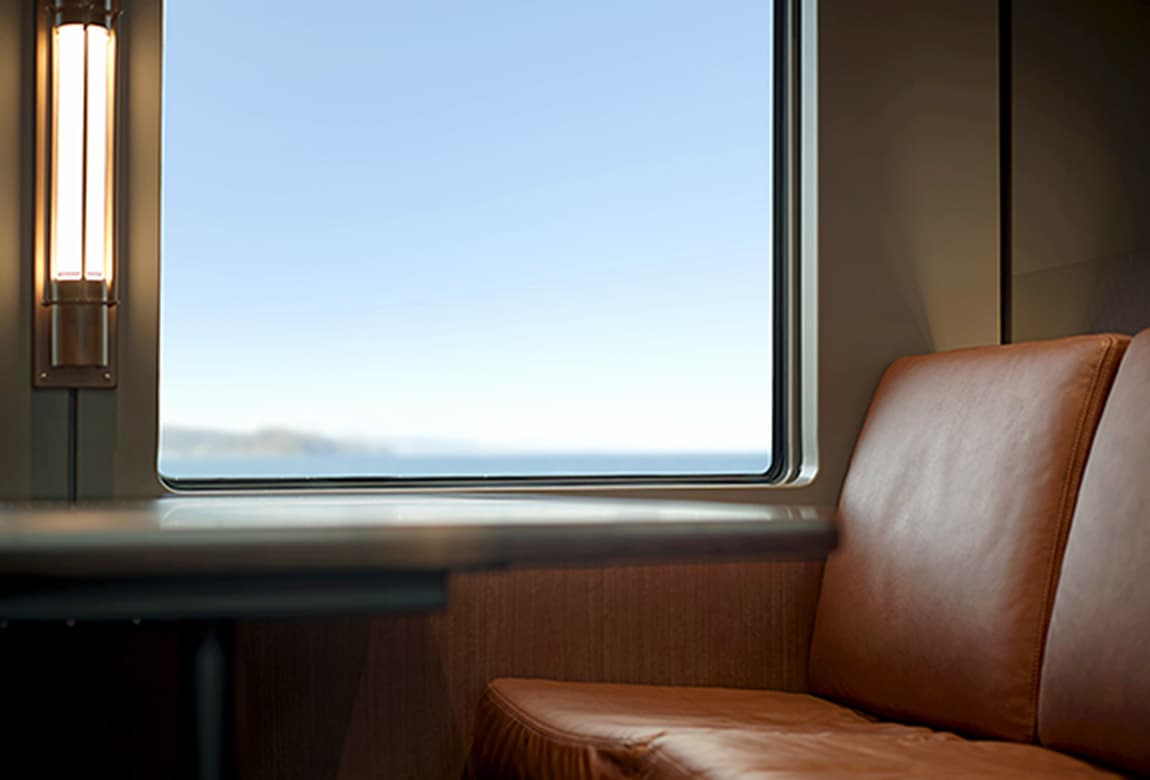 Relax and enjoy special moments as you watch the view from the expansive windows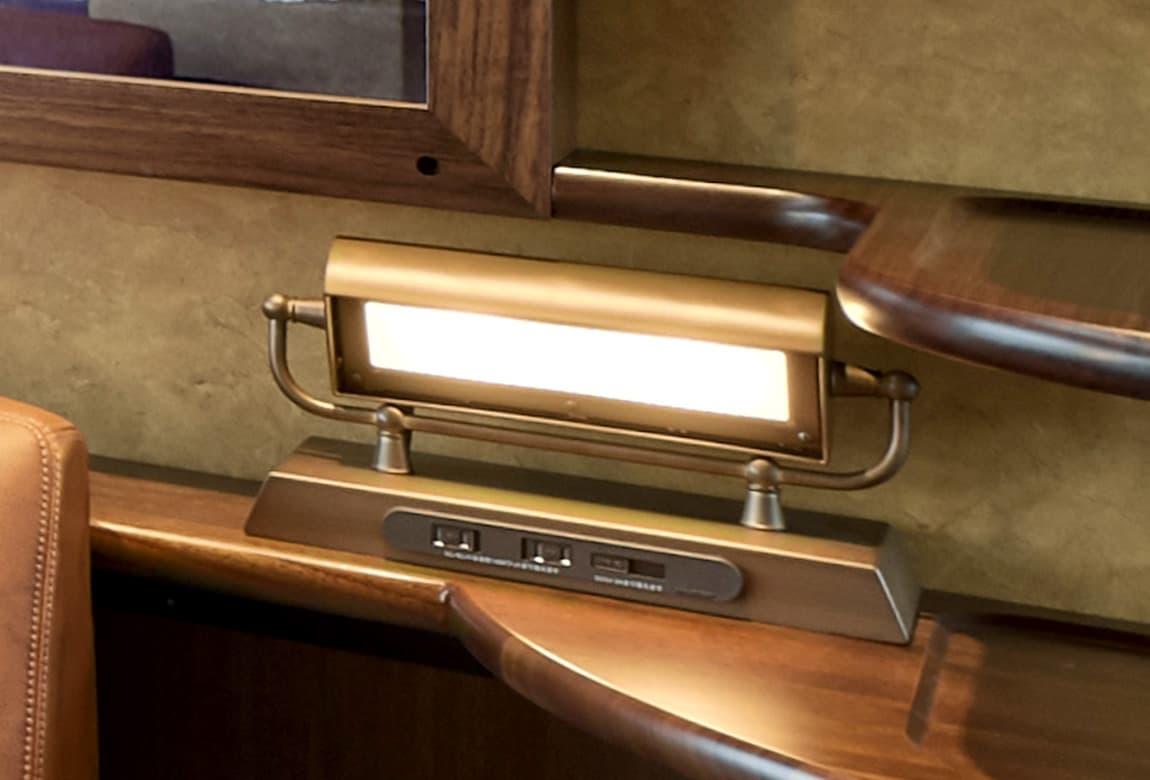 Fully equipped with electrical outlets
Car No.4

Cafeteria

The cafeteria offers a menu of noodles that will brighten your journey to Izu, served from an open plan kitchen. The menu was overseen by the head chef of DEN, Zaiyu Hasegawa. Enjoy the taste of our special noodles while gazing out at Sagami Bay.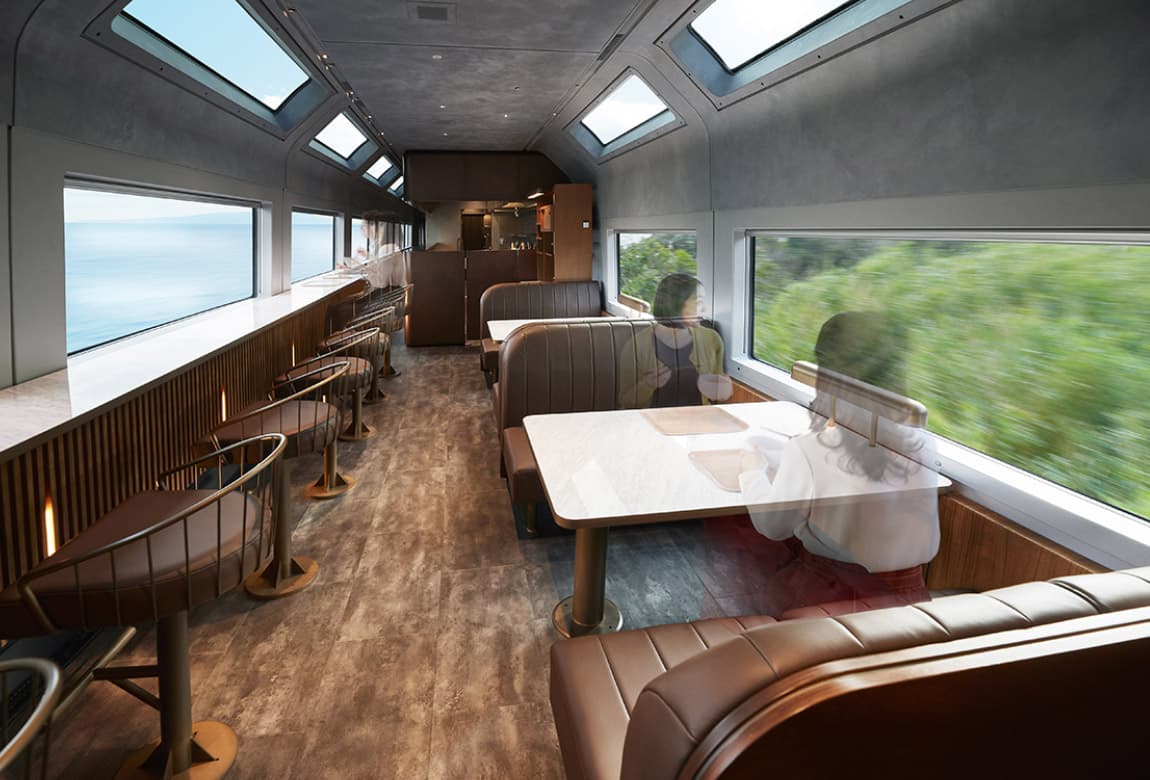 The cafeteria décor is in soothing shades of brown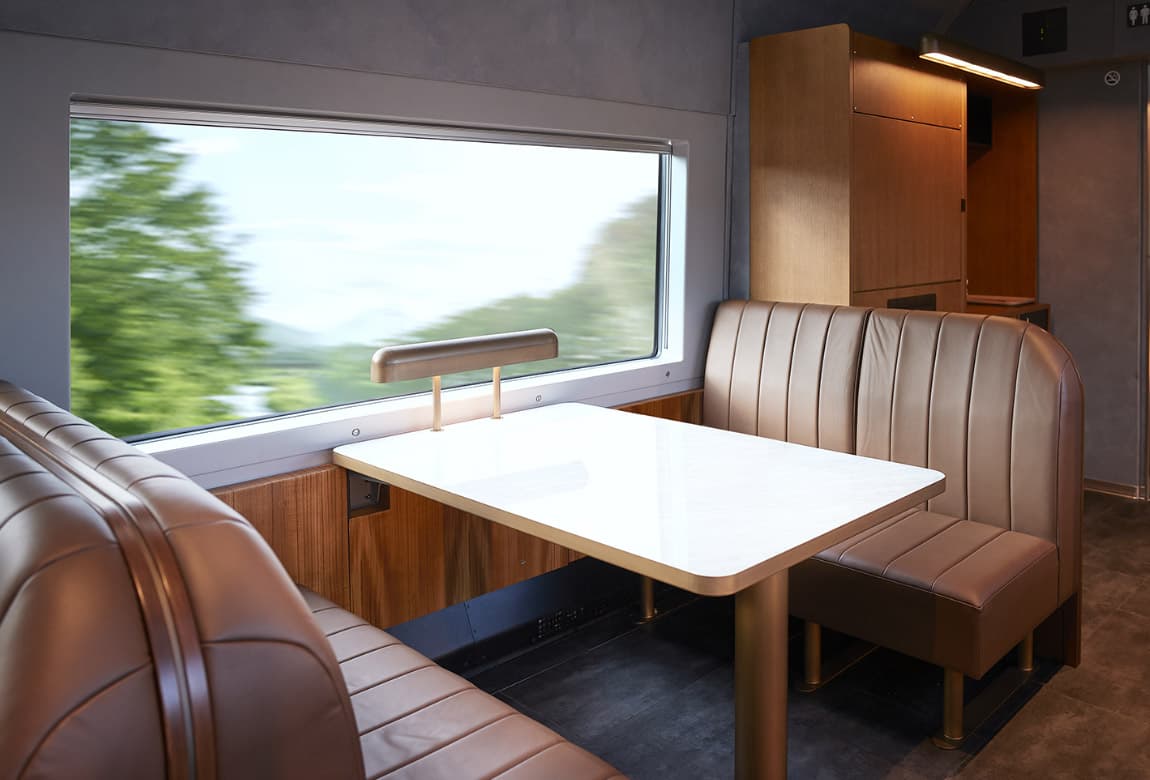 Table seats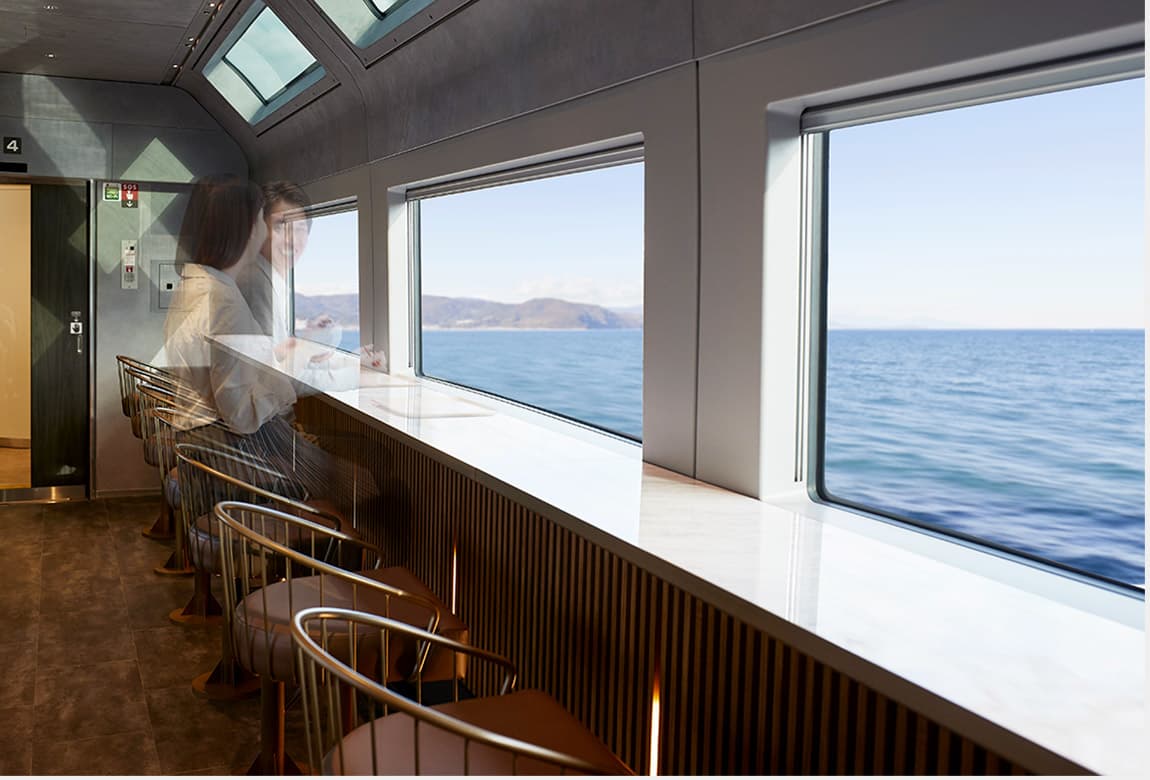 Counter seats

Cars No.5 through 8

Green Cars

With comfortable and spacious seating of a twin and a single in each row, these cars offer a pleasant space where sunlight from the skylights pours through the glass luggage shelves.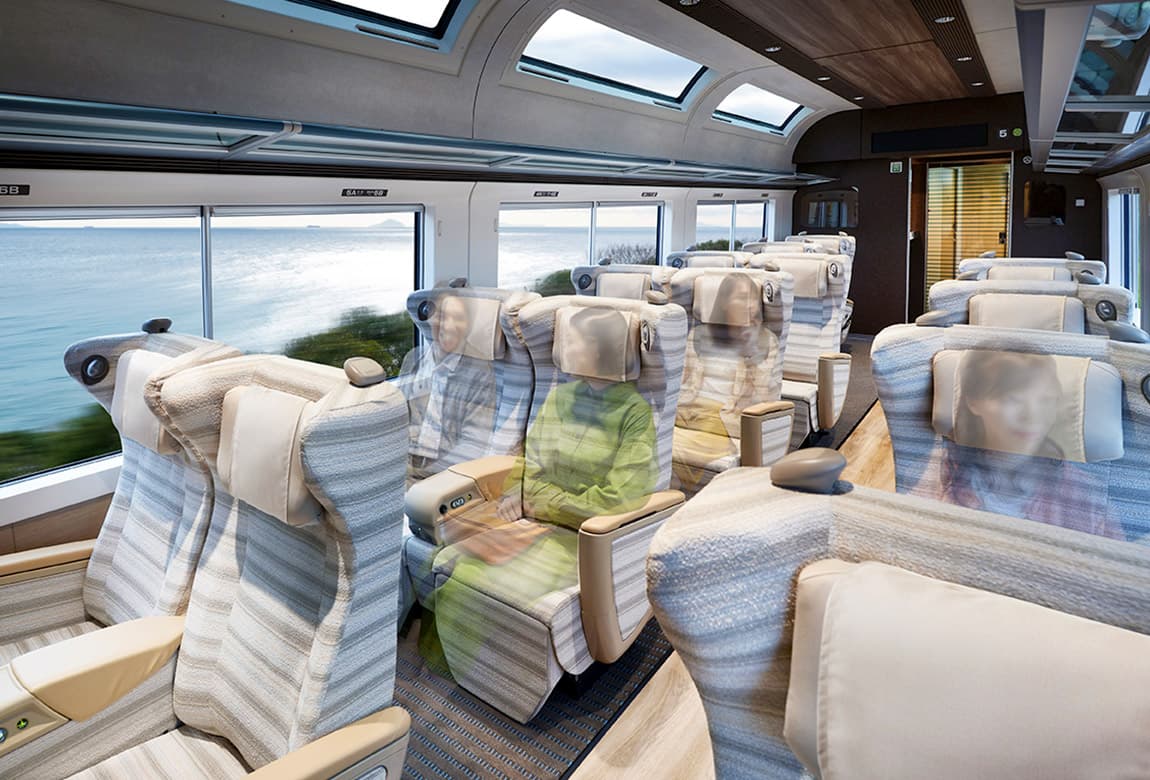 Roomy seats in a comfortable formation of a twin and a single in each row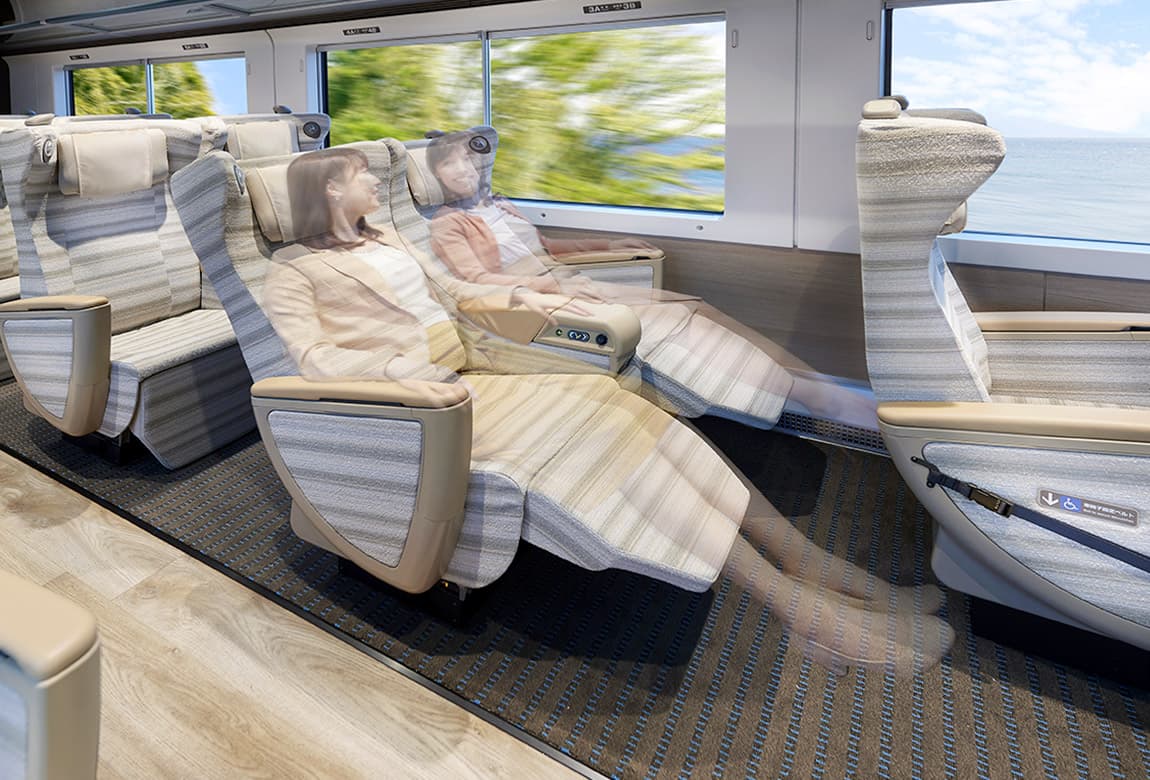 Reclining seats to make your journey even more relaxing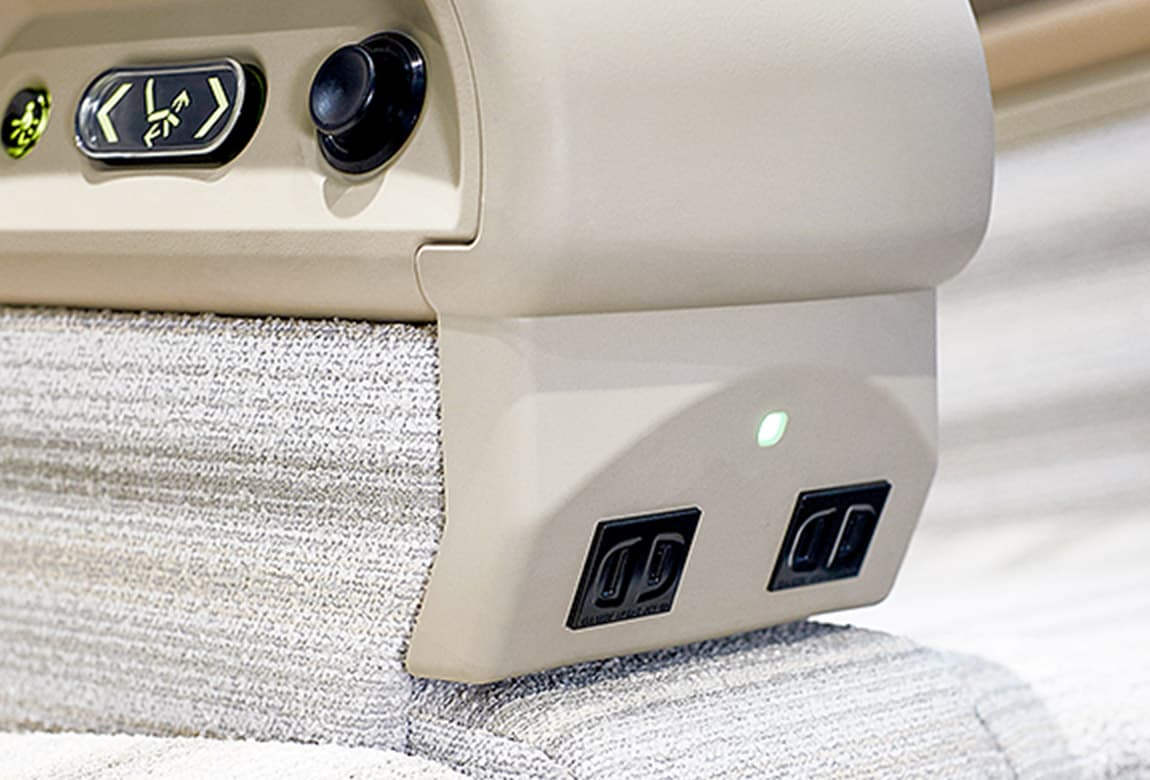 Each seat has an electrical outlet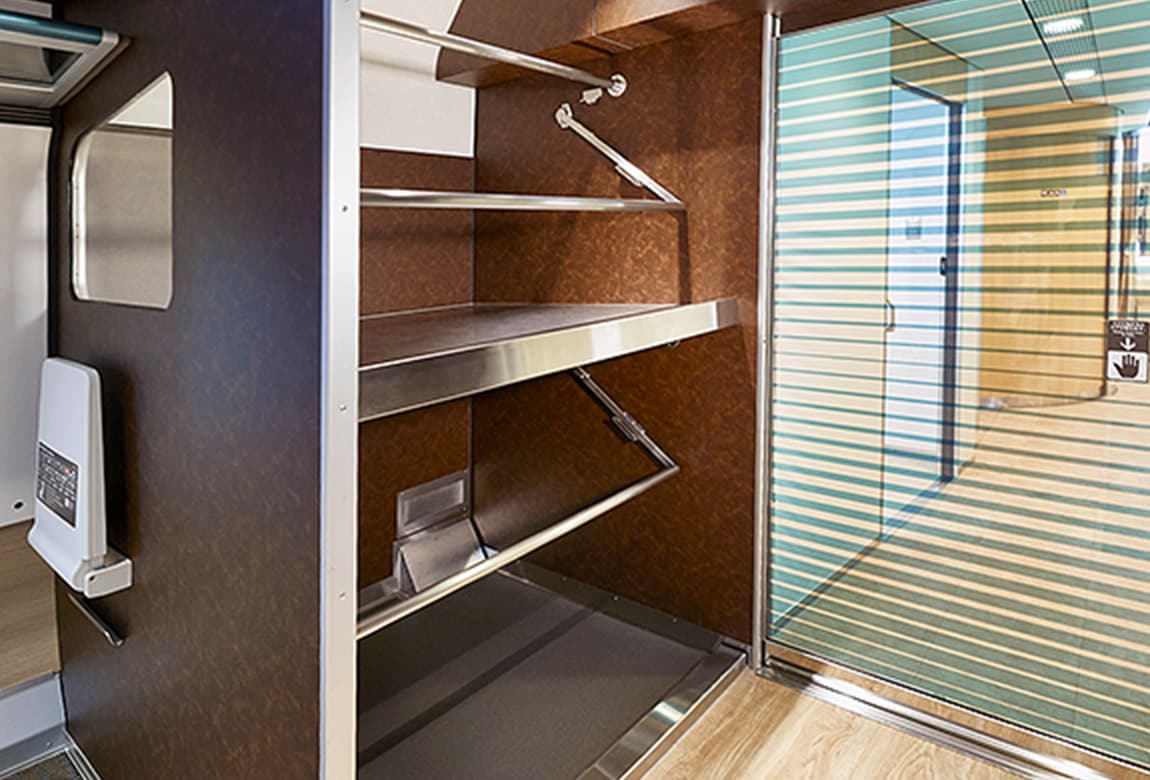 Each car has a storage area for large luggage
Other facilities
Barrier-free interior (Car No.5)

Barrier-free toilet (Car No.5)

Barrier-free seating for wheelchair users

Free Wi-Fi is available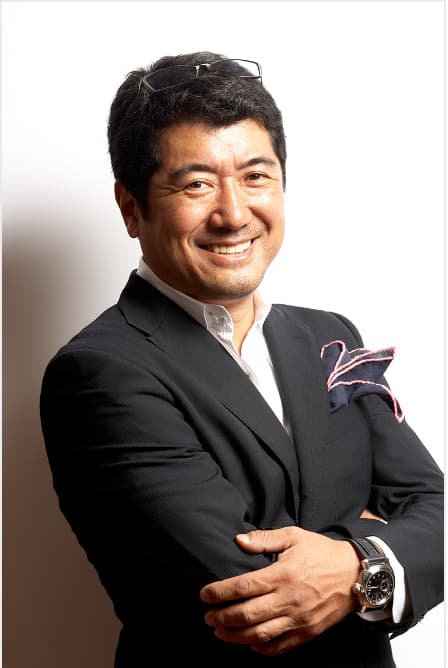 Design by
Kiyoyuki Ken Okuyama
In charge of design production and car design. CEO of KEN OKUYAMA DESIGN
Born in Yamagata in 1959.
Has worked as chief designer at General Motors (USA), senior designer at Porsche (Germany), and design director at Pininfarina (Italy), and chaired the Industrial Design Department at ArtCenter College of Design (USA). Has worked on the design of cars such as the Enzo Ferrari and Maserati Quattroporte, and of Ducati and other motorbikes, as well as on many designs in fields such as railways, ships, architecture, robots, and theme parks. Since 2007, as the CEO of KEN OKUYAMA DESIGN, he has been based in Yamagata, Tokyo and Los Angeles, where he provides corporate consulting services as well as doing everything from development to marketing work for the KEN OKUYAMA brand of automobiles, interior products, and eyewear. He became a director of Yanmar Holdings Co., Ltd. in 2013. He has worked successively on the design of the Akita Shinkansen, the Hokuriku Shinkansen, Yamanote Line trains, the Train Suite Shiki-shima, and on Yanmar products.
Honorary principal of the Tokyo Communication Art, Jikei COM Group, visiting professor at ArtCenter College of Design, visiting professor at Yamagata University Faculty of Engineering, member of the JR East urban development committee, producer of the ARITA 400 Project held between 2013 and 2016 to celebrate 400 years of Arita porcelain.
He also gives lectures, and his published works include "Ferrari and the Iron Kettle" (PHP Publications), "Tradition Counterattacks" (Shodensha), "15 Minutes that Determined My Life: Creation 1/10,000" (KEN OKUYAMA DESIGN), "Designing a Century of Value" (PHP Business Publications), and "Design as a Business Weapon" (Shodensha).
Car layout

Car layout

E261
No. of cars

2 sets of 8 cars
Car No.1: Premium Green Car (two separate single seats in each row)
Cars No.2 and 3: Green Car private compartments
Car No. 4: Cafeteria
Cars No.5 through 8: Green Car (a twin seat and a single seat in each row)

Capacity

164 passengers
Car No.1 Premium Green (20 passengers)
Car No.2 Green Car private compartments
(20 passengers)
Car No.3 Green Car private compartments
(20 passengers)
Car No.4 Cafeteria
Car No.5 Green Car (14 passengers)
Car No.6 Green Car (36 passengers)
Car No.7 Green Car (30 passengers)
Car No.8 Green Car (24 passengers)