Recommended Sights
Tippen Sie eines der untenstehenden Icons an, um sich Informationen zu dieser Sehenswürdigkeit anzusehen See Nebuta Year-Round at Nebuta Museum WA RASSE

Experience the history, charm, and everything else the Nebuta Festival can offer all year long at Nebuta Museum WA RASSE. (One minute on foot from Aomori Station)
×
Hirosaki Castle

Since 1903, about 2,600 cherry blossom trees have been planted within this park. Many tourists come each year to the Hirosaki Cherry Blossom Festival. This park is designated as one of the 100 best locations in Japan for cherry blossom-viewing.
Note: The cherry blossoms bloom between late April and early May.
×
Oirase Stream

Oirase Stream is a mountain stream flowing roughly 14 km from Nenokuchi in Lake Towada to Yakeyama that merges into the Oirase River. It has been designated as a National Special Place of Scenic Beauty and as a natural monument. Savor the serenity of the forest and the natural beauty of waterfalls and other spots.
×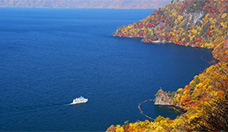 Lake Towada

The cruise boat floats elegantly on the surface of Lake Towada throughout the year. The cruise offers unique vistas of beauty that change by season and are available nowhere else. Enjoy the luxurious, richly detailed beauty of Lake Towada.
×
Travel for less to Shin-Aomori by using a pass
5日間乗り放題:¥30,000
※JR EAST PASSは、日本在住の外国人の方もご購入いただけます!