New Haneda International Airport - close to central Tokyo
A new terminal for international travelers will open at Haneda Airport on October 21, 2010, making travel in Asia more convenient than ever. To provide access to the terminal, a new station will begin service on the same day. The Haneda Airport International Terminal Station will provide access between Haneda Airport and central Tokyo on JR East and the Tokyo Monorail. Getting to the heart of Tokyo just got faster.
From the international arrival lobby to the Tokyo Monorail – fast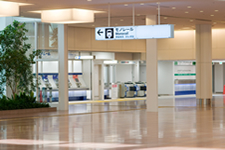 When you arrive at Haneda Airport, you will find it is about one minute from the arrival lobby to the ticket gate of the Tokyo Monorail. The lobby and ticket gate are also located on the same floor, so there is no need to worry about lugging large bags up and down different levels. You can enjoy ease of access when returning as well, as the departure lobby is also located conveniently next to the Tokyo Monorail exit.
The Tokyo Monorail provides fast access to central Tokyo
You can get to JR Hamamatsucho Station in as little as 14 minutes when you use the Tokyo Monorail. Trains leave the station every three to five minutes, which minimizes time spent waiting at the airport. JR Hamamatsucho Station provides easy access to popular stations including Shinjuku, Shibuya, Tokyo, Ueno and more via the JR Yamanote Line.
Tokyo Monorail
JR Yamanote Line
JR Yamanote Line
Clockwise (soto-mawari)
Counter-clockwise (uchi-mawari)
Hamamatsucho → Shinagawa
6 minutes
Hamamatsucho → Tokyo
6 minutes
Hamamatsucho → Shibuya
18 minutes
Hamamatsucho → Akihabara
10 minutes
Hamamatsucho → Harajuku
21 minutes
Hamamatsucho → Ueno
14 minutes
Hamamatsucho → Shinjuku
25 minutes
Hamamatsucho → Ikebukuro
30 minutes
Please refer to the Tokyo Monorail Website for detailed timetables and fare information for JR Hamamatsucho Station.
Specially priced tickets and passes
Whether you're traveling in Japan on business or for pleasure, JR East offers special deals to make your stay a more pleasant one. The special offers below can be used on the Tokyo Monorail as well as JR East lines.
For travel in Eastern Japan, including Sendai and Niigata

We recommend the JR EAST PASS as the most economical way to travel throughout the eastern regions of Japan.

For travel throughout Japan

We recommend the Japan Rail Pass as the most economical option for travel throughout Japan.
To redeem your Exchange Order for a JR EAST PASS or Japan Rail Pass, visit the JR EAST Travel Service Center located in the Haneda Airport International Terminal Station on the Tokyo Monorail line. You can also purchase JR EAST PASSES there. Passes and cards may be used immediately after purchase.
The JR EAST Travel Service Center
At the JR EAST Travel Service Center, visitors to Japan can redeem Exchange Orders, purchase tickets, and learn about travel options (primarily on JR) from our friendly staff members who can help you English.
Hours of operation: 7:45 to 18:30, every day of the year
Payment: We accept payment in Japanese currency and major credit cards.
Click here for further details.
For those departing from Narita Airport when leaving Japan, use the Narita Express (N'EX) for direct airport access from Tokyo Station, Shinjuku, Shibuya, Yokohama and other locations. Click here for further details.