Limited time offer – Use a JR TOKYO Wide Pass to visit GALA Yuzawa at a discount!
When you use a JR TOKYO Wide Pass, you can travel round-trip between Tokyo and Echigo-Yuzawa/GALA Yuzawa Stations on the Shinkansen for only 10,000 yen per adult, saving 4,180 yen off the ordinary price of 14,180 yen per person. And the Shinkansen will get you to the ski resort in as little as 75 minutes.
Show your JR TOKYO Wide Pass at GALA Yuzawa Snow Resort for three special offers!
Show your JR TOKYO Wide Pass or JR EAST PASS at the GALA Yuzawa Snow Resort information counter to enjoy these special offers:
Includes a round-trip gondola ticket and a rental sled, boots and gloves.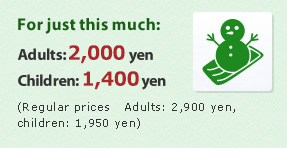 Includes a one-day gondola and lift ticket, a locker ticket, a 10% discount on rental skis and a 10% discount on skiing lessons. (Not valid for private lessons.)
After skiing and playing in the snow, use this package to enjoy a bath in hot spring water. Also includes entry to the swimming pool, outdoor jacuzzi, kids pool and other fun facilities for adults and kids.
Answer our survey and get a free gift at GALA Yuzawa Snow Resort!
Show the final page of the survey at GALA Yuzawa Snow Resort and get a free bandage pack. Please note that gifts are limited to stock on hand.
Answer the survey at the URLs shown below.

English

Thai
Timetable
This timetable shows trains running between Tokyo Station and GALA Yuzawa Station.
The official GALA Yuzawa Snow Resort website is updated every day at 6:30 a.m. with the current operating conditions.
We recommend checking the website to ensure there are no closures due to weather conditions or other extenuating circumstances.