Recommended Sights
Tippen Sie eines der untenstehenden Icons an, um sich Informationen zu dieser Sehenswürdigkeit anzusehen
Warehouse Town (Kitakata)

Kitakata has prospered by acting as the shipping center for all agricultural products grown in the area. It is known as "Warehouse Town" thanks to the many warehouses lining the streets. Kitakata is famous for its Kitakata Ramen.
×
Tsurugajo Castle

Tsurugajo Castle (officially Aizuwakamatsu Castle) is the most prominent castle in the Tohoku region with more than 600 years of history. The castle keep was destroyed by cannon fire during the Boshin War but was later rebuilt and now houses a museum that allows you to experience castle life. Tsurugajo Castle is surrounded by an expansive park extremely popular among locals for the over 1,000 cherry blossom trees that bloom in the spring as well as its snowy winter landscape.
×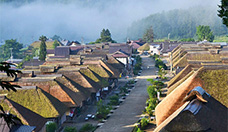 Ouchi-juku

This town bares remnants of the Edo period. The streets lined with soba restaurants and other retro shops make it seem like you've traveled back in time.
×
Iizaka Onsen

One of the three major hot springs in Tohoku. With nine large public baths and three footbaths in the hot spring town, you can relax in a number of hot springs.
×
Mt. Adatara

Mt. Adatara is the perfect place to enjoy outdoor pursuits, with fresh green leaves in spring to autumn foliage and skiing in winter. Take the ropeway to the top of the mountain during its operation hours, and enjoy the breathtaking view from the Yakushidake Panorama Park, a five-minute walk from the summit.
×
Travel for less to Fukushima by using a pass
5日間乗り放題:¥30,000
※JR EAST PASSは、日本在住の外国人の方もご購入いただけます!