A New Look for Tachikawa Station First Stage Opening of ecute Tachikawa, Friday, October 5
East Japan Railway Company
JR East Station Retailing Co., Ltd.
July 3, 2007
Tachikawa Station is undergoing renewal as part of the JR East "Station Renaissance" plan for new station buildings in the 21st century. The first phase of the ecute Tachikawa project, a concurrent development, will open for business on October 5 (Friday).
1. Tachikawa Station Improvement
Facility improvements are being carried out with the aim of making the station "easy to figure out and easy to use" as well as to create a station space where "the people of the community will feel at home."
One goal is to alleviate congestion on the existing concourse and platforms. A new concourse is being added on the west side of the free north-south passageway, and new escalators and stairs are being installed.
In order to enhance the convenience of the station and improve passenger movement, a new ticket gate will provide direct access from the new concourse to the north-south free passageway and another will be placed on the south side of the concourse.
Work will also be done at the station's south exit. Improvements are to be made on the exterior, which serves as the station's face to arriving customers, and an overhang area will be created along the ground floor facing the station square. This will create a cheerful, well-illuminated area as part of the environmental effect. Bicycle and automobile parking areas are going to be improved for commercial development, and beautification work will be done on the north-south free passageway and the existing station concourse. The goal is to make Tachikawa Station a place where the people of the community will feel at home.
(1)
An elevated foundation will be constructed at the area of the north-south free passageway that is above the Hachioji Line tracks and a new concourse and two new ticket gates will be built on it. This will create an expansive space and alleviate congestion in the station.
(2)
Six escalators (up and down) will be added on the new concourse: two escalators for the inbound Chuo Line platform, two for the outbound Chuo Line, and two for the Ome Line.)
(3)
Passenger restroom facilities are being built for the new concourse, with one regular restroom and one multi-purpose restroom being added. A new ladies' powder room is also being built at one location.
(4)
A new View Plaza travel service center will be opened to provide fast service to customers who want to purchase tickets without delay and to serve customers who want to consult about their travel plans at leisure.

(* The View Plaza travel service center is scheduled to be fully open in early September.)

(5)
An information counter is being built to serve both the areas inside and outside the ticket gates. Station, train, and regional information will be available.

(* The information counter is scheduled to open in the winter of fiscal year 2007.)

(6)
Information signs are being improved, the design of the areas in the vicinity of the ticket gates is being unified, and other similar measures are being taken to make it easier for passengers to find where to get on and off their trains and make transfers.
2. ecute Tachikawa Phase I Opening for Business
The third in a series following ecute Omiya and ecute Shinagawa comes to Tachikawa Station, a major node on the Chuo Line, with an abundance of green and light in a space that links the station and the town around it.
A daycare facility, baby lounge, and other such facilities were developed in the first move toward the ecute.
The plans call for improvement of lifestyle support functions attached directly to the station.
Situated in a station environment that even allows train watching, this facility is designed not just for convenience, but also for high-quality daycare service.
(1)
General Overview
Development corporation
:
JR East Station Retailing Co., Ltd.
Location
:
3-1-1 Shibasaki-cho, Tachikawa-shi, Tokyo
Area under development
:
Approximately 11,500 m² (including concourse, excluding hotel area)
Area of stores
:
Approximately 4,300 m² (Phase I area, approximately 3,300 m²)
Projected sales
:
Approximately 10 billion yen annually (approximately 4 billion yen in first fiscal year)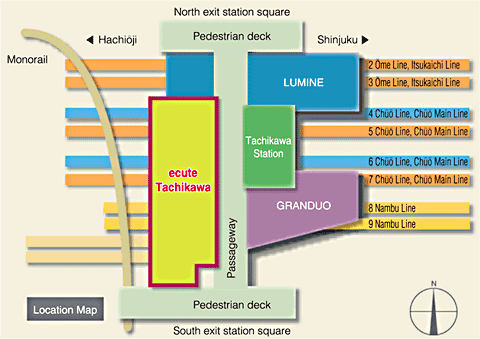 (2)
Basic Concepts
1. Store Concept: Customize for Yourself

The core target is a distinctive Tachikawa group of men and women in their 30s who have grown up in affluent consumer lifestyles. Things and activities have been selected for this core target from the four perspectives of basics, individual quality, collections for the individual, and specialization. Scenarios for use will be suggested to customers so that they can make full use of ecute in ways that suit their own requirements. A broad range of merchandising will be deployed, from sweets and delicatessen items to sundries, apparel, and services, with locations geared to the specific siting inside and outside the ticket gates.

2. Environmental Concept: My Habitat

The natural-seeming My Habitat was chosen as the environmental concept in order to define the station area, with its large numbers of people passing through, as a cozy, comfortable space that has the feel of "a favorite place". The concept evokes the distinctive Tachikawa locality as well as the convenience of this space as a center of lifestyle activity.

Spatial design producing a seasonal feel by means of plantings
Plantings are being placed around the open atrium ceiling and in the rest areas inside the ticket gates to produce an organic-feeling space.
A "symbol tree" will be placed at the main entrance to create a seasonal atmosphere.
Natural materials used in interior finish for an environment with a sense of relaxation, familiarity, affectionate attachment, and the passage of time
Ceilings in the concourse and retail areas employ wood to provide a feeling of relaxation. Since this is a natural material, it changes over time to reveal increased depth and gives a sense of the passage of time and of affectionate attachment.
Three open atrium ceilings shared by the areas inside and outside the ticket gate
The open atrium ceiling over the concourse produces an expansive feeling and creates a sense of unified space inside and outside the ticket gates.
Dramatic lighting changes with the time of day
Dramatic lighting installed around the open atrium ceiling creates morning, afternoon, and evening scenes for customers.
(3)
Lifestyle Support Functions Start in the Station
1. Day-Care Center on a Station Model
Although located directly above the station, the unique ecute environment also has a grassy garden area, and from it you can even watch the trains. The flower beds and vegetable beds in the garden will allow children contact with actual green growing things and soil. They can even experience picking vegetables they eat themselves. Indoor activities will fully be offered such as exercises, eurhythmics, and other programs with sophisticated requirements.
This facility will be operated as the Poppins Nursery by Poppins Corporation, a leading company in the day-care service industry. A broad range of value-added services will be offered, including extended day-care and temporary day-care.
2. Baby Lounges (Provisional Name)
The facility is being planned by ecute in collaboration with Benesse Corporation, which is well-known for its "Tamago Club (Egg Club)" and "Hiyoko Club (Chick Club)", together known as "Tamahiyo". The layout was planned with reference to mothers' views. It will be an enjoyable space where the Tamahiyo characters appear, and the station will be a place where babies and mothers can have fun together.
3. Phase II Opening for Business

Phase II of the project will open for business in the spring of 2008. The Hotel Mets at the south exit and some of the ecute Tachikawa shops are slated to open their doors at that time. Direct access from the south ticket gate to the pedestrian deck will also become available then.

Examples of Shops

TIME@HOME (Time at Home)
This is a new business by H. P. France, which produces and markets imported fashion accessories and apparel from all over the world. The line-up is highly selective yet conveys a sense of playfulness in everyday use. Products will include inner wear by an Argentine designer, sundries representing art in everyday life, denim for daily wear, and so on.
Wonton Hao!
This is a new in-station business by Ramla, which will try generating "Kamonka," meaning a fragrance so delicious it pulls people in through the gate. Superb wonton will be made from the original recipes of the dim sum master Wang Xiao-de from China. This wonton is smooth and flavorful going down yet light as a cloud, so customers can savor as much of it as they like.
D & MOTELS STORE and D & COFFEE
This is a new business of the D & DEPARTMENT PROJECT, which provides long-life design suggestions. Employing the design concept of the "professional cute design store," they offer product suggestions for "sundries with the essence of everyday life" designed to embody both stylishness and universality. There will also be a Café offering highly selective food products.
Book Café (Shop Name Not Decided)
Already known for his Bowery Kitchen, LOTUS, and more recently the Marunouchi House, the author of the Tokyo café boom, Uichi Yamamoto, is producing a conceptual zone inside the ticket gates. A mixture of the intellectual world of books and the seductive space of a café will create a new sensory bookstore.
MILK TOP
Fresh pasteurized milk and fresh cream delivered direct from Hokkaido together with condensed milk form the base for ice cream made with all natural ingredients to the most exacting standards. A popular store from nearby Kunitachi will make its appearance here.
‹Reference›
[Facts about Tachikawa Station]
| | | |
| --- | --- | --- |
| Average number of passengers per day (JR East) | : | 152,974 (15th in the JR East area in fiscal year 2006) |
| Number of train services (JR East) | : | 1,225 (in the schedules revised March 18, 2007) |
| Lines serving the station and connections | : | Itsukaichi Line, Ome Line, Chuo Main Line, Nambu Line |
‹History›
| | | |
| --- | --- | --- |
| 1889 April 11 | : | Kobu Railway opens between Shinjuku and Tachikawa, Tachikawa Station opens |
| 1894 November 19 | : | Ome Railway opens between Tachikawa and Ome |
| 1929 December 12 | : | Nambu Railway opens between Tachikawa and Bubaigawara |
| 1982 October 1 | : | Present elevated station house, north-south free passageway, and the Will station building (now LUMINE Tachikawa) completed |
| 1998 November 27 | : | Section of Tama City Monorail between Tachikawa Kita and Kamikitadai opens for business |
| 1999 April 18 | : | GRANDUO Tachikawa department store opens |
| 2000 January 10 | : | Tama City Monorail fully completed south to Tama Center |
| 2001 January 12 | : | North exit pedestrian deck opens to public |
[What is "ecute"?]
This is the name of in-station commercial space developed and operated by JR East Station Retailing Co., Ltd. This comes under the promotion of a new business model that covers station environment planning, to include rail facilities, merchandising in commercial facilities, selection of clients and suppliers, salesroom management, marketing promotion, and so on, all offered in an integrated manner as a "station area development and retail business."
The name is a combination of five words: E is Eki (station), C is Center, U is Universal, T is Together, and E is for Enjoy. It thus creates an image of the station transformed into a place where people gather to enjoy themselves. Pronounced in Japanese, the nickname also connotes a place full of enjoyable things.
ecute Omiya

| | | |
| --- | --- | --- |
| Location | : | 630 Nishiki-cho, Omiya-ku, Saitama City, Saitama Prefecture |
| Area under development | : | Approximately 2,300m² |
| Total number of stores | : | 69 shops |
| Fiscal 2006 Sales (Actual) | : | Approximately 9.2 billion yen |

ecute Shinagawa

| | | |
| --- | --- | --- |
| Location | : | 26-27 Takanawa 3-chome, Minato-ku, Tokyo |
| Area under development | : | Approximately 1,600m² |
| Total number of stores | : | 46 shops |
| Fiscal 2006 Sales (Actual) | : | Approximately 6.6 billion yen |

Development and Operating Company


| | | |
| --- | --- | --- |
| Trade name | : | JR East Station Retailing Co., Ltd. |
| Address | : | 7-9 Kita Aoyama 2-chome, Minato-ku, Tokyo |
| President and CEO | : | Yumiko Kamata |
| Capitalization | : | 480 million yen (100% owned by East Japan Railway Company) |
| Established | | September 12, 2003 |