Basic Memorandum Concluded on Building a New Station: Musashi-Kosugi Station on the Yokosuka Line
Between Nishi-Oi and Shin-Kawasaki Stations
City of Kawasaki
East Japan Railway Company
April 4, 2005
The City of Kawasaki and East Japan Railway Company (JR East) have reached a basic agreement on building a new station, Musashi-Kosugi Station, on the Yokosuka Line. The memorandum concluded today represents both parties' commitment to this new station, which will be between the Nishi-Oi and Shin-Kawasaki stations.
The Yokosuka Line Musashi-Kosugi Station will be approximately 6 km from Nishi-Oi Station and 3 km from Shin-Kawasaki Station, near the crossing of the Yokosuka and Nambu lines. It will be connected by a passageway to the Nambu Line Musashi-Kosugi Station.
The new station will greatly shorten the time required to reach central Tokyo and Yokohama from areas around Musashi-Kosugi Station and along the Nambu Line, making it much more convenient for passengers.
Kosugi Station lies in an area designated as a regional hub in the City of Kawasaki's general plan, the "Frontier Plan" for Kawasaki redevelopment drawn up at the end of March this year. The city is promoting redevelopment and private-sector development projects in a comprehensive way, and the new station is intended as a significant enhancement to the area, distinguishing it as a focal point for local communities.
The City of Kawasaki and JR East are pleased to collaborate in establishing Musashi-Kosugi Station on the Yokosuka Line. We trust that the station will yield considerable benefits as expected.
Overview of the Planned Station (See attachment)
Site
Between Nishi-Oi and Shin-Kawasaki stations on the JR East Yokosuka Line (Approx. 10 km from Shinagawa
Estimated users
Approx. 70,000 passengers will use the new station on the Yokosuka Line daily, including passengers changing between trains.

| | |
| --- | --- |
| * | A total number of 180,000 passengers are expected to arrive and depart daily at the two connected JR Musashi-Kosugi stations. |

Start of service
Planned for fiscal 2009
Rough estimate of cost
Approx. 20 billion yen to construct the new station, station square, and related facilities
Other construction
A ticket gate will be installed below the elevated Yokosuka Line
A passageway will connect to Musashi-Kosugi Station of the Nanbu Line
A square in front of the new station and related facilities are also planned
Location of New Musashi-Kosugi Station on the Yokosuka Line, and other facilities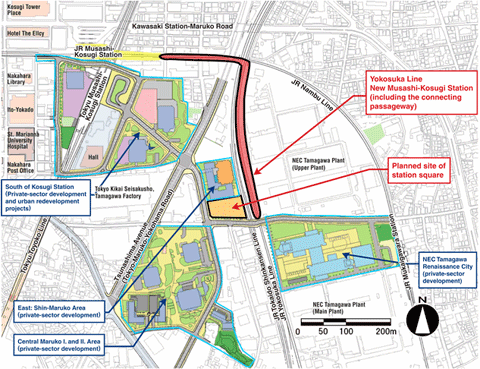 Outline of Rail Lines