Koshu Inden
Kofu, Yamanashi Prefecture
A traditional Koshu handicraft for more than 400 years
A Japanese esthetic that combines deerskin and lacquer
The textures of deerskin and lacquer.
A stationery box and amenities box decorated with auspicious designs
Placed in a corner of each suite room are boxes that store items such as stationery and toiletries. The lustrous lacquer on the lid is decorated with a lovely geometric pattern that sparkles in different ways according to the angle from which it is viewed. Inden is a distinctive technique invented in Koshu (today's Yamanashi Prefecture) during the mid-Edo Era. Soft black deerskin is attached to wood and black lacquer applied to its surface. The final part of the process is to decorate it with an intricate pattern. There are said to be as many as 300 traditional patterns, such as tiny cherry blossoms, waves, and dragonflies.
The Train Suite Shiki-shima stationery box and amenities box are decorated with the auspicious sayagata pattern, consisting of stylized interlocking left-handed sauwastika, a symbol of good luck and prosperity.
It takes the artisans roughly six months to complete one of these very special boxes. They are lovingly used as an accompaniment on a special journey.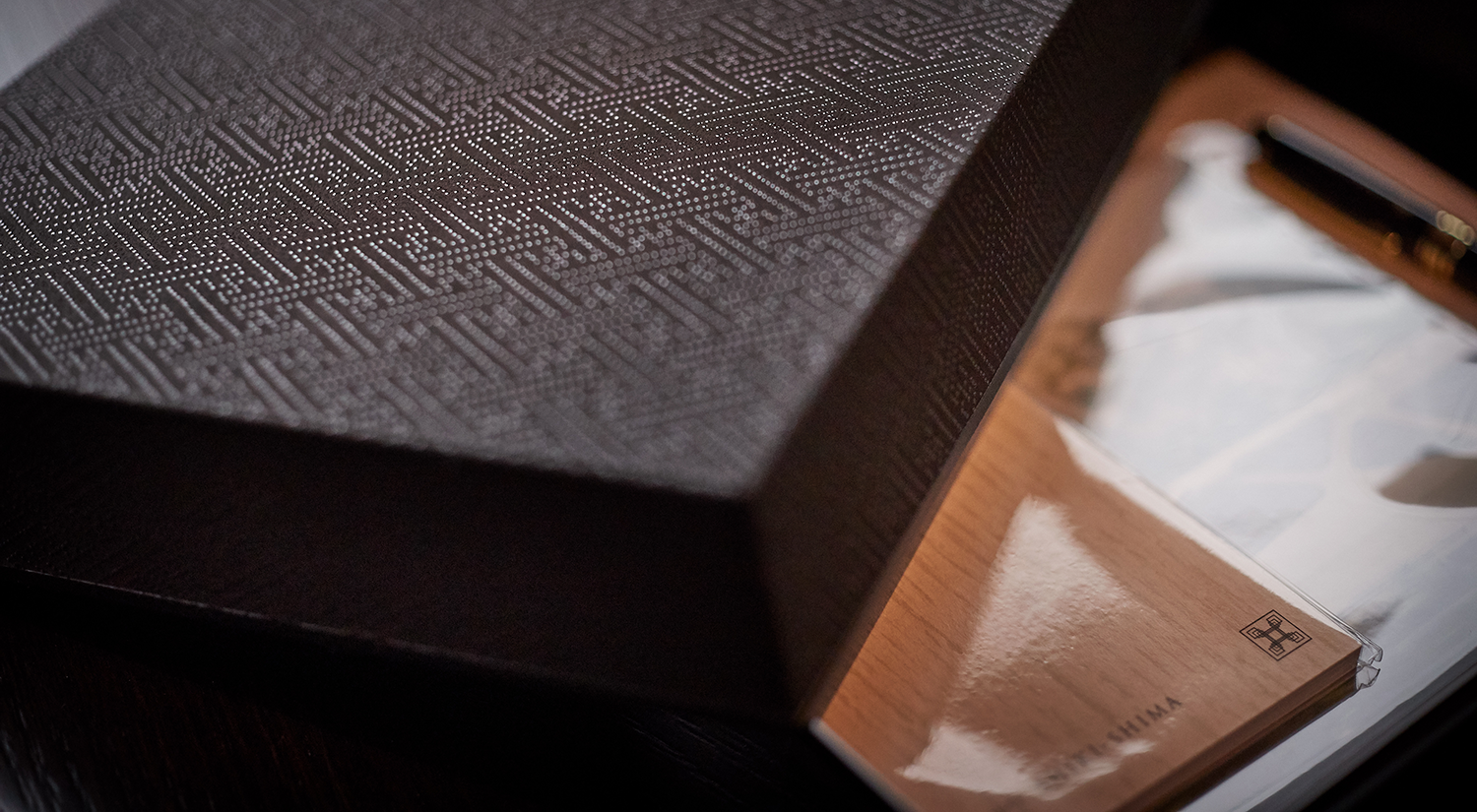 Lacquer applied to deerskin. A distinctive technique passed down through generations
The name "Inden" means "transmitted from India," and refers to a leathercraft used to create patterns on deerskin. Its first appearance in Japan is confirmed to have been its use on library boxes during the Nara Era. Since then, it has been beloved by fashion-conscious people through the ages, being used as a technique to magnificently decorate the helmets and armor of Sengoku Era military commanders, and for items such as drawstring purses in the Edo Era.
Koshu Inden has its origins in the early Edo Era, when Uehara Yushichi, a leathercraft practitioner in Koshu who became the founder of INDENYA came up with his original technique to apply lacquered patterns to deerskin. The treasured Inden techniques of fusube (smoke patterning), urushi zuke (lacquer application) and sarasa (colorful stenciled printing) have been passed down through the generations as a company secret. A variety of traditional Japanese forms are applied to deerskin, a soft natural material that feels good against the skin. As a leading proponent of Japan's precious leathercraft, INDENYA continues to create unique items in the Koshu region.