Tohoku Shinkansen "Hayabusa" Debuts March 5!
East Japan Railway Company
November 11, 2010
The new high–speed Shinkansen E5 Series debuts March 5, 2011 and will begin operating as the "Hayabusa" at speeds of up to 300 km/h, the fastest commercial rail speed in Japan. By bringing together the latest technologies, the new rolling stock will enhance environmental performance, cruising performance and passenger comfort. The new "GranClass" level of service will also be provided, giving passengers a high-quality and roomy private travel space and high-end service unprecedented in the railroad world.
1.

About "Hayabusa"

•
Start of commercial operation: March 5 (Sat.)
•
Trips/segments
Tokyo - Shin-Aomori: 2 round trips daily
Tokyo - Sendai: 1 round trip daily
•
Maximum speed: 300 km/h (Utsunomiya - Morioka)
•
Schedule [See Attachments 1-1 [PDF/533KB] and 1-2 [PDF/579KB]]
•
Travel time
Fastest train between Tokyo and Shin-Aomori is 3 hours and 10 minutes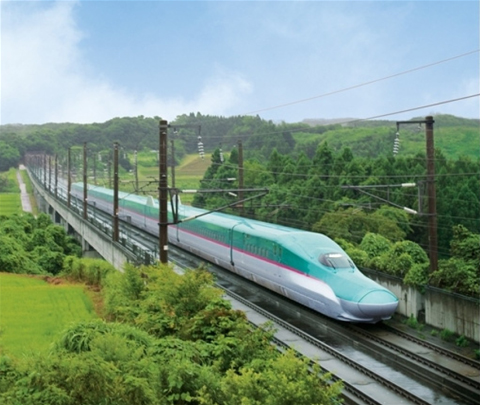 E5 mass-production prototype
Fastest outbound travel time, Tokyo to various destinations
Period
Destination
Shin-Aomori (Aomori)
Hirosaki
Hakodate
Notes
Current
(3 h. 59 m.)
4 h. 40 m.
5 h. 58 m.
• Includes transfer time at Hachinohe
From Dec. 4, 2010 to March 4, 2011

3 h. 23 m.
(36 m. saved*)

4 h. 13 m.
(27 m. saved)

5 h. 45 m.
(13 m. saved)

• Time savings is compared to current travel time
• Hirosaki and Hakodate include transfer time at Shin-Aomori
After March 5, 2011

3 h., 10 m.
(49 m. saved*)

3 h., 55 m.
(45 m. saved)

5 h., 32 m.
(26 m. saved)
| | |
| --- | --- |
| * | The time savings shown between Tokyo and Shin-Aomori are compared to the current shortest travel time between Tokyo and Aomori (including transfer time at Hachinohe). |
•
Others
With the start of "Hayabusa" operations, there will be changes in some "Hayate" operating sections starting March 5. [See Attachment 1-2 [PDF/579KB]]
•
The starting station for "Hayate 12" will change from Shin-Aomori to Morioka.
•
The starting station for "Hayate 36" will change from Morioka to Shin-Aomori.
*
"Hayate 36" will operate daily between Shin-Aomori and Morioka from Dec. 4 to March 4 as a special train.
2. About the new high-speed Shinkansen E5 Series

•
Configuration: 10 cars (Cars 1-8: ordinary class; Car 9: Green Car; Car 10: GranClass)
•
Capacity: 731 seats (ordinary cars: 658 seats; Green Car: 55 seats; GranClass: 18 seats)
•
Maximum speed: 320 km/h (planned for end of FY2012)
•
Latest technologies: Incorporated throughout, dramatically enhancing comfort, environmental performance and cruising performance [See Attachment 2 [PDF/987KB]]
* Comfort enhancements include the use of the new fully active suspension (roll prevention and control system) on all cars, a first for the Shinkansen, for greater passenger comfort. Environmental performance enhancements include low noise pantographs, bogie covers, a long nose, etc., to reduce noise.

3. About "GranClass"

Provides various enhancements for a comfortable travel space.
Category
GranClass
Green Car
Passenger capacity
18
55
Seat pitch [mm]
1,300
1,160
Effective seat width [mm]
520
475
Arm rest width (side/middle) [mm]
94/240
70/140
Partition
Yes
No
Reading light
Position adjustable
Position adjustable
Large table [mm]
500×250
(slides front to back)
420×250
(does not slide front to back)
Seat back (reclining angle)
Electric (45º)
Manual (31º)
Seat pad (slide/tilt)
Electric
Electric
(tilt mechanism only)
Leg rest
Electric
Electric
Foot rest
Electric
None
Head rest
Moves up and down manually
Moves up and down manually
Seating posture operation
Back, seat and leg rests work together or can be adjusted individually
Back and leg rest can be operated individually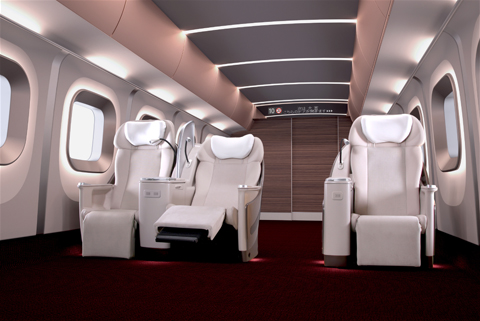 Image of "GranClass" passenger cabin