Even More Excitement at Tokyo Station City with the Opening of "GranSta", a Shopping Complex Within the Ticket Gates of the Station, on October 25
East Japan Railway Company
Tetsudo Kaikan Co., Ltd.

July 3, 2007
The opening date, shops and logo design have been determined for the Tokyo Station City "GranSta" shopping complex inside the ticket gates of Tokyo Station.
GranSta will further increase the attractiveness of Tokyo Station and its surroundings, and give birth to a new "city" brimming with energy that welcomes commuters, business travelers, nearby office workers, tourists and many other people.
A diverse array of 45 shops including 14 new brands, with over 30 shops making their first appearance at an inside-station space "Ekinaka"
GranSta will feature 45 unique shops and two sales promotion spaces that will offer a wide variety of products such as a la carte dishes and box lunches that let customers easily enjoy the tastes of famous shops, confectioneries created by famous food personalities, sundries that add color to your lifestyle, and even a stand bar offering Japanese sake and drinkable vinegars. 14 of these shops will be new brands, and over 30 will be appearing for the first time inside a station (Ekinaka).
"Ekinaka" that links the east (Yaesu) and west (Marunouchi) sides of Tokyo Station, while also providing new and enhanced support services
In addition to linking the Marunouchi and Yaesu districts, GranSta will stimulate the flow of people inside Tokyo Station with eight newly installed escalators connecting to the first floor concourse and new easy-to-understand information signs located throughout the facility. In addition, GranSta will offer personal services that are indispensable for a "city", such as a "cloak service" that temporarily holds items for customers with courteous service on par with a hotel cloakroom, and also provides delivery services. The GranSta space surrounds the Gin-no-Suzu meeting place, creating a "city" that integrates station facilities, commercial facilities and meeting place functions.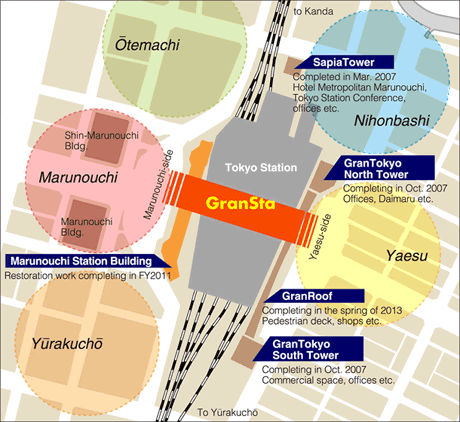 The GranSta logo mark has been decided
The logo mark uses the motif of a script type "g", which is the first letter of GranSta, to express the harmony created by the interweaving of many different flavorful foods.

The logo mark combines a sense of bustling food stalls and elegant facilities, and is a design that will remain in people's hearts as a symbol of precious memories of the time spent in GranSta. The logo type is based on classic Ming style type, and uses an original font to express a modern, refined feeling.
Overview
Development corporation
:
Tetsudo Kaikan Co., Ltd.
(Headquarters: Chuo-ku, Tokyo, President: Tetsuo Nozaki)
Location
:
Basement of Tokyo Station (within ticket gates)
Area under development
:
Approx. 4,500 m2
Area of stores
:
Approx. 1,500 m2
Projected sales
:
Approx. ¥5.6 billion per annum (Approx. ¥2.3 billion for the initial fiscal year)
Total number of stores
:
45 shops and two sales promotion spaces: "SEASON SELECT" and "PRECIOUS SWEETS"
Development concept Creating precious memories in Tokyo
For most passengers, Tokyo Station is just somewhere they pass through en route to their final destination. Sights have been set on the creation of a complex that will attract tourists and nearby office workers looking for high quality products and services, despite spending a short amount of time in the station. Our objective is to create lasting memories for customers by providing high quality service and enabling them to discover new things about food from their shopping.
Improvement of Station Facilities
Up and down escalators will be installed in four locations for a total of eight new escalators, and the concourse walls and ceilings will be renovated. To alleviate congestion on the first floor concourse, greater use will be made of markings to instruct passengers where to walk, and at the same time, enhance the image of the underground concourse. The lockers that are currently in different spots around Gin-no-Suzu will also be relocated to one location for improved passenger convenience.
Facility name "GranSta"
GranSta is a word coined using the combination of "grand," meaning magnificent and best, and "sta," which is intended to convey the meaning of the following four words it starts.

| | | |
| --- | --- | --- |
| Station | : | The heart of the Tokyo Station City development project |
| Status | : | Status befitting of Tokyo as the capital of Japan |
| Start | : | Starting point for building pre-trip anticipation |
| Stage | : | Stage creates memories for the many people passing by |

GranSta is meant to describe an inside-station area befitting of Tokyo Station, the gateway to Japan.

In addition, the name also embodies the aspiration to become a central part of Tokyo Station City.