Commencement of Preservation and Restoration Work on the Tokyo Station Marunouchi Building
~Work on the Central Tokyo Station City Facility Starts at Last!~
East Japan Railway Company
May 8, 2007
East Japan Railway Company (JR East) will hold a ground-breaking ceremony on May 30, and begin preservation and restoration* work on the Marunouchi Station Building of Tokyo Station, which is designated as an Important National Cultural Asset.
This preservation and restoration work aims to improve safety conditions and convenience of the station building. In addition, this work will ensure that the historic building and cultural asset is passed on to future generations, and contribute to the formation of a distinctive urban space for our capital city.
| | |
| --- | --- |
| * | JR East uses the term "restoration" here in the sense of "returning parts of the existing structure that were modified by subsequent repairs to their original form." |
1. Plan Overview
Overview of restoration work
Rather than disassembling and rebuilding the existing station building, the outer walls and other main portions of the existing station building will be preserved and utilized to the greatest extent possible, and the building will be restored to its original design.
The roof and third-floor outer walls that were destroyed by fire during the war will be newly restored. In addition, two underground floors will be newly created to provide space for parking, utility rooms and other facilities.
The rotunda inside the north and south domes will be restored based on old photographs and documentary records. The concourses will be designed in accordance with modern functions.
In order to minimize modifications to the existing station building structure, a vibration-control structure will be used as the work method for enhancing the earthquake-proof capabilities of the station building.
The overall project cost is estimated at approximately 50 billion yen (including work to move obstructions, etc.).
Overview of facilities
Following restoration, the station building will be used as station facility, hotel, and station gallery in the same manner as the existing station building.
The hotel will make the most of the strengths of the location as the door to Japan, and being inside an Important Cultural Asset. The hotel will feature guest rooms (approximately 150 rooms) befitting a central station that represents Japan, and restaurant and banquet hall facilities are also being considered.
In the station gallery, utilities will be improved and exhibition space enlarged. It will have comfortable exhibition facilities to give viewers the experience of this important cultural property, the Marunouchi station building.
The current Marunouchi North, South and Central entrances will stay open throughout the construction period.
2. Overview of facilities
Current
Planned
Address
1-9-1 Marunouchi, Chiyoda-ku, Tokyo
Total floor area
Approximately 19,600 m2
Approximately 43,000 m2
Height
Maximum height: Approximately 33.0 m
Eave height: Approximately 12.5 m
Maximum height: Approximately 46.1 m (Including finials*) (However, the height excluding finials is approximately 34.8 m)
Eave height: Approximately 16.7 m
Number of floors
Two above-ground (three floors in some areas), one underground
Three above-ground (four floors in some areas), two underground
Main uses
Station facility (Approximately 6,600 m2)
Hotel (Approximately 5,600 m2)
Station gallery (Approximately 1,000 m2)
Station facilities (Approximately 7,900 m2)
Hotel (Approximately 20,800 m2)
Station gallery (Approximately 3,200 m2)
Parking space (Approximately 3,600 m2)
3. Overview of work
Developer
East Japan Railway Company
Designer
Design consortium consisting of the East Japan Railway Company Tokyo Construction Office, JR East Tokyo Electrical Construction and System Integration Office, JR East Design Corporation and JR East Consultants Company
Builder
Tokyo Station Marunouchi Station Building preservation and restoration work consortium (Kajima Corporation, Shimizu Corporation, TEKKEN Corporation)
(3 companies)
Schedule
Start of construction: May 30, 2007
Planned completion: fiscal year 2011
4. Overview of ground-breaking ceremony
Date and time
:
May 30 (Wed.), 2007
Scheduled to start at 11:00 a.m.
Location
:
Shinto ritual - Within the Tokyo Station Marunouchi Station Building preservation and restoration work site
Banquet - Tokyo Station Conference (inside Sapia Tower)
Attachment 1: Overview of Preservation and Restoration Work
(Images and other specifications are subject to change depending on future progress.)

Frontal photograph at time of original construction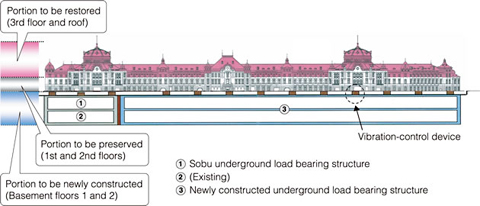 Elevation view after restoration and overview of construction
Images of vibration-control devices
| | |
| --- | --- |
| Vibration control rubber | Oil damper |
Attachment 2: Overview of Dome Portion Restoration
Photograph of dome interior at time of original construction
| | | | |
| --- | --- | --- | --- |
| | | | |
| Image of completed dome rotunda | | Image of completed south dome | |
Restoration of dome rotunda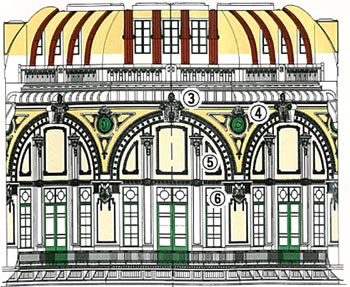 | | | |
| --- | --- | --- |
| * | | The dome rotunda colors will be determined after surveys of the present condition, etc. |
Attachment 3: Overview of Facilities (Floor plans of main floors, sectional view)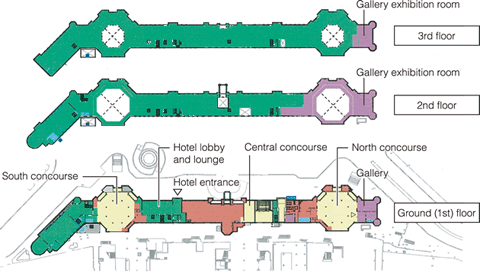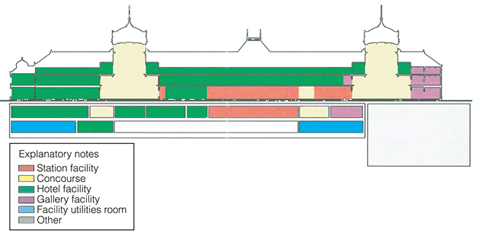 Attachment 4: How the Station will Look when Completed
| | | |
| --- | --- | --- |
| Overall image of completed Tokyo Station City | | Image of restored outer wall on track side |