—Tokyo Station City Starts to Take Shape—

GranSta, a Shopping Complex within the Ticket Gates in the Basement of Tokyo Station, to Open in October 2007
East Japan Railway Company
March 6, 2007
GranSta, a shopping complex in the central concourse in the basement of Tokyo Station, is set to open.
GranSta, a shopping complex within the ticket gates in the basement of Tokyo Station, will open in October this year. Designed based on the idea of creating lasting memories, this comfortable, relaxing shopping complex will offer a range of original high quality products.
Improvement work is also slated, to further enhance convenience and comfort for passengers.
1. Overview of Development
A basement area within the ticket gates of Tokyo Station is being developed into a shopping complex. GranSta will offer a range of original high quality foods and services that will create lasting memories for each and every customer.
•
Location
Basement of Tokyo Station (within ticket gates)
•
Area under development
Approx. 4,500 m

2

•
Area of stores
Approx. 1,500 m

2

•
Total number of stores
Approx. 50
•
Types of stores
Delicatessens, confectioners, bakeries, cafes, grocery stores
•
Projected sales
Approx. ¥5.6 billion per annum
•
Name of complex
GranSta
•
Development corporation
Tetsudo Kaikan Co., Ltd.
Concept: Creating precious memories in Tokyo
For most passengers, Tokyo Station is just somewhere they pass through en route to their final destination. Sights have been set on the creation of a complex that will attract tourists and nearby office workers looking for high quality products and services, despite spending a short amount of time in the station. Our objective is to create lasting memories for customers by providing high quality service and enabling them to discover new things about food from their shopping.
Development is being conducted by Tetsudo Kaikan Co., Ltd., the commercial developer for the area around Tokyo Station, who are taking an integrated approach to merchandising in the shopping complex, sales area management and sales promotion, viewing everything from the customer's perspective.
2. GranSta
GranSta is a word coined using the combination of "grand" and "sta," the latter of which is intended to convey the meaning of four different words it starts. GranSta is meant to describe an inside-station area befitting of Tokyo Station, the central station in the nation's capital.
Station
:
The heart of the Tokyo Station City development project
Status
:
Status befitting of Tokyo as the capital of Japan
Start
:
Starting point for building pre-trip anticipation
Stage
:
Stage creates memories for the many people passing by
3. Improvement of Station Facilities
To alleviate congestion on the first floor concourse, greater use will be made of markings to instruct passengers where to walk, and at the same time, enhance the image of the underground concourse. Up and down escalators will be installed at four locations, information signs will be easier to understand, and concourse walls and ceilings will be refurbished. The lockers that are currently in different spots around Gin-no-Suzu will also be relocated to one location for improved passenger convenience.
Overview of Tokyo Station City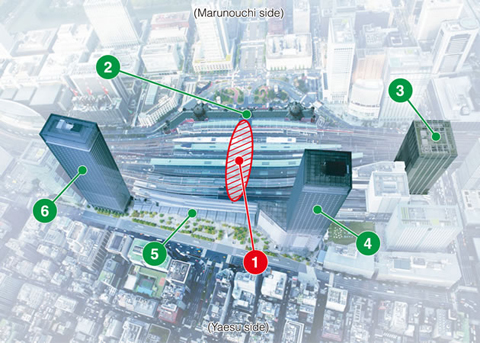 (1)

GranSta, Tokyo Station basement shopping complex
Planned opening: October 2007

(2)

Preservation and restoration work on Marunouchi Station (Planned completion: FY2011)

(3)

Sapia Tower (Completed March 2007)

(4)
GranTokyo North Tower


Phase 1
Planned completion: October 2007
Phase 2
(lower floors)
Planned completion: Summer 2012

(5)

GranRoof
Planned completion: Spring 2013

(6)

GranTokyo South Tower
Planned completion: October 2007
Attachment
How GranSta will look when completed