JR East to Manufacture High-Speed Shinkansen Test Trains
East Japan Railway Company
February 10, 2004
JR East development efforts are focused on improving customer service with faster Shinkansen trains, the R&D emphasis being to offer the world's best high-speed train service in terms of speed, reliability, eco-friendliness, comfort and more.
Our efforts have concentrated on the development of core technologies and high-speed tests with existing trains (the E2 and E3 series), and recognizes the need for more comprehensive assessment and proving. We will be looking more closely at the actual environment and conditions, including train running stability, impact on on-the-ground facilities and the environment, interior comfort, etc. JR East is planning to build special experimental high-speed trains and conduct full-scale running tests.
Test Trains to be Manufactured
JR East will manufacture the two test train of two configurations: E954 Series train (8-car trainset) for the standard clearance Shinkansen and E955 Series train (6-car trainset) for the through-operation between standard Shinkansen and converted conventional lines. This is because Yamagata and Akita Shinkansen lines were converted from conventional lines and have more restrictive clearances than the Shinkansen standard.
Test Train Features
The main features of the test trains that JR East plans to manufacture are as follows.

(1)
Faster running speed
The technical target for this development is a maximum service operation speed of 360 km/h, and the test train performance will allow a maximum speed of around 400 km/h. To achieve this, the test trains will be equipped with newly developed compact and high output main circuit equipment (motors and motor driving equipment), as well as braking devices and other equipment that support high speeds.
(2)
Reliability assurance
To ensure that the trains can reliably run at high speed, JR East is developing a new railcar with thorough proving tests on the running components. Tests also are being conducted on a railcar body that inhibits snow from sticking to it.
(3)
Eco-friendliness
A number of tests are being conducted to control noise, including those on a new low-noise pantograph, a pantograph noise insulation panel, a cover to completely cover the gap between railcars, sound absorbing structure under the floor, and other noise-inhibiting devices.
The experimental trains have a long, tapered nose that minimizes the boom heard when entering tunnels at high speed, and the design minimizes the cross-sectional area of the railcar as much as possible without compromising passenger comfort.
Comparison of nose portions
(4)
Greater comfort
In order to provide the same or greater level of passenger comfort and interior quietness as existing Shinkansen trains even at the higher speed of 360 km/h, JR East is improving active suspension system now being used in the Hayate trains. The experimental trains also incorporate a newly developed body construction with better noise insulation. These trains have a body tilting system that is actuated by the air suspensions so that the train can take curves at higher speed without any loss of comfort to passengers.

Train Completion Schedule
The E954 Series train is scheduled for completion in summer 2005, and the E955 Series train in spring 2006.
Other
Following completion of the test trains, JR East plans to conduct various running tests until FY 2007, mainly on the Tohoku Shinkansen.
Reference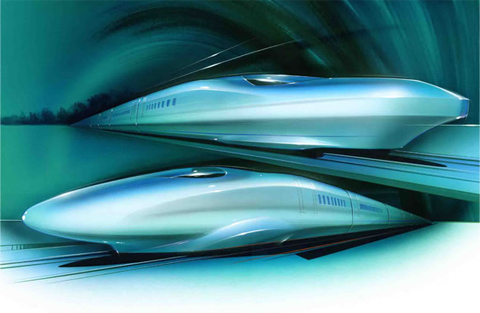 JR East Shinkansen High-Speed Promotion Project
JR East established the Shinkansen High-Speed Promotion Project in April 2002, and the JR East R & D Center has been taking a leading part in various activities to increase Shinkansen speeds. Thus far this project has organized technical themes, developed key technologies, conducted high-speed running tests using existing rolling stock (E2-1000 Series, E3 Series), and conducted basic investigations of the overall system. In the future, JR East plans to manufacture high-speed test trains and conduct full-scale running tests in order to comprehensively evaluate and verify the car running stability, passenger comfort, effects on the ground facilities for Shinkansen and the environment, and other performances under actual conditions in an actual environment.

High-speed running tests using existing rolling stock (FY 2002 to 2003)
High-speed running tests using existing rolling stock were conducted as follows to collect basic data during high-speed Shinkansen running.

| | | | | |
| --- | --- | --- | --- | --- |
| | Test period | Test line and segment | Rolling stock used | Maximum test speed |
| Running test I | March to April 2003 | Joetsu Shinkansen between Urasa and Niigata | E2-1000 Series (high-speed modifications) | 360 km/h |
| Running test II | May 2003 | Tohoku Shinkansen between Morioka and Hachinohe | E2-1000 Series | 320 km/h |
| Running test III | June 2003 | Shinkansen between Nasu-Shiobara and Koriyama | E3 Series (high-speed modifications) | 340 km/h |

Each of the above running tests proceeded favorably, and valuable data was collected for increasing Shinkansen speeds.

E2-1000 Series train ("Hayate" type train, service operation started in 2001)
E2-1000 Series train is JR East's newest rolling stock developed in conjunction with the inauguration of Tohoku Shinkansen service to Hachinohe in December 2002. This train features various advanced technologies such as full-active suspension (anti-vibration system) that improves riding comfort and low-noise pantographs for reducing noise, etc.

| | |
| --- | --- |
| | E2-1000 Series train |

E3 Series train ("Komachi" type train, service operation started in 1997)
E3 Series train is a through-operation type train developed in conjunction with the inauguration of Akita Shinkansen service in March 1997. This train is used for through operation on both Shinkansen and conventional lines whose gauge was widened to standard one (1435 mm). The section of the converted conventional lines has more restrictive clearances than the Shinkansen standard, so that an E3 Series train car is a little bit smaller, but features performance that allows running at 275 km/h over Shinkansen segments.

| | |
| --- | --- |
| | E3 Series train |

Transitions in maximum service speeds for JR East Shinkansen

| | | |
| --- | --- | --- |
| 1982 (Japan National Railways) | : | Start of Tohoku and Joetsu Shinkansen service, 210 km/h |
| 1985 (Japan National Railways) | : | Speed increased to 240 km/h |
| 1990 (JR) | : | Start of 275 km/h operation by some Joetsu Shinkansen trains |
| 1997 (JR) | : | Start of 275 km/h operation by Yamabiko and Komachi trains on the Tohoku Shinkansen in conjunction with the start of Akita Shinkansen service (Hayate trains added later) |

Main Shinkansen high-speed running tests conducted by JR East thus far

1979 (Japan National Railways)
:
Maximum speed of 319 km/h recorded by a 961 Series train (Test train used as the prototype for the 200 Series trains introduced with the start of Tohoku and Joetsu Shinkansen service)
1991 (JR)
:
Maximum speed of 345.8 km/h recorded by a 400 Series train (Yamagata Shinkansen "Tsubasa" type train)
1993 (JR)
:
Maximum speed of 425 km/h recorded by the STAR21 train (Test train manufactured for development of the next full-model change train (at the time) and environmental measures, operated from 1992 to 1997)
2003 (JR)
:
High-speed running tests conducted at 360 km/h using the E2-1000 Series train
High-speed running tests conducted at 340 km/h using the E3 Series train

Maximum service speeds of currently operating railways
The fastest service operation speed in the world is currently 300 km/h on the following four lines.

West Japan Railway Company, Sanyo Shinkansen (between Shin-Osaka and Hakata), 500 Series train
Deutsche Bahn AG (German Rail) (ICE, between Köln and Frankfurt)
Eurostar (between Paris and Calais)
French National Railways (TGV, between Paris and Marseille)