Tokyo Station Yaesu Development Project
Construction of a New Face for the National Capital, Scheduled to Start in Summer 2004
East Japan Railway Company
Mitsui Fudosan Co. Ltd.
Kokusai Kanko Kaikan Co. Ltd.
Kashima Yaesu Development Corporation
Nippon Oil Corporation
November 6, 2003
JR East, Mitsui Fudosan, Kokusai Kanko Kaikan, Kashima Yaesu Development and Nippon Oil are jointly promoting a development project for the Yaesu side of Tokyo station with the aim of creating a new face for the national capital.
The basic project outline has recently been completed, and construction is scheduled to start around summer 2004.
Detailed investigations and applications for various administrative approvals and permits are currently underway.
Project Outline
Outline
This project involves the construction of high-rise twin towers on the north and south sides of the Yaesu-side station plaza. The existing Tetsudo Kaikan building will be demolished, and a pedestrian deck connecting the two towers and a large awning will be constructed in its place. This project is being promoted together with complete reworking of the Yaesu-side station plaza (extending the depth of the current station plaza which suffers from traffic congestion, enhancing transport node functions, and creating abundant pedestrian space), and aims to create a new face for Tokyo.
Station facilities and shops will be located in the central portion to form a bustling pedestrian network on the ground and deck levels. The upper floors of north and south towers will provide state-of-the-art office space, and the Daimaru Tokyo store that occupies the existing Tetsudo Kaikan building will be relocated to the lower floors of the north tower.
The Marunouchi side of Tokyo station will become an entrance that symbolizes history by restoring the Marunouchi station building (an important cultural asset) to the three-story form of its original construction. In contrast, the Yaesu side will become an entrance symbolizing an advanced and cutting-edge society with high-rise twin towers that make liberal use of glass to provide a feeling of transparence, and a large awning that brightly encloses an expansive space.
The Marunouchi-side station building is not as tall as height regulations permit, and this will be used as the basis for higher construction on the Yaesu side.
Developers and Architects
A consortium formed by Nikken Sekkei Co. Ltd. and JR East Design Corporation are the overall developers, with Murphy & Jahn, Inc. as the architects.
Attachment
1. Project outline (at the time of this press release)
South tower
Center portion
North tower
Construction period
Phase I
Phase II
Phase II
Phase I
Location
1-1-3 Soto, Marunouchi, Chiyoda-ku, Tokyo
Plot area
Approx. 19,660 m²
Building area
Approx. 15,000 m²
Total floor area
Approx. 350,000 m²
Maximum height
Approx. 205 m
Approx. 30 m
Approx. 70 m
Approx. 205 m
No. of floors
41 above ground, 4 underground
4 above ground, 4 underground
16 above ground, 4 underground
42 above ground, 4 underground
Main uses
Offices
Station facilities and shops
Shops
Offices and shops
Parking
For approx. 800 cars
Main applicable systems

Sougou Kensetsu System (Regulation of housing comprehensive design)
Tokurei Yousekiritsu Tekiyou Kuiki System (Regulation of special dimension ratio applied area)
Rentan Kensetsubutsu Sekkei System (Regulation of adjoined building construction)
This project outline is subject to change depending on future design requirements and building development regulations.
2. Artist's Rendering
| | | |
| --- | --- | --- |
| South tower | Central portion | North tower |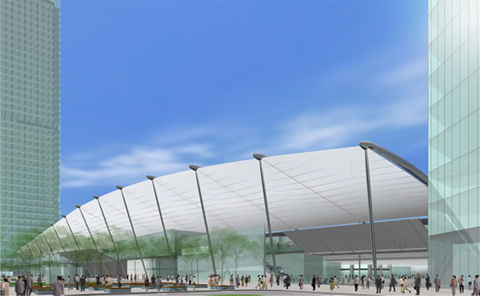 Schedule
| | | |
| --- | --- | --- |
| 2004 summer | : | Start of Phase I |
| 2008 spring | : | Completion of Phase I (south tower, Phase I portion of north tower) and start of Phase II |
| 2011 spring | : | Completion of Phase II (central portion, Phase II portion of north tower) |