An Interview with the President
---
Reform Now
JR East established the JR East Group Management Vision "Move UP" 2027 in July
2018. Could you please explain the significance of the new vision?
We prepared the "Move UP" 2027 vision with our sights set on the coming 30 years. In preparing the vision, we asked ourselves what type of corporate group we need evolve into to sustain growth during three decades in which Japan as a whole will change dramatically. Then, we considered what we need to do over the next 10 years to achieve this evolution. Through the vision, we want to emphasize that the time for reform is now, that each Group employee will lead the reform, and that our aim is to enrich the future of all stakeholders.
Why does the JR East Group need to reform now?
For more than 30 years, the JR East Group has advanced a railway-focused business. The Group has grown through the use of railway-related infrastructure, technology, and expertise to increase the convenience of its railway network and railway stations, thereby encouraging more customers to use them.
During the next 30 years, however, conditions will become far more challenging than they have been. There is a very strong possibility that demand for railway transportation will decrease. As well as the advent of full-fledged population decline, potential drivers of this decrease will include changes in work styles resulting from the spread of telecommuting and satellite offices, the increasing ubiquity of the Internet, and the introduction of practical applications for autonomous driving technology. Amid such emerging trends, sustaining growth based on an unchanged business model would be difficult.
Given these conditions, the Group must take on reform now. We need to cultivate a shared, acute sense of crisis Groupwide and reform our value creation scenario based on the expected changes in society. Therefore, we will change over from providing services focused on railway infrastructure to providing society with new value that is focused on enriching people's daily lives. In other words, the Group will fundamentally shift its focus from railways to people.
What does focusing on people mean?
All of the JR East Group's varied businesses are founded on the trust of customers and local communities. This trust stems from one thing only—safety. Accordingly, safety will remain our first priority. Through unceasing conscientious effort, the Group will pursue "extreme safety levels" and make this trust even more unshakable. Further, we will always take into account environmental, social, and governance (ESG) factors in business management, address social issues through our businesses, and contribute to the sustained development of local communities. The Group must first ensure that it is satisfying these basic requirements before taking maximum advantage of its strengths.
Our strengths are numerous railway stations and station buildings that serve as exchange hubs for people and as well as a multilayered "real" network comprising transportation services, life-style services, and IT & Suica services. The Group will take maximum advantage of these strengths to make daily life more convenient and reassuring and to create diverse, lively exchanges based on the Group's network. In this way, I believe that we can enrich the day-today lives of all people.
The important point here is not to consider things exclusively from the viewpoint of railway operations but to think carefully about what enrichment means for all people, including customers and the members of local communities as well as employees and their families. We have to think about what needs to be accomplished now and continually take action aimed at reform accordingly. Rather than always pursuing these efforts in isolation, we have to proactively incorporate the expertise, technologies, and information of research institutions, such as those belonging to universities, and other companies and combine these assets with our strengths.
---
From Cities and Regions to the World
"Move UP" 2027 sets out three themes: making cities more comfortable, making regional areas more affluent, and developing businesses for the world. First, would you please elaborate on the meaning of "making cities more comfortable"?
The railway network and station buildings in the Tokyo metropolitan area as well as commercial zones inside railway stations are sources of extremely large revenues and as such form the backbone of the JR East Group. The population of the Tokyo metropolitan area is continuing to trend slightly upward. Ultimately, however, population decline is unavoidable. To sustain growth amid these demographic trends, while we still have abundant management resources at our disposal, we need to begin tackling a succession of measures aimed at developing comfortable urban spaces.
Our goals should be to realize seamless mobility and create one-stop services that encompass a range of functions. With this in mind, we aim to develop an environment that allows customers to optimally combine and use transportation, purchasing, and payment services 24/7 for all kinds of daily needs. To this end, the Group has to build new business platforms in all fields, including transportation services and town development that offers new life-styles.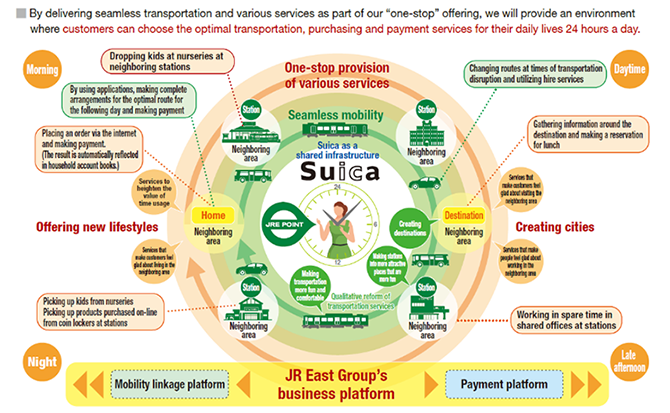 Could you please explain a little more about seamless mobility?
Sure, it has two meanings. One is the elimination of the need to change trains and the shortening of travel times through such initiatives as the Haneda Airport Access Line and direct services between the Sotetsu Line and JR lines. The second meaning is the integration of primary, secondary, and tertiary modes of transportation, including railway services, buses, Bus Rapid Transit (BRT) systems, taxis, shared cars, and shared bicycles, based on the concept of Mobility as a Service (MaaS)*.
Specifically, we plan to build a "mobility linkage platform," which will integrate the provision of travel information services and ticket purchasing and payment services from points of departure through to destinations. By realizing seamless mobility, we will reduce total travel times as well as the stress of changing modes of transportation. In this way, even as the population declines, we want to not only increase the number of people that use our railway services but also make day-to-day life more comfortable for customers and local communities.
* MaaS aims to enable seamless, optimal transportation by integrating autonomous driving technology, artificial intelligence (AI), open data, and other resources and using them in combination with sharing services and traditional modes of transportation.
With respect to making regional areas more affluent, what type of measures does the Group plan to take?
The situation in Japan's regions will become even more challenging. For example, the Tohoku region's population is likely to decrease nearly 30% by 2040. If we do not enrich regions, transportation and exchanges will decrease, and the JR East Group will not be able to sustain growth. Above all else, if we do not take steps Japan will lose the very attributes that make it appealing. We need to work in close partnership with local communities to build sustainable, highly convenient social infrastructure and create active exchanges. This is the JR East Group's mission.
I feel that the heart of the matter lies in creating exchanges of people and goods. For example, we will collaborate with local communities to conduct promotional activities that increase tourism, including domestic tourists and visitors to Japan. More specifically, the Group will collaborate with local authorities to undertake the development of towns centered on regional core railway stations in Akita, Niigata, Aomori, and other regions. The Group has to use its unique capabilities to advance regional revitalization.
Further, the Group will establish a common Suica infrastructure not only in the Tokyo metropolitan area but also in regional areas to create an environment in which customers can connect to the Group's network anywhere and at any time of the day and access a variety of services. To realize such an environment, it will be essential to introduce Suica to those lines and line segments where Suica is still not available, strengthen coordination with the IC public transportation cards of regional transportation systems, and use innovative methods so that we can introduce Suica payment terminals to small regional stores. To address such issues, we are currently using cloud computing technology to develop a small, inexpensive Suica system. In other words, whether or not the Group can develop "compact cities" enabled by compact Suica infrastructure that are centered on regional core railway stations and enabled by compact Suica infrastructure will be decisive factors in determining whether efforts aimed at enriching regional areas succeed.
Will the Group have to rebuild regional transportation networks, including regional conventional line networks?
As dramatic population decline leads to a sharp decrease in passengers, the number of lines that are no longer able to realize the merits of railways is expected to rise. For such lines, I think we need to build highly convenient, sustainable regional transportation networks based on thorough analysis of regional areas' needs, dialogue with local communities, and changing over to other modes of transportation, such as buses and BRT.
What are the Group's goals with respect to developing businesses for the world?
Our aim is to establish an international business model that focuses on Asia and helps enrich daily life. We are already engaged in such projects as the provision of railcars for and the maintenance of the Purple Line urban railway in Bangkok and the operation of the West Midlands passenger rail franchise in the United Kingdom. At present, however, we are focusing the most effort on a high-speed railway project that is under way between Mumbai and Ahmedabad in India. More than 100 JR East Group employees are based at an office in Gurugram (formerly Gurgaon), near Delhi, and engaged in consulting operations. If all goes well, part of the construction will begin in the current fiscal year.
Taking on overseas projects extends the fields in which our employees work and develops their capabilities. At the same time, we hope to use the experience gained from overseas projects to develop businesses and services in Japan, thereby realizing further reform. Going forward, I want to step up the pace of our efforts to take on overseas projects by creating a business model that leverages the Group's comprehensive capabilities, including not only consulting and the supply of railcars but also operational and maintenance capabilities and the life-style service business.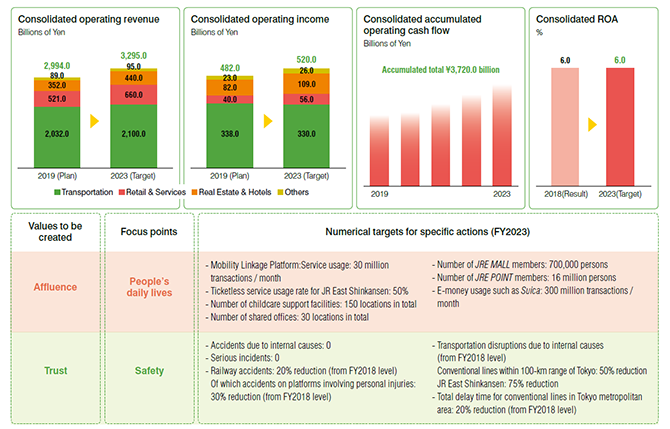 ---
The Leading Role of Employees
"Move UP" 2027 sets ambitious numerical targets. What are the main ways in which the Group will reach these targets?
With a view to taking on reform over the next 10 years, we have set numerical targets for the midway point, five years from now. The most distinctive feature of our approach will be the use of cash flows. We have earmarked approximately ¥3,750.0 billion for investment over the coming five years. We will give priority to investment needed for the continuous operation of business, including investment in safety; growth investment, such as the Shinagawa Development Project; and investment for innovation.
Through these investments we will qualitatively reform, evolve, and grow tangible and intangible aspects of our railway-centered transportation business, which is a vital foundation underpinning the trust the JR East Group has built. In addition, we will concentrate management resources on the life-style service and IT & Suica businesses. In 10 years' time, we will have further grown operating revenues. Moreover, we will have changed the ratio of contributions to operating revenues from the transportation business versus those from the life-style service and IT & Suica businesses from the current 7:3 ratio to a ratio of 6:4. We will continue aggressively pursuing initiatives to establish the life-style service and IT & Suica businesses as new growth engines.
Would it be correct to say that the Group's approach to returns to shareholders and interest-bearing debt has changed significantly?
With respect to returns to shareholders, until now we have targeted a total return ratio target of 33%. Over the medium-to-long term, however, we aim to realize a total return ratio target of 40% and a dividend payout ratio of 30%. While monitoring trends in business conditions and results, we will take measures aimed at meeting these medium-to-long-term targets.
As for interest-bearing debt, until now we have reduced debt by a certain amount each year with the aim of reducing the balance of consolidated interest-bearing debt to ¥3.0 trillion in the mid-2020s. Considering ability to repay debt, the balance of consolidated interest-bearing debt should correspond to consolidated operating revenues and profit. I believe that this approach is appropriate in the current volatile business environment.
What type of measures is the Group taking in relation to ESG management?
Aiming to achieve the goals of "Move UP" 2027 and keeping in mind the Sustainable Development Goals (SDGs) adopted by the UN Sustainable Development Summit, we will implement ESG management to address social issues and help sustain the development of local communities through our businesses. These efforts will earn further trust from customers and local communities and enable the Group to continue growing.
Specifically, from the viewpoint of corporate governance, we will rigorously ensure all employees understand the paramount importance of safety in the Group's approach to management. Based on this shared awareness, the Group will advance concerted, practical initiatives to realize "extreme safety levels." Further, we will reflect changes in conditions by continually identifying, evaluating, and taking measures to reduce risks. In conjunction with these efforts, we will realize strict compliance through the development and implementation of measures in light of actual circumstances within the Group, which we will gauge through continual, detailed communication with employees in frontline operations.
With sound governance as a premise, we will take steps to address a range of social issues. For example, we will tirelessly reform service quality by preventing railway service delays and easing congestion. Other initiatives will include offering childcare support, catering to the needs of diverse customers, developing globally competent railway personnel, and supporting cultural activities. In addition, the railway business is targeting reductions of 25% in energy consumption and 40% in CO2 emissions in fiscal 2031 compared with the levels of fiscal 2014. To these ends, we will introduce new energy creation and conservation technologies as part of efforts to prevent global warming. In addition, plans call for diversifying energy through the use of hydrogen energy and other energy sources.
It is said that companies are only as good as their people.
Will implementing reform call for an all-out effort from employees?
Yes, it will. To shift our focus from railways to people, employees must play a leading role. Each employ has to be reform minded and continue boldly taking on ambitious initiatives with a view to realizing a richer future. Thus, it is vital that each employee is motivated by a sense of being able to realize their ambitions through work. For this reason, I believe that in pursuing reform the senior management team's mission is to take innovative measures that expand and create opportunities for employees to do fulfilling work.