Sendai Station Tourist Information Guide
The JR EAST Travel Service Center offers travel services for customers traveling in Japan. We have the staff who can speak English to provide JR ticket handling service and sightseeing information, and will help customers to enjoy tourism throughout Tohoku starting from JR Sendai Station with peace of mind and comfort.
Tohoku is full of Japanese attractions such as "majestic nature", "deep history", and "rich living". Please fully enjoy the history, culture, and local specialties in Tohoku where the people coexist with the nature and climate woven by the four seasons. These include cherry trees, snow corridors, autumn leaves, frost covered trees, seasonal experiences, festivals, world heritage sites, pure water, local sake and local food culture.
We will help you on your travels. We are waiting for you!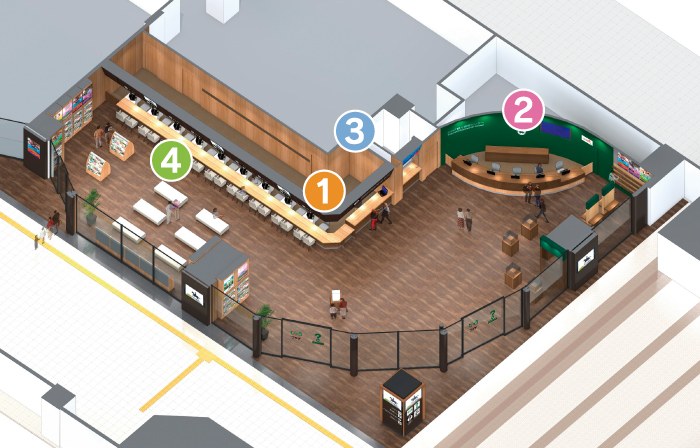 ①JR EAST Travel Service Center Sendai Station

②Sendai Tourist Information Center

③View Card Currency Exchange Center JR Sendai Station Branch

Business Hours / 8:30 - 19:00
Currency exchange service with yen and foreign currency (33 currencies)
④View Plaza Sendai Station
Business Hours / 10:00 - 19:00 (18:00 on holidays)
Other services
Duty-free batch counter

For foreign travelers visiting Japan, a service to carry out duty-free shopping procedures for goods bought at the Ekinaka Store in Sendai Station by batch is provided.

Baggage delivery / Hands-free tourism service

Baggage delivery and hands-free tourism services are provided next to View Plaza Sendai Station NewDays. Delivery services from Sendai Station to Sendai Airport are also provided.

Sales of prepaid SIM cards

A vending machine for prepaid SIM cards for foreign travelers visiting Japan is available in front of View Plaza Sendai Station.

New / Japan souvenir LuckyDrop sales

Vending machines selling capsules with original figures such as the sights and specialties of Tohoku's six prefectures are available at locations such as the NewDays store.
Sendai Station MAP
* Images are for illustrative purposes.