Travel Terms and Conditions
This pass is valid only for foreign visitors holding non-Japanese passports.
This pass is valid for the 3 days written on the face of the ticket.
While using this pass, you must carry your passport and be prepared to present it to a station attendant or car conductor if requested.

This pass is valid for reserved and non-reserved Ordinary Car travel on the Shinkansen or on limited express trains, regular express trains, and local trains of conventional lines for all sections of the JR East lines, Fujikyu Railway, Izu Kyuko Line, Tokyo Waterfront Area Rapid Transit Rinkai Line, Tokyo Monorail, Joshin Dentetsu Line, and the Saitama New Urban Transit Line (New Shuttle) between Omiya and The Railway Museum, within the area designated on the map. It is also valid for Ordinary Car reserved seating on the following limited express trains that directly run between the JR East lines and Tobu Railway lines (Nikko, Kinugawa, SPACIA Kinugawa, etc.), as well as the local trains between Shimo-imaichi and Tobu-nikko/Kinugawa-onsen Stations on the Tobu Railway lines.

* This pass is not valid for the Tokaido Shinkansen or JR buses.
* When traveling on the lines of companies other than those above or on trains outside the designated area, you must pay separately for the fares and charges of the distance traveled.
* The Hayabusa, Komachi, and GranClass are not available. For usage, payment of limited express charges and GranClass charges is required.
* Additional fee is required when riding on the Fuji Tozan Densha or on the car No. 1 of the Fujisan Express or the Fujisan View Express of the Fujikyu Railway.
* The mutual Limited Express service with Tobu cannot be used for departures and arrivals on the Tobu railway line.

When traveling on reserved seating, please go to a Ticket Office (Midori-no-madoguchi) or a Travel Service Center at a JR East station before boarding and present this pass to obtain a (free) reserved-seat ticket. Reservations can be made at a reserved seat ticket vending machine up to six times. (For additional seat reservations, please visit a JR Ticket Office). This pass itself cannot guarantee the availability of reserved seating.
You can use non-reserved seating with this pass alone. Please note, however, that some trains do not have non-reserved seating.

* All seats are reserved on the Hayate, Nikko, Kinugawa, and SPACIA Kinugawa. These trains require a reserved seat ticket.
* All seating of Ordinary Cars on "Narita Express,", "HITACHI," "TOKIWA," "SWALLOW AKAGI," "AZUSA," "KAIJI," and "FUJI EXCURSION" trains can be reserved. If you are boarding a train without having reserved a seat, please use a vacant seat on the train. (Some other lines also have full reserved seating. Please ask our staff for more information)

Even if you use non-reserved seating, there will be no refunds of the basic fare or the charge.
If you ride in a Green Car, the GranClass accommodation, or a Sleeping Car on a Shinkansen or a limited express train, you will be required to pay the limited or regular express service charge in addition to the extra charge for the Green Car, GranClass accommodation, or Sleeping Car. If you wish to travel in a Green Car private compartment, you will be required to pay the limited express service charge in addition to the Green Car charge for the private compartment. An extra charge is also necessary to travel on a local train requiring a numbered ticket or a liner ticket.
Once you have boarded a train, you cannot change to a reserved seat or Sleeping Car.
This pass can be used only within its validity period.
This pass cannot be exchanged for other types of passes or tickets, nor can the validity period of the pass be changed.
This pass cannot be reissued even if lost or stolen.
A refund for this pass is available at all JR TOKYO Wide Pass sales offices, provided that, in principle, the application for the refund is made before the starting date of the validity period. You will be refunded the value of the pass in yen, less a 10% handling fee. Once your reserved seat ticket has been issued, if the departure time for the train has passed, no refund can be issued even if the ticket is unused.
Once you have started to use this pass, the validity period cannot be extended, nor will any refund be issued, even if trains and other valid transportation services are suspended or delayed for any reason. Moreover, the JR East will not bear additional costs due to changes in your route, such as alternative transportation costs or accommodation charges.
To use this pass, you must obey the terms and conditions above, as well as the JR East's regulations, its terms and conditions, and the laws of Japan.
The use of this pass in violation of the terms and conditions above and the JR East's regulations and its terms and conditions may result in the invalidation and confiscation of the pass, as well as the assessment of the basic fares and charges for all transportation services for which the pass was used and a penalty amounting to twice the basic fares and charges.
The official terms and conditions of this pass are in Japanese, and all questions regarding transportation conditions that may arise in other languages are subordinate to the official terms and conditions.
(*The details above are current as of April 2020 and may change. When using this pass, please confirm the latest terms and conditions with a station attendant in charge.)
Usage Area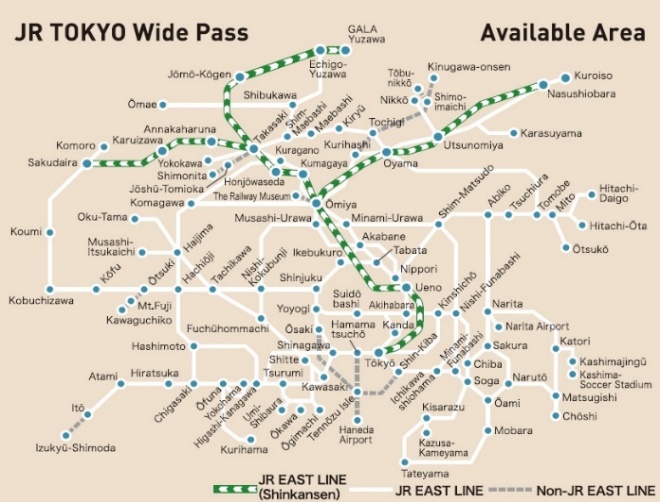 Automatic ticket gates within the pass area may be used.
How to pass through an automatic ticket gate

Note: The automatic ticket gates cannot be used for the lines below (Non-JR EAST LINE). For these lines, use a ticket gate monitored by a station employee.
・Saitama New Urban Transit (between Omiya and the Railway Museum )
・Tobu Railway (between Kurihashi and Tobu-Nikko /Kinugawa-Onsen ) until May 31, 2020
Be sure to collect your ticket after you pass through the automatic ticket gate.
Links