The new N'EX trains provide a comfortable travel with the latest in facilities. The amenities and design are made especially with express train for airport travelers in mind. With the wonderful on-board features, travel from Narita Airport is now even more pleasant.
Improved Comfort
The seats recline and rotate, and are equipped with an adjustable headrests. All seats are provided with a large table and an outlet for laptops, and the foot area has space to store your luggage. With carpeting in the Green Cars and rubber floors in the Ordinary Cars, the ride is quieter than ever.
Green Car interior

Green Car seats
Ordinary Car interior

Ordinary Car seats
Each car is equipped with a large flat-screen monitor displaying the destination, train delays, news, weather forecasts and flight information (for airport-bound trips) in English, Chinese, Korean and Japanese. Note that some program segments are available only in English and Japanese.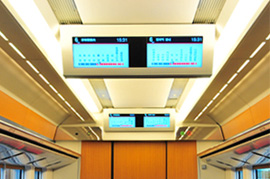 A four-language large flat-screen monitor
Universal Design
N'EX is filled with accessible features. Some of these include that the train sits closer to the platform, the luggage racks are set lower for easier use, and the large Western-style restrooms can accommodate wheelchairs.
Multi-purpose cabin
Western-style restroom with changing bed and baby seat
Braille signs at the entrance and restrooms
Large Western-style restroom
Improved Security
Anti-theft cameras are installed near entrances and at the luggage space. Combination locks are also provided in each car's luggage space to prevent mix-ups and theft. Another one of the security features to make travel safer is an emergency intercom for communicating with the staff in each car.
A large luggage space