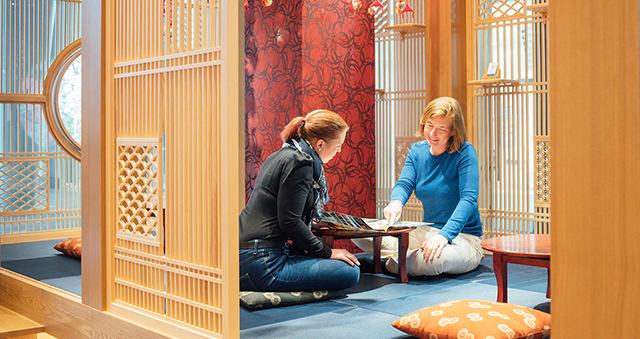 Talk about trips,
meet new friends.
Enjoy meeting like-minded people from all over the world. Pick up some travel tips and offer some of your own, the hot destinations to visit now and stories from your homeland. This is the starting point for travel in Japan, where you will find new ideas and new friends.
A place to discover new travel possibilities
Consult with us to find the right travel plan for you
At the Travel Information Counter, talk with our staff to find exactly the itinerary you are looking for.
Not only can you get information about every region of Japan, you can also buy or exchange Japan Rail Passes, and purchase JR tickets and Welcome Suica cards.
It's just a game! Make trip research fun again.
Explore the latest travel information using your smartphone and a big screen.
This lively new experience goes far beyond the guidebook.
Restaurant & Cafe
Chat with friends and staff.
Taste the Japan-inspired menu.
Getting here
GRAN TOKYO NORTH TOWER 1F
We are located next to JR Tokyo Station, outside the Yaesu Central Gate.
Free Wi-Fi
Weekdays8:00 - 22:00  
Weekends and public holidays8:00 - 21:00
Travel information counter staffed  
every day8:00 - 16:00
JR Tokyo Station 1F, nearest gate