Travel Terms and Conditions
This pass can only be used by foreign tourists visiting Japan from abroad under "temporary visitor" entry status. (It cannot be used by Japanese citizens.)
While using this pass, you must carry your passport and show it if requested.

This pass is valid for unlimited travel in Reserved and Non-Reserved seats in ordinary cars on the Hokuriku Shinkansen (between Tokyo and Kanazawa), Limited Express, and Local Trains operated by JR-EAST and JR-WEST (travel on the Limited Express "Haruka" is limited to Non-Reserved seats in ordinary cars) as well as on the Tokyo Monorail and on Noto Railway between Nanao and Wakuraonsen within the areas indicated. (The pass can also be used on conventional lines between Tokyo and Takasaki.) You do not need to pay any additional fare or charges when transiting the following sections of routes on the Himi Line, Johana Line, or Nanao Line as long as you do not get off the train (if you do get off the train in the following sections or beyond them, you will need to pay the fare and associated charges for the full route of travel):

(1) Between Kanazawa and Tsubata on IR Ishikawa Railway line
(2) Between Toyama and Takaoka (Local Trains only) on Ainokaze Toyama Railway line
*This pass cannot be used for travel on the Tokaido Shinkansen (between Tokyo, Kyoto, and Shin-Osaka).

This pass does not guarantee you a seat on any particular train. Seat reservations may be made in advance without any additional payment. To do this, you should apply at a JR ticket office or Travel Service Center in a JR-EAST or JR-WEST station. Reservations can be made at a reserved seat ticket vending machine up to six times. (For additional seat reservations, please visit a JR Ticket Office). To travel in a Non-Reserved seat, all you need is this pass. Please note that Non-Reserved seats are not available on all trains.

*All seating of Ordinary Cars on the "Narita Express" and the "Swallow Akagi" can be reserved. If you are boarding a train without having reserved a seat, please use a vacant seat on the train.

If you travel in the Green Car on a Local Train, you must pay an extra charge besides the pass. If you travel in the Green Car or GranClass in a Shinkansen, Limited Express, or Rapid Service, you must pay the associated express charge as well as the extra charge. If you travel in a Sleeping Car, you must pay the associated express charge as well as the extra charge and basic fare. You cannot change your ticket to a Reserved seat or Sleeping Car after boarding.
Additional fees apply when boarding carriages or trains that require numbered tickets or liner tickets.
The pass can be used only within its validity period.
The pass cannot be exchanged for any other type of pass or ticket. The stamped dates of the pass cannot be altered.
The pass cannot be reissued if lost or stolen.
If you board a train at an unattended station, present your pass to the conductor on the train.
As a general rule, the pass is refundable at places where the pass was issued or redeemed (with certain exceptions) only before the day the period of validity starts. Ten (10) percent of the yen price of the pass will be collected as a handling fee.
JR is unable to extend the validity of the pass or issue refunds for any reason, including due to service cancellation or delays after use of the pass has begun. Similarly, JR is not liable for costs incurred by passholders as a result of changes in scheduled service, including transportation or lodging expenses.
Use of this pass is subject to the above conditions, passenger transportation regulations, and other rules as imposed by JR-EAST, JR-WEST, and other rail companies, and Japanese Law.
Use of the pass in violation of these conditions or the passenger transportation regulations as imposed by JR-EAST, JR-WEST, and other rail companies will render it void, and the pass will be taken away. The fares and charges for the sections traveled and an additional sum of twice this amount will be collected.
If there is a discrepancy between the Japanese and English, Korean, or Chinese (Simplified or traditional) texts of these conditions, the Japanese text will be treated as authentic.
*The information displayed (including prices), which is current as of April 2020, is subject to change.
Usage Area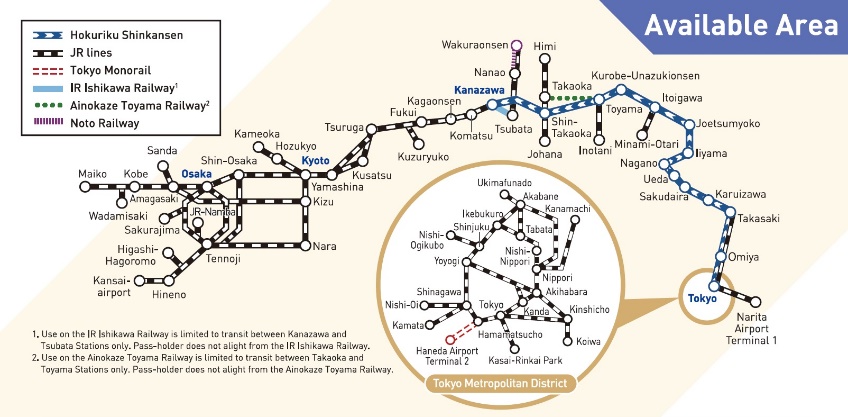 Automatic ticket gates within the pass area may be used.
How to pass through
an automatic ticket gate
Be sure to collect your ticket after you pass through the automatic ticket gate.
Links