Ekikara Hiking (Hiking from the Station) events are one-day events starting from stations throughout the eastern Japan area that anyone can participate in easily. They consist of hiking while experiencing the historical buildings and abundant nature of the areas around the stations. Participation is free of charge. Participation in the Ekikara Hiking event is very simple! All you need to do is apply through this website and then go to the reception counter at the hiking spot on the day of the event!
It is also possible to join the hike on the day of the event but a prior application is more convenient!
English-speaking staff is available to help you!
English maps are also available.
A wonderful free gift is included!
Customers who make a reservation through the Internet will receive another wonderful free gift as well!
There are no time limits, etc.
Please enjoy the hiking in your own way!

"Hiking from Kawaguchiko Station" is a limited-period hike, available on any day of your choosing from Friday, June 20 to Monday (holiday), July 21, 2014. There is no participation fee, and it would make a wonderful memory of your trip to Japan. You can just turn up on the day if you like.
Date
Friday, June 20 to Monday (holiday), July 21, 2014



Original Can Badge
&
Hiking Map
(English Translation)
Application Time
9:30 a.m. to 11:00 a.m.
Nearest Station
FujiKyuko Line Kawaguchiko Station

Reception Area
FujiKyuko Information Corner
(In the FujiKyuko Kawaguchiko Station waiting room)

Walking Time
Approx. 2 hours (excluding time looking round the sites)
Walking Distance
Approx. 7 km
Tour Fee
Free of charge
Lunch
Feel free to bring your own lunch.
Guide
This is not a guided tour. You can walk around there freely with a map.
Points to Note:
You will be Walking for about 2 hours so please wear sturdy clothes and shoes, etc. on the hike.
Please keep in mind that the peak period for flower viewing will depend on the weather and other factors, and that weather conditions may also prevent you from seeing the panoramic view.
We ask for your cooperation in taking home with you any trash produced during the hike.
The 2014 Kawaguchiko Herb Festival is planned for Friday, June 20 to Sunday, July 13, 2014 (The Oishi Park venue is to be open until Monday (holiday), July 21, 2014.), but the festival period is subject to change depending on the status of the flower blossoms.
A separate admission fee is charged for the Kawaguchiko Music Forest Museum.
A separate fee is charged to ride the Kachikachi-yama Ropeway.

While strolling the shores of Kawaguchiko, you can enjoy great views of Mt. Fuji rising from a sea of lavender. On the course, you will also encounter golden statues of the Seven Gods of Fortune, including Benzaiten and Daikokuten. Why not visit the Seven Gods of Fortune?
The terminal station on the FujiKyuko Line, Kawaguchiko Station underwent a major renovation in 2006.
There is also a majestic view of Mt. Fuji from Kawaguchiko Station. At the "Gateway Fujiyama café" in Kawaguchiko Station, souvenir gifts such as original sweets and special products of Yamanashi Prefecture are sold.
The FujiKyuko Information Corner reception desk is located in the waiting room to the left after you exit the Kawaguchiko Station ticket gate.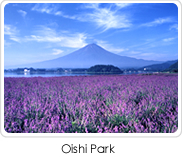 A great spot for beautiful views of Mt. Fuji and Kawaguchiko year round. At the Kawaguchiko Herb Festival, planned for Friday, June 20 to Monday (holiday), July 21, 2014, you can enjoy great views of Mt. Fuji rising from a sea of lavender.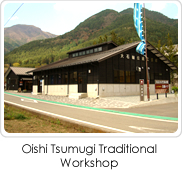 Praised for its luster and beautiful coloration, Oishi Tsumugi has been designated an official traditional handicraft of Yamanashi Prefecture. The traditional hand-weaving of this pongee silk cloth has been handed down in this region since ancient times. Within the workshop, there are special corners for demonstrations and displays / sales.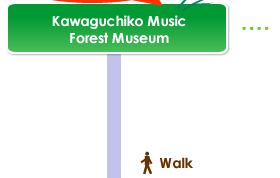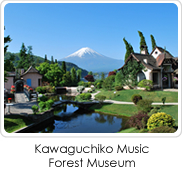 This museum displays a collection of world-famous music boxes. The museum's wonderful old-style European buildings and the beautiful flowers in the gardens (Rose Garden, etc.) provide many exquisite views with Mt. Fuji and Kawaguchiko as a backdrop.
[Entrance fee]
(Show your course map to obtain a discount!)
Adults: 1,300 yen →

1,200 yen

University and high school students: 1,100 yen →

1,000 yen

Elementary and junior high school children: 800 yen →

700 yen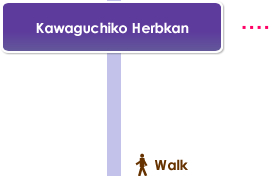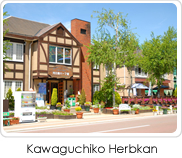 This shop is filled with the charm of herbs. There are herb gardens as well as herb teas and other herb goods. Visitors can also experience creating their own handmade aromas, pressed flowers, flower arrangements, and more.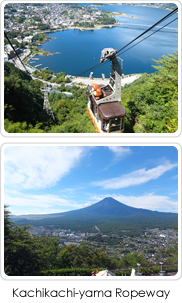 From the platform on the shore of Kawaguchiko, board the Kachikachi-yama Ropeway for a three-minute ride through the air to the peak of Tenjosan. From the observation platform on the summit, a superb view of Mt. Fuji spreads out before your eyes.
[Passenger fare]
Round-trip
One-way
Adults
(Children over junior high school age)
720 yen
410 yen
Children
360 yen
210 yen
Click here for information about Kawaguchiko sightseeing information
Click here for information about FujiKyuko Mt. Fuji Station information

From Shinjuku Station
JR Chuo Line Limited Express Azusa No. 3
JR Chuo Line Limited Express Azusa No. 7
Holiday Kaisoku Mt. Fuji No.1
Weekday
Saturday/Sunday/
Holiday
Weekday
Saturday/Sunday/
Holiday
Saturday/Sunday/
Holiday
Shinjuku Station
dep.
7:30
7:30
8:30
8:30
8:14
Otsuki Station
arr.
8:31
8:31
9:38
9:38
For FujiKyuko Kawaguchiko
FujiKyuko Mt. Fuji Limited Express No.3 For Kawaguchiko
For FujiKyuko Kawaguchiko
dep.
8:35
8:34
9:46
9:59
Kawaguchiko Station
arr.
9:26
9:33
10:35
11:00
10:26


| | | |
| --- | --- | --- |
| The Mt. Fuji Round Trip Ticket is an economical round-trip ticket enabling train and bus access from Tokyo to Mt. Fuji. It is recommended both for travelers who will return the same day and for those who will stay overnight one night to climb the mountain! | If you are in the East Japan area we recommend the JR EAST PASS which offers unlimited rides with no extra charges! | This pass allows you to take a reserved seat in a normal car of the Shinkansen and limited express trains for three days as many times as you like. |
| | | |


We are providing Mt. Fuji area tourist information as well as gift-campaign and other information! Please see the Mt. Fuji special page for details.