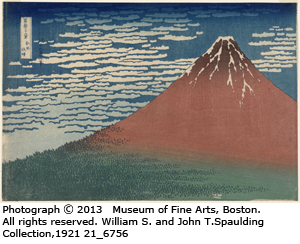 One of Hokusai's paintings
At 3,776 meters, Mt. Fuji is the highest peak in Japan. Perpetually covered by snow, its beautiful form has captivated people since ancient times and is revered and loved as a symbol of Japan. Among the works of notable Japanese ukiyo-e painter Katsushika Hokusai is the series "Thirty-six Views of Mount Fuji," which captures the beautiful shape of the mountain, popular among people of all ages.
With the goal of reaching the highest point in Japan, many visit in summer to climb Mt. Fuji. During the mountain-climbing season from July 1 to the beginning of September, the slopes bustle with people from around Japan and around the world.
Around the base of Mt. Fuji are five lakes. One in particular, Lake Kawaguchi, provides many excellent viewpoints for gazing at the mountain. In 2013, Mt. Fuji was inscribed on the World Heritage List. Enjoy the beautiful scenery that Mt. Fuji provides. It's not that far away.