Travel Terms and Conditions
The JR EAST PASS (Tohoku area) (hereafter, "the pass") is valid only for visitors holding a non-Japanese passport.

The pass may not be transferred or given to a third party, including family members.
An original passport is required for purchase and issuance of the pass.
Issuance is not possible with a passport photocopy.
The passport must be valid for the duration of the period of use of the pass.

This pass is valid for the five days printed on the ticket.
Make sure to keep your passport with you at all times while using the pass, and present it to staff when requested.

The pass is valid for reserved and non-reserved seats on ordinary cars of local and express trains, as well as limited express trains of Shinkansen and conventional lines of JR EAST lines (including BRT*), and all Tokyo Monorail, Izu Kyuko, Aoimori Railway, Iwate Galaxy Railway (IGR) and Sendai Airport Transit lines within the area indicated on the map. The pass is also valid for ordinary car reserved seats of limited express trains (Nikko, Kinugawa, SPACIA Kinugawa, etc.) that run directly between JR EAST and TOBU RAILWAY lines, as well as for TOBU RAILWAY local trains between Shimo-imaichi and Tobu-nikko / Kinugawa-onsen.

*BRT: Bus Rapid Transit.
*JR buses within the usage area (long-distance and some regular route buses excluded)
*Additional fares and fees are required for passage on trains other than the lines and area indicated above.
*The pass is not valid for limited express service directly shared with TOBU lines of limited express trains that depart or arrive within the TOBU RAILWAY service area. The pass is valid for the TOBU RAILWAY only if either the departure or arrival station is on a JR line.

For reserved seats, make sure to have your seat ticket issued from a JR EAST Reserved Seat Ticket Vending Machine, JR Ticket Office (Midori-no-Madoguchi) or Travel Center before boarding. This pass alone does not guarantee seating. Only this pass is required for non-reserved seats. (Some trains may not have non-reserved seats.)

*All seats on the Hayabusa, Komachi, Hayate, Tsubasa, Nikko, Kinugawa and SPACIA Kinugawa are reserved seats. You may not board without obtaining a seat ticket.
*All seats on ordinary cars of the Narita Express, Hitachi, TOKIWA, Akagi, Azusa, Kaiji, FUJI EXCURSION, Odoriko, SHONAN, etc., may be reserved. Use an available seat if you board without first reserving. (There are other trains with only reserved seats. Ask staff for further details.)

Fares and fees are not refundable, even if the customer elects to use a non-reserved seat.
Green Car, GranClass or sleeper car fees are required in addition to limited express or regular express fees for use of Green Cars of limited express and regular express trains on the Shinkansen and conventional lines, GranClass or sleeper cars. Private compartment Green Car fees are required in addition to limited express or regular express fees for use of Green Car private compartments. Passengers cannot change their reservation for a reserved seat or sleeper car once on board the train.
This pass can only be used within its term of validity.
This pass cannot be exchanged for other passes or tickets, and the term of validity cannot be changed.
The pass cannot be reissued if lost or stolen.
Refunds are available at the place of purchase only if the pass is unused and within the period of validity. A handling fee of 10% of the purchase price (JPY) is subtracted from the refund. After a seat ticket is issued, it cannot be refunded after the scheduled departure time of the train, even if unused.
Once you have begun using the pass, it cannot be extended or refunded for any reason, including suspension of service, delay, etc. JR bears no responsibility for additional fees incurred, including changes to your route, transportation or accommodations.
To use this pass, passengers must obey the terms and conditions above, JR EAST regulations, terms and conditions and the laws and regulations of Japan.
Use of this pass in violation of the terms and conditions of this pass or JR EAST is regarded as illegal passage and may result in invalidation and confiscation of the pass, collection of fares and fees for all areas traveled using the pass, and a penalty of double the fares and fees.
Should any issues arise from the travel terms and conditions as presented in English, Chinese (traditional/simplified) or Korean, the original Japanese language document shall be considered the official text.
*The information above is current as of April 2021 and is subject to change. Inquire with staff for the latest updates when using the pass.
Usage Area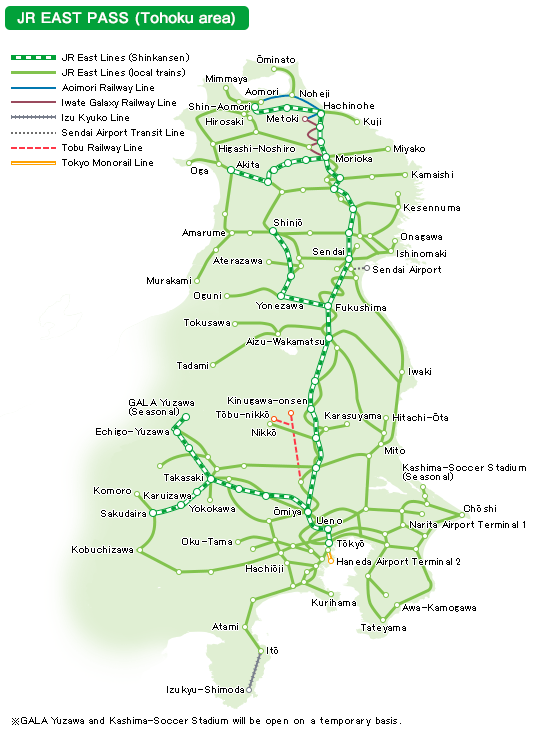 Automatic ticket gates are available within the usage area.
Inquire with staff for entry if an automatic ticket gate is not available.
How to pass through an automatic ticket gate

Note: Automatic ticket gates cannot be used for non-JR EAST lines. Inquire with staff for entry.
· Saitama New Urban Transit (Omiya Station to the Railway Museum)
Be sure to collect your ticket after you pass through the automatic ticket gate.
Links