R&D Themes







Development of a Storage Battery-driven Train System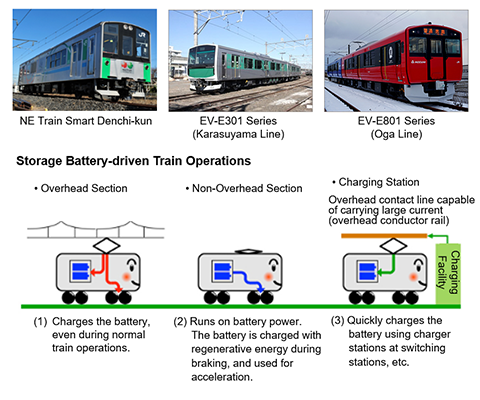 JR East has developed a diesel hybrid train which first began operating as the Kiha E200 series on the Koumi line and is now used in commercial operations for some sections of non-electrified lines. As a measure to further reduce environmental burden on non-electrified sections, we have also developed the Storage Battery-driven Train System.
This system enables trains to run on non-electrified sections as though they were electric railcars through the use of a high-capacity storage battery installed in the train. This eliminates exhaust gas generated by the diesel engine and reduces both carbon dioxide and noise pollution. This also makes it possible to reduce engines and other mechanical parts, thereby reducing maintenance.
We used the NE train "Smart Denchi-kun" in running tests to evaluate functionality and test the technology and successfully completed verification tests for practical usability in FY2011.
Based on these results, we began the commercial launch of the EV-E301 series battery-powered train, "ACCUM", complete with the Storage Battery-driven Train System installed in March 2014 on the Karasuyama line, replacing all trains on the line with this model by March, 2017.
March, 2017 also marked the introduction of the EV-E801 series AC storage battery train, establishing direct service between AC electrified and non-electrified sections of the Oga line.