Tochigi Kirifuri Kogen Gyumeshi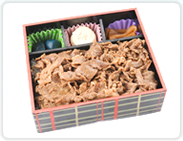 Main sales location: Utsunomiya Station
This ekiben (station bento) is made from Tochigi Kirifuri Kogen beef, specialty dried calabash from Tochigi, Nikko yuba and other local ingredients. To make sure you do not miss any of the excellent mild flavor of the meat, enjoy this ekiben with the light sauce.
Genki Inari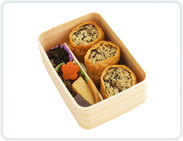 Main sales location: Utsunomiya Station
The word inari refers to a type of sushi made of sweet-and-salty deep-fried tofu skin stuffed with vinegared rice. Genki Inari starts with the same tofu skin, but is stuffed with brown rice that has been cooked with soybeans, stewed hijiki seaweed, stewed calabash and sesame. At 500 yen, Genki Inari is an inexpensive treat that is a big hit with children.