We at JR East have planned out some great itineraries for visiting Nagano Prefecture. These trips include places to discover Japanese attractions, whether this is your first trip to Shinshu or you are a repeat visitor. For those wanting to enjoy their trip at a more leisurely pace, we have charted out one-night, two-day itineraries, and we also have day trips for those who want a quick vacation from Tokyo. These itineraries feature accommodations that should be experienced by any visitor to Japan! Select a trip that fits your schedule.
One-night, Two-day Trips
The itineraries for these trips include one night and two days. These trips are recommended for travelers who want to enjoy the attractions of Shinshu at a more leisurely pace.

Matsumoto Castle, a National Treasure
This itinerary is designed for people wanting to see the most popular tourist attractions of Shinshu. Enjoy strolling and shopping in the popular highland resort area of Karuizawa as well as visiting historical structures including Zenkoji Temple–a symbol of Nagano–and Matsumoto Castle, a National Treasure.
Major points of note:

Karuizawa, Zenkoji Temple, Matsumoto Castle

Accommodations:

Nagano Area – Hotel Metropolitan Nagano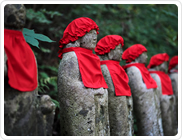 Bessho Onsen, an area known for old temples and pagodas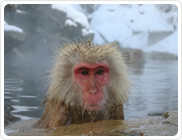 Snow monkeys are a popular Shinshu attraction
Start with a walk in the streets of Obuse, famous for chestnuts, while eating the delectable chestnut confections, then visit the hot springs at Yudanaka & Shibu Spas. On the second day, it's off to see the ever-popular snow monkeys.
Major points of note:

Obuse, Yudanaka & Shibu Spas, snow monkeys, Zenkoji Temple

Accommodations:

Yudanaka Onsen area – Yorozuya Annex Yurakuan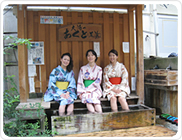 Enjoy footbaths at Nozawa Onsen
Nozawa Onsen is home to 13 community bathhouses. Soak in the hot water with the local villagers, and immerse yourself in the traditional hot spring culture, which developed in the Edo Period and has been maintained to this day.
Major points of note:

Nozawa Onsen, Zenkoji Temple, Matsumoto Castle

Accommodations:

Nozawa Onsen area – Kiriya Ryokan, a traditional Japanese inn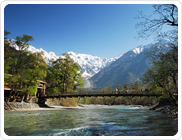 The Kappa Bridge in Kamikochi with the Japanese Alps in the background
Surrounded by mountains rising over 3,000 meters in altitude, you will have ample opportunity to feast your eyes on the beautiful scenery of Kamikochi on this tour. Maybe even stop by the comical Manji Stone Buddha to take a photograph to remember your trip.
Major points of note:

Kamikochi, Matsumoto Castle, Manji Stone Buddha (Manji no Sekibutsu)

Accommodations:

Matsumoto area – Matsumoto Tokyu REI Hotel

Water is released from the Kurobe Dam
After a hike in the Hakuba area, known for ski resorts, head straight for Omachi Onsen to wash the fatigue away in the hot spring. On the following day, take an excursion along the Tateyama Kurobe Alpine Route.
Major points of note:

Hakuba, Omachi Onsen Village, Tateyama Kurobe Alpine Route, Zenkoji Temple

Accommodations:

Omachi Onsen Village area – Tateyama Prince Hotel
Day Trips
These day trip itineraries were planned especially for travelers who want a quick, but fun trip from Tokyo. They feature popular Shinshu tourist sites in Nagano and Karuizawa.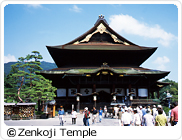 Zenkoji Temple, symbol of Nagano
Nagano is just 105 minutes from Tokyo by Shinkansen. After visiting Zenkoji Temple, which is the symbol of Nagano, a bowl of local Shinshu soba (buckwheat noodles) is a local treat that should not be missed. Obasute is also a scenic location that is worth the visit!
Major points of note:

Zenkoji Temple, Shinshu soba, Obasute, oyaki fried flour cake
Icon Guide
Features the spectacular natural beauty of Shinshu

Features wonderful Shinshu cuisine

Features Shinshu hot springs (onsen)
Features historical Shinshu structures and traditional crafts

Features shopping