The Super View Odoriko was developed as a resort-style limited express, specifically for serving Izu, somewhat to the southwest of Tokyo. To provide a better view of the beautiful shoreline running along the Izu Peninsula, the Super View Odoriko has a raised floor and windows extending to the ceiling. The Izu Peninsula is filled with hot springs, from Atami to Ito and Shimoda as well. With spring coming just a bit earlier than in Tokyo, Izu is a popular destination for viewing the ume (plum) and cherry blossoms in spring, bathing in the sea during the summer, and then welcoming autumn and winter with fresh seafood.
Announcement:
On Saturday, November 3, 2018, the Odoriko and Super View Odoriko will be running on an altered schedule due to construction at Kawasaki Station. Beginning at 10:00am, the Odoriko and Super View Odoriko will not stop at Kawasaki Station.
The Train Line-up
Series 251

Super View Odoriko:
Tokyo / Shinjuku - Izukyu Shimoda

From Ito and Izukyu Shimoda, trains operate on the Izu Kyuko Line. JR EAST PASS holders ride free on this interval.
Places of Interest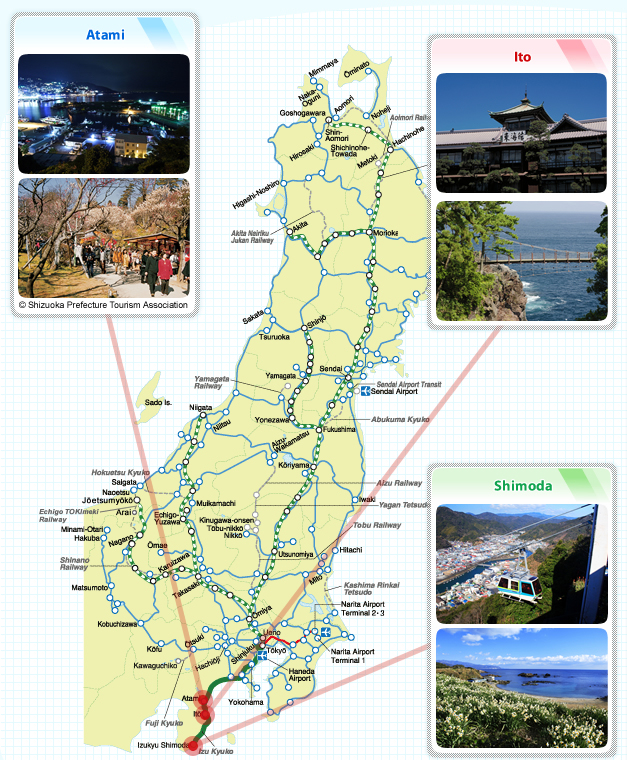 Located at the entrance to the Izu Peninsula, Atami is known as one of Japan's largest hot spring towns. While retaining the old-fashioned atmosphere of traditional bathhouses, the town has also built itself up with modern facilities. Blessed with a temperate climate, Atami's ume and cherry blossom trees come into bloom at the same time in late January.
Access: Take the Tokaido Line to Atami Station.

Ito opens onto Sagami Bay and the Jogasaki Coast, mostly composed of rias, landforms sometimes referred to as drowned river valleys. The natural landscape provides many beautiful views. Ito has many hot spring ryokan (inns) built in the architectural style popular in the 1920s and 1930s as well as many other public bathhouses, and fresh fish is caught in the fishing ports every morning and evening.
Access: Take the Ito Line to Ito Station.

Located at the southeastern end of the Izu Peninsula, Shimoda flourished in the Edo Period (seventeenth to mid-nineteen centuries) as a port of call for boats traveling between Edo (Tokyo) and Osaka. To this day, buildings from those days stand, including private homes with the square tiles and decorative plaster, typical of the times. Another notable feature of Shimoda is its historical status as a port opened up at the request of Commodore Perry in 1854 as well as a location where Commodore Perry anchored during the period when Japan's self-imposed isolation was coming to an end. With mild winters, Shimoda has hot springs to enjoy as well as a variety of beautiful flowers, particularly early spring daffodils. Because of its convenient access, Shimoda is a great starting point for enjoying other parts of the Izu Peninsula.
Access: Take the Super View Odoriko to Izukyu-Shimoda Station.