Nikko has more than 1,000 years of history and is the home of the Two Shrines and One Temple that have been registered as a World Heritage Site.
The most famous place in the World Heritage Site is the Nikko Toshogu Shrine. The Toshogu Shrine was built to enshrine Ieyasu Tokugawa, who created a long-lasting, stable, and strong government. Craftsmen with outstanding skills even by international standards, including master builders and carpenters, casters, painters, sculptors, stonemasons, etc. pitted their skills against each other to add elaborate features all over the ceilings, walls, and floors, creating an entire building that is a work of art with a high degree of perfection.
The high quality of Japan's distinctive wooden architecture, which contrasts with the brick architecture of the royal courts and palaces, etc. in Western Europe at that time, can be seen everywhere.
Furthermore, right next door to Nikko is Kinugawa, a leading hot spring resort area, which has become a popular hot spring spot with both Japanese and overseas tourists, and attracts many tourists every year.
The direct limited express Nikko and Kinugawa trains are very convenient for accessing these wonderful destinations of Nikko and Kinugawa.

You can reach Nikko and Kinugawa from Shinjuku in approximately two hours and without having to transfer trains. Why don't you travel a little further and see the history of Japan with your own eyes?
Location map

Approximately two hours from the greater Tokyo area to Nikko and Kinugawa!
We deliver a more comfortable Nikko and Kinugawa journey in our upgraded Nikko and Kinugawa trains.
Please enjoy a comfortable two hours in our new-model carriages which are now easier to travel in than ever before. They offer spacious seats, luggage space in which large luggage can be stored, and information provided in English etc. to enable customers from overseas to have a more comfortable journey.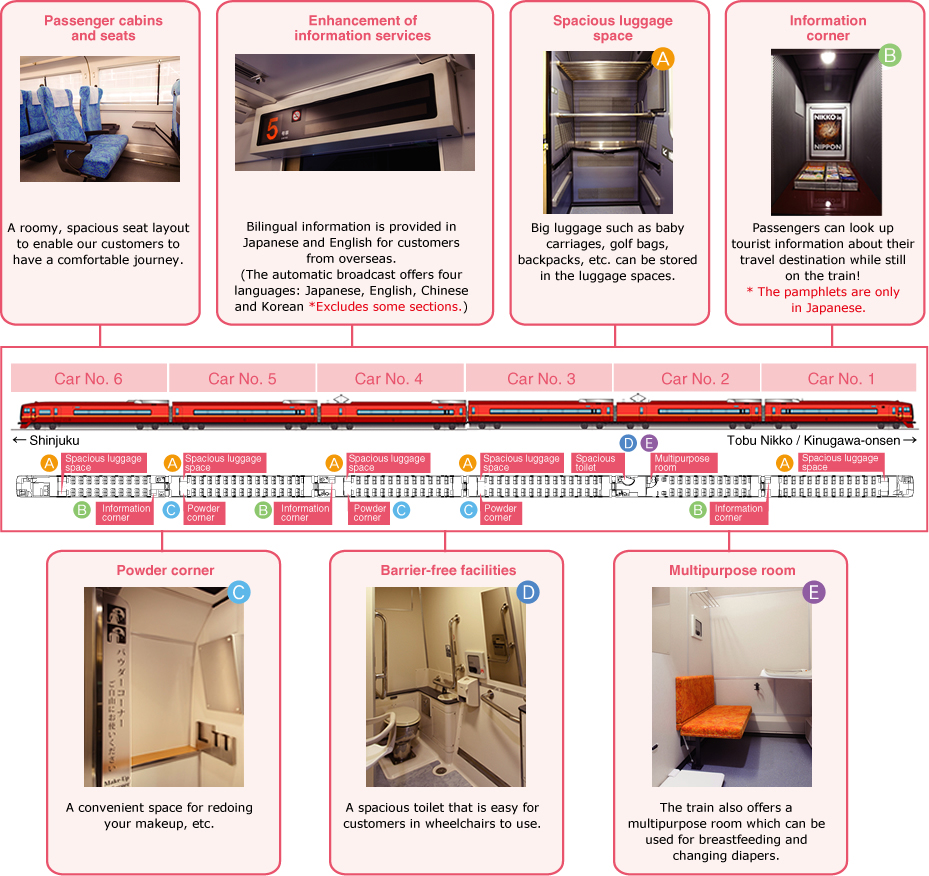 Guide to the train schedule for the upgraded Nikko and Kinugawa trains
The upgraded Nikko and Kinugawa trains travel out of and in to Shinjuku twice a day. If you wish to ride on the new Nikko and Kinugawa train cars, please travel at the times indicated on the train schedule below.
Out of Tokyo
Shinjuku
Ikebukuro
Omiya
Shimo-imaichi
Tobu-nikko
Kinugawa-onsen
Nikko No. 1
Departs 7:30
Departs 7:37
Departs 8:02
Arrives 9:20
Arrives 9:29
Arrives 9:50
Kinugawa No. 5
Departs 13:05
Departs 13:11
Departs 13:32
Arrives 14:47
Arrives 14:58
Arrives 15:10
In to Tokyo
Kinugawa-onsen
Tobu-nikko
Shimo-imaichi
Omiya
Ikebukuro
Shinjuku
Kinugawa No. 4
Departs 10:38
Departs 10:45
Departs 11:00
Arrives 12:19
Arrives 12:42
Arrives 12:48
Nikko No. 8
Departs 16:24
Departs 16:37
Departs 16:45
Arrives 18:05
Arrives 18:27
Arrives 18:34
*There are also other Spacia express trains such as "Spacia Nikko" and "Spacia Kinugawa" in operation.
About the fare tickets for the trains
IC fare tickets (Suica, PASMO, etc.) cannot be used to ride on these trains. It is necessary to purchase fare tickets and limited express tickets.
[Notes]
Only major stations are shown.
indicates the arrival time in the case that the passenger transferred to the connecting train at Shimo-imaichi. indicates the departure time in the case that the passenger will transfer to the connecting train at Shimo-imaichi.
This train schedule is current as of July 1, 2012. The schedule is subject to change, so please confirm the schedule before traveling.
With this one pass you can ride on the Shinkansen and also on the Nikko and Kinugawa trains! It is a good-value pass matched to the needs of our customers, and we offer a 5-day pass, a 10-day pass, and a flexible 4-day pass, etc.!
We regularly hold hiking events, which are easily accessible to customers coming from overseas, in the Nikko and Kinugawa area which is filled with an abundance of pristine nature. We provide a variety of hiking courses each time, so each hiking event provides you with wonderful memories. Participation is free of charge, so by all means feel free to join in a hiking event when you come to Nikko and Kinugawa.
You can make reservations in advance through the Internet.
We will notify you on the JR East web site as soon as a new hiking event is confirmed.