Mass–Production Prototype for New High–Speed Shinkansen Trains (E6 Series)
East Japan Railway Company
February 2, 2010
East Japan Railway Co., Ltd. (JR East) is building new E6 series Shinkansen trains which will be coupled to E5 series trains on the Tohoku Shinkansen and will run on the Akita Shinkansen. Maximum operating speed will be 320 km/h. The mass-production prototype for the series is to be complete in July 2010.
The E6 series is planned to begin commercial operation with a top speed of 300 km/h at the end of FY2012, and commercial operation at a top speed of 320 km/h at the end of FY2013.
1. Features of mass–production prototype
To enable running at 320 km/h on the Tohoku Shinkansen, the E5's new technologies enhancing environmental performance (such as the long nose), running performance (of brakes, etc.) and riding comfort (e.g., full active suspension in all cars) will be put to use in the E6 as well. The E6 will also have good running performance for sharp curves on the Akita Shinkansen, which is a converted conventional line.
The E6 series will incorporate improved environmental performance and barrier–free amenities. Each train will have seven cars, to provide the same passenger capacity as the six–car E3 series trains.
2. Exterior design
The form of the train will reduce micro–pressure waves and be painted with colors matching its elegant but bold look.
Upper color : Madder (dark) red
Car color : "Hiun" white
Middle color band on train : Arrow silver
Exterior Images of New Shinkansen (E6 Series) Mass–Production Prototype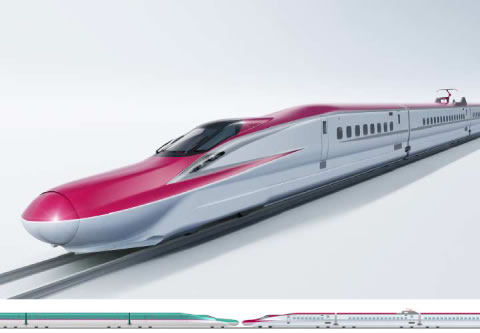 3. Interior design
The key words in the design were "comfort," "gentleness" and "for you," with the design concept "careful workmanship and custom–made."
< Green Cars >
Offering a calming interior, green car cabins will let passengers have a relaxing trip.
< Ordinary Cars >
The interior of ordinary cars is meant to evoke the uplifting feel of nature as when passing through a lush field of growing rice.
Interior Images of New Shinkansen (E6 Series) Mass–Production Prototype
Green Car Passenger Cabin
Ordinary Car Passenger Cabin