Design of the New High-speed Shinkansen Train (E5 Series)
East Japan Railway Company
February 3, 2009
In anticipation of the opening of the new Aomori link on the Tohoku Shinkansen, JR East has been working to increase the speed of the Shinkansen train.
Currently, we are developing a mass-production model for the new high-speed Shinkansen train (E5 series). We expect the trains to operate with a maximum speed of 300 km/h by the end of 2010 and 320 km/h by the end of 2012.
This press release gives information on the design of the mass-production model.
1. Exterior design
The colors are based on those of the "FASTECH360".
Upper color : Tokiwa green
Lower color : Hiun white
Middle color band on train : Hayate pink
These colors project futuristic and advanced image with a feeling of speed.
The nose shape is based on the "FASTECH360", with environmental performance taken into account to create the optimum design.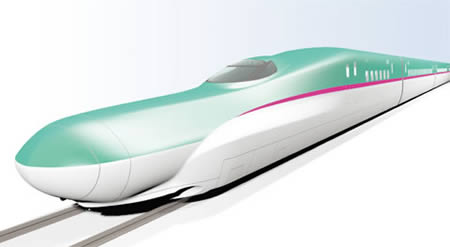 2. Interior design
The key words in the design were "comfort", "gentleness" and "for you".
Natural colors are used as the base for a warm and relaxing space.
< Green Cars >
Warm wood grain is used on the walls, with a seat pattern that evokes the natural world of cloud-capped mountain ranges. This creates a high quality and elegant passenger space.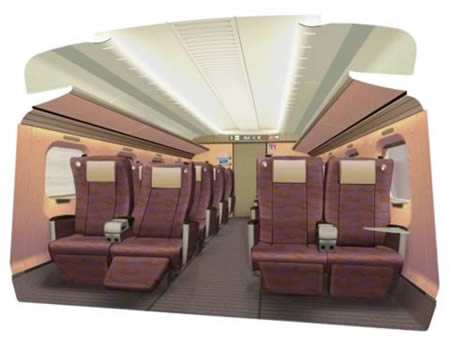 < Ordinary Cars >
Bright gray is used on the walls with a rhythmic pattern on the seats that emphasizes spaciousness. This creates a chic and modern passenger space.
Similar to the current "Hayate" train, the seat colors in the odd numbered cars and even numbered cars are different.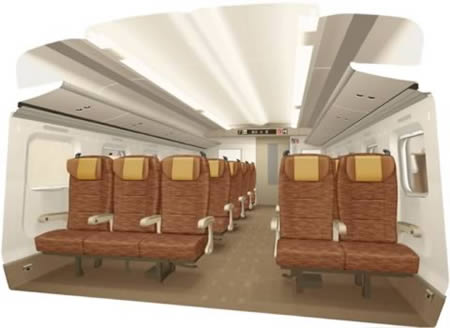 Odd Numbered Cars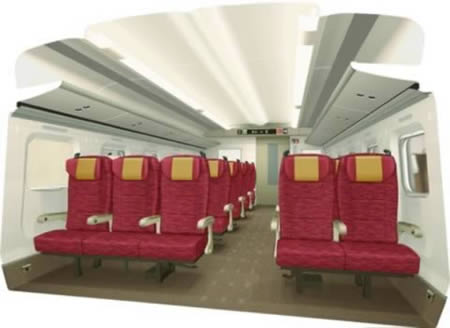 Even Numbered Cars