—Tokyo Station City Starts to Take Shape—

Sapia Tower, Situated at the Nihombashi Exit of Tokyo Station, Completed in March 2007
East Japan Railway Company
March 6, 2007
The first stage of the Tokyo Station City Development Project—Sapia Tower at the Nihombashi Exit of Tokyo Station—completed
Sapia Tower, located at the Nihombashi Exit of Tokyo Station and centered on the theme of knowledge and learning, was completed this month. This building will act as a knowledge exchange and information transmission center, based on the concept of research and education. Many universities and other educational institutions will be located in the building, with educational courses to be offered to the public.
A Suica non-contact IC card system will be used at office entry and exit points to the building to maintain a high level of security.
The concourse leading to Sapia Tower will be refurbished and new stores opened in time for the opening of the building.
1. Building Tenants
A ceremony will be held March 8, 2007 to celebrate the completion of the building, after which tenants will start to move in.
Tenants in the building office faciliites will include companies, universities and other educational institutions, and medical corporations. (See Sapia Tower tenants)
Sapia Tower will also act as a knowledge exchange and information transmission hub, with a number of universities taking up occupancy. Many will use the building as a Tokyo campus to offer graduate courses or as a Tokyo office to collaborate with industry and the government, or provide assistance to alumni.
Some companies will move their head office to the Sapia Tower to take advantage of its outstanding location, directly connected to Tokyo Station. Others will use the building for business consulting, seminars and recruiting activities, making use of the conferencing facilities available.
The building will provide a range of medical services, including internal medicine, gastroenterology and other specialties, as well as clinical facilities offering comprehensive medical checkups (including general health and cardiovascular and digestive system assessment).
There will also be an office building-style convenience store and other outlets providing business support. These stores will open April 3, 2007.
2. Suica System Employed
A non-contact IC card system using Suica will be used in the building office facilities for extra security. This system will offer workers in the building both convenience and peace of mind since the Suica card can also be used as e-money and for travel on the network of other railway operators through integration with the PASMO system.
Suica cards can be used to make purchases at vending machines within the building, to pay parking fees, and at the hotel restaurant and conference facilities lobby. Suica cards can be charged within Sapia Tower—using a credit card at the VIEW ALTTE in the entrance hall or with cash at the "Famima!!" convenience store.
3. Refurbishment of Concourse Leading to Sapia Tower
The concourse leading to Sapia Tower has been refurbished. The interior now has a transparent feel thanks to the glass used, giving a bright atmosphere. Station facilities will be repositioned and stores, such as a drugstore, comprising a pharmacy and esthetic salon, and a café, invited.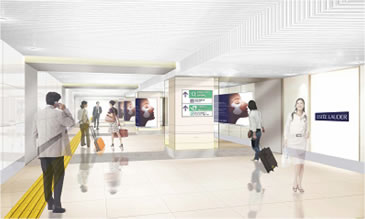 A Tokyo Station City website has been established, providing details of the development plan and the history of Tokyo Station.
Sapia Tower tenants
Name of tenant
Usage
Universities
Kansai University

| | |
| --- | --- |
| • | Centers for cooperation between industry, academia and the government |
| • | Remote classrooms, Tokyo branch and alumni association offices for universities not located in Tokyo |
| • | Seminar rooms |
| • | Graduate school |
| • | Laboratories |
| • | Culture courses, finance / law / tax research center courses |

Kwansei Gakuin University
Kyoto University
Konan University
Saitama University
The Sanno Institute of Management
Graduate Institute for Entrepreneurial Studies
Tokyo Institute of Technology
Tohoku University
Niigata University of Health and Welfare
Hokkaido University
Ritsumeikan University
University of Marketing and Distribution Sciences
(other institutions)
Companies
Asahi Intelligence Service Co., Ltd.

Asahi Pretec Corp.
Amgen KK
JR East Personnel Service Co., Ltd.
Japan Baseball Center
Shin Kurushima Dockyard Co., Ltd.
Japan Petroleum Exploration Co., Ltd.
Software Industrial Co., Ltd.
Business Consultants Inc.
BlackRock Japan Co., Ltd.
Kitahama Partners (law firm)
(others companies)
Clinics
Sakakibara Kouseikai
Sapia Tower Clinic (cardiovascular medicine, gastroenterology, pulmonary medicine, general internal medicine, comprehensive medical checkups)
Stores
Name of tenant
Name of outlet
Type of store
I&A Co., Ltd.
Florist Sting
Florist
Starbucks Coffee Japan Ltd.
Starbucks Coffee Japan Ltd.
Coffee Shop
Dynac Co., Ltd.
Papa Milano Trattoria
Italian restaurant
FamilyMart Co., Ltd.
Famima!!
Convenience store
Pronto Corporation
espressamente illy
Italian style café / bar
Sumitomo Mitsui Banking Corporation
Sumitomo Mitsui Bank ATM
ATM