Installation of the First Network Signal Control System
East Japan Railway Company
November 7, 2006
Control of signals and shunts in station yards uses copper cables laid from the control unit to each signal device. When performing work on signal devices, it is necessary to lay a large amount of cable, undertake complicated wiring work and test the wiring for every signal device.
To avoid these problems, East Japan Railway Company (JR East) has developed a network signal control system where IP technology is used to control signal devices connected to the control unit by optical cable. This new method decreases the amount of cable to be laid, reduces and simplifies wiring work and enhances reliability through the dual control circuit.
This is the first time in the world for a control system to be installed that uses optical cable and IP technology for control of terminal signal devices. Full-scale development began in fiscal 2004 and is nearing completion. The first system is scheduled to be installed at Ichikawaono Station on the Musashino Line in spring 2007.
Conventional signal control
Large volume of copper cable
Complicated wiring work
Test required for each signal device
Network signal control
Optical cable and IP technology used
Less amount of cable needs to be laid
Wiring work reduced and simplified
Dual control circuit enhances reliability
Development and installation process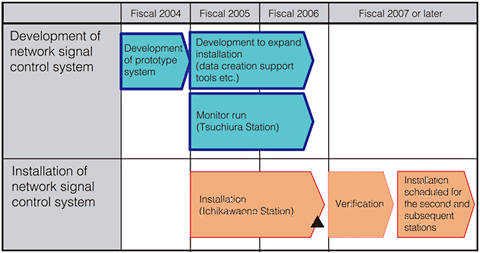 Results of installation