Management of Three JR East Group Hotels in Tokyo Area to be Integrated
East Japan Railway Company
February 8, 2005
On April 1, 2005, East Japan Railway (JR East) will integrate the management of three hotel companies in the Tokyo area (Hotel Metropolitan Co., Ltd., Hotel Edmont Co. Ltd., Nihon Hotel Co., Ltd.). The reorganization will result in one company with ownership and management functions, and three companies focusing solely on operations.
By integrating management, the network of JR East hotel companies is working to strengthen its financial base, run its support functions more efficiently and improve its stocking and sales functions. The objective is to implement an efficient management organization capable of performing strongly in the competitive Tokyo region.
This new management organization will seek to respond appropriately to customer needs and improve services in order to enhance reliability among customers and run hotels that customers will regularly choose.
Summary of management integration
Date of management integration
April 1, 2005
Management organization after integration

The reorganization will result in one company with management and ownership functions, and three companies focusing solely on operations.

‹Management organization before integration›
Hotel Metropolitan Co., Ltd.
Manages and operates the Hotel Metropolitan
Hotel Edmont Co., Ltd.
Manages and operates the Hotel Metropolitan Edmont
Nihon Hotel Co., Ltd.
Manages and operates the Tokyo Station Hotel

‹Management organization after integration›
· Management company
Nihon Hotel Co., Ltd.
Manages the following three hotels in the greater Tokyo area
· Operating companies (three)
Hotel Metropolitan Co., Ltd.
Operates the Hotel Metropolitan
Hotel Edmont Co., Ltd.
Operates the Hotel Metropolitan Edmont
Tokyo Station Hotel Co., Ltd.
Operates the Tokyo Station Hotel
‹Management organization before integration›

‹Management organization after integration›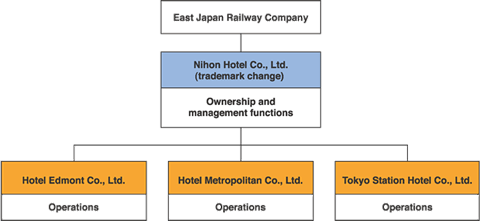 [Summary of management company]
Company name
Nihon Hotel Co., Ltd.
Location
1-6-1 Nishi-Ikebukuro, Toshima-ku, Tokyo
(Address of current Hotel Metropolitan head office)
Capital
4 billion yen
Ownership

| | |
| --- | --- |
| East Japan Railway Company | 99% |

| | |
| --- | --- |
| Tetsudo Kaikan Co., Ltd. | 1% |

FY2005 sales forecast
Approx. 23 billion yen
[Summary of operating companies]
Company name
Hotel Metropolitan Co., Ltd.
Location
1-6-1 Nishi-Ikebukuro, Toshima-ku, Tokyo
Capital
50 million yen
Ownership

| | |
| --- | --- |
| Nihon Hotel Co., Ltd. | 100% |

Hotel under management
Hotel Metropolitan (815 guest rooms)
Company name
Hotel Edmont Co., Ltd.
Location
10-8, 3-chome, Iidabashi, Chiyoda-ku, Tokyo
Capital
50 million yen
Ownership

| | |
| --- | --- |
| Nihon Hotel Co., Ltd. | 100% |

Hotel under management
Hotel Metropolitan Edmont (665 guest rooms)
Company name
Tokyo Station Hotel Co., Ltd.
Location
9-1, 1-chome, Marunouchi, Chiyoda-ku, Tokyo
Capital
50 million yen
Ownership

| | |
| --- | --- |
| Nihon Hotel Co., Ltd. | 100% |

Hotels under management
Tokyo Station Hotel (58 guest rooms)
Hotel Mets Tsudanuma (81 guest rooms)
Hotel Mets Kamakura Ofuna (117 guest rooms)