Business Partnership between ShinGinko Tokyo (opening FY2005) and JR East
— "View Suica ShinGinko Tokyo Card" to be Issued —
ShinGinko Tokyo, Limited
East Japan Railway Company
October 15, 2004
ShinGinko Tokyo (Yasumasa Nishi, Representative Corporate Executive Officer*) and East Japan Railway Company (JR East, Mutsutake Otsuka, President and CEO) will issue "View Suica ShinGinko Tokyo Card," a single card for bank cashing, credit payments and Suica functions, during FY2005. This is JR East's first partner card with a bank.
The two partners look forward to working closely together to bring customers attractive new services.
* Japanese title translated
View Suica ShinGinko Tokyo Card
1 Functions
The new card combines the functions of a bank cash card and the View Suica Card.
It offers the following three functions together.

(1)Cash card
:
Enables savings withdrawals, deposits, etc. through ShinGinko and partner ATMs
(2)Credit card
:
For credit card shopping at View member stores in stations, station buildings, etc. and in JCB member stores in Japan and abroad
Cashing at station ATM corners (VIEW ALTTE), etc.
(3)Suica
:
Serves as a rail pass and Suica electronic money
2 Start of card issuance and locations handling cards
FY2005
Cards handled at head office, business centers, etc. of ShinGinko Tokyo
3 International credit card partner brand
JCB
[Reference Data]
Outline of ShinGinko Tokyo
1 Name
ShinGinko Tokyo, Limited
2 Start of business
April 2005 or later
3 Head office location upon start of business
Ote Center Bldg., 1-chome, 1-3, Otemachi, Chiyoda-ku, Tokyo
4 Business centers (branches)
Nine business centers to be established in Tokyo
(Five at start of business, the rest opening in succession)
East Japan Railway credit card business (as of Oct. 15, 2004)
1 Outline of credit business
Brand name
:
View Card
(Besides "View Card", cards such as the "LUMINE Card" are issued under names of partner companies)
Members
:
Approx. 2.75 million
(As of Oct. 14, 2004. Of these, about 250,000 are the members of View Suica card.)
Annual volume
:
302.4 billion yen (FY2003)
Annual fee
:
500 yen (does not apply to some partner cards)
ATMs
:
225 in 165 rail stations
2 Business development
| | | |
| --- | --- | --- |
| • February 1993 | : | Start of card issuance |
| • April 2000 | : | Partnered with VISA |
| • July 2003 | : | View Suica Card, combining credit and Suica functions, issued |
| • July 2003 | : | Partnered with JCB |
| • March 2004 | : | Partnered with MasterCard |
View Suica ShinGinko Tokyo Card Usage Scenarios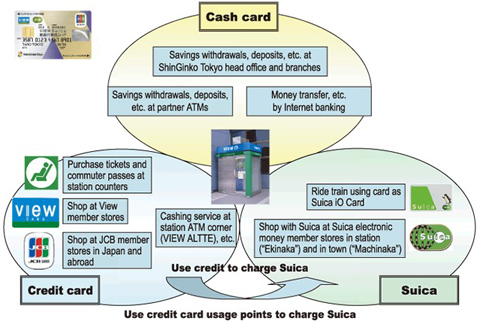 View Suica ShinGinko Card Functions, etc.