Addition of First-class Cars (Green Cars) to the Utsunomiya, Takasaki and Shonan-Shinjuku Lines, and Introduction of New Cars to the Tokaido Line
East Japan Railway Company
July 8, 2003
Green cars are currently operated in most local trains on the Tokaido line, Yokosuka line and Sobu Rapid Service and on a few other lines, and are used by an average of 57,000 passengers each day.
In addition to these green cars, JR East will add two double-deck green cars to local trains on the Utsunomiya, Takasaki and Shonan-Shinjuku lines.
JR East will also start replacing old model cars with new cars on the Tokaido line.
Green cars will be added as they are completed, with the start of their operation scheduled for summer 2004 on the Utsunomiya and Takasaki lines, and by autumn 2004 on Shonan-Shinjuku line.
Trains Scheduled for Addition of Green Cars

Local trains (including rapid service trains) on the Shonan-Shinjuku line

Note: Green cars are currently used in some trains operating in south of Shinjuku.
Local trains (including rapid service trains) on the Utsunomiya line
Local trains (including rapid service trains) on the Takasaki line

The number of trains with green cars will be gradually expanded as new cars are introduced, and is ultimately planned to reach 100% of all trains on the Shonan-Shinjuku line (around autumn 2004), and approximately 80% of all trains on the Utsunomiya and Takasaki lines (around the beginning of fiscal year 2006).

Car Introduction Plan

590 Series E231 electric railcars will be manufactured.
Of these, 98 are green cars for the Utsunomiya, Takasaki and Shonan-Shinjuku lines.
Old model Series 113 electric railcars on the Tokaido line will be replaced with Series E231 electric railcars.

Trainset Configuration
15-car or 10-car trainset configuration of Series E231 or Series 211 cars
<Reference>
Background of Green Car Operation on the Tokaido, Yokosuka and Sobu Rapid Service Lines
May 1969: First-class cars were renamed "green car"
October 1980: Green cars were added to Sobu Rapid Service trains with the start of through operation with the Yokosuka line
March 1989: The first double-deck green cars were added to the Tokaido line
March 1990: Double-deck green cars were introduced to the Yokosuka and Sobu Rapid Service lines
Separate sheet 1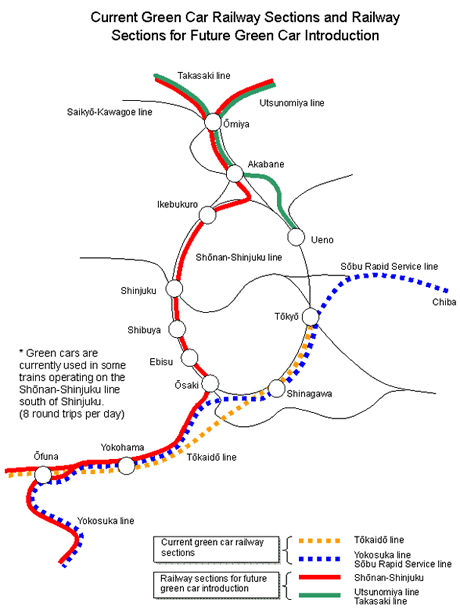 Separate sheet 2
Overview of Local Train Cars on the Tokaido Line
Series E231
Series 211
Series 113
Trainset configuration
10 cars + 5 cars
10 cars + 5 cars
11 cars + 4 cars
Control system
VVVF inverter control system
Superimposed field excitation control system
Resistance control system
Trainset capacity

Standard capacity per ordinary car

148 passengers
(longitudinal-seat cars)

128 passengers
(semi-cross-seat cars)

Standard capacity per ordinary car

140 passengers
(longitudinal-seat cars)

120 passengers
(semi-cross-seat cars)

Standard capacity per ordinary car

140 passengers
(longitudinal-seat cars)

120 passengers
(semi-cross-seat cars)

Number of doors
4 doors per side per car
3 doors per side per car
3 doors per side per car
Maximum operating speed
120 km/h
110 km/h
100 km/h