What is it?
The JR Kanto Area Pass is a discounted pass for unlimited rides in Tokyo and the surrounding Kanto area. Valid for three days, the pass is good for unlimited rides using reserved seats on ordinary cars on Shinkansen, limited express and other trains. The JR Kanto Area Pass makes it easy to visit popular tourist destinations such as Mount Fuji, Izu and Karuizawa.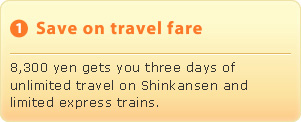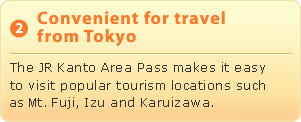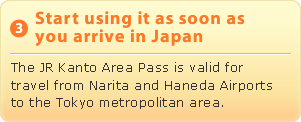 Valid Train Routes
Get on and off trains as many times as you like, using designated or unreserved seats on the ordinary cars of Shinkansen, limited express, express, rapid and local trains in the usage area shown below.
JR East Lines
Tokyo Monorail
Izu Kyuko Line
Fuji Kyuko Line
Joshin Dentetsu Line
Saitama New Urban Transit Line (New Shuttle) – between Omiya and the Railway Museum
Notes:
The JR Kanto Area Pass is not valid on Tokaido Shinkansens and JR buses.
A separate fee is required for travel outside the designated unreserved seating zone. For example, a ride on the Nikko, Spacia Nikko, Kinugawa or Spacia Kinugawa that goes outside of the JR East area requires payment of the fee at the arriving station.
An additional charge is required to ride the Hayabusa, Super Komachi or GranClass. To ride with the JR Kanto Area Pass, simply pay the limited express charge or GranClass charge.
On the Fuji Kyuko Line, separate tickets are required for the observation car of the Mt. Fuji Limited Express and to ride the Fuji Tozan Densha that climbs up to Fujisan Station on Mount Fuji.
The JR Kanto Area Pass does not guarantee seating. Reserve seating at the JR East JR Ticket Office (Midori-no-madoguchi) in advance. There is no charge for making reservations. All seats on the Hayate, Komachi, Narita Express and Super View Odoriko are reserved, and advance booking is required to ride.
The JR Kanto Area Pass Usage Area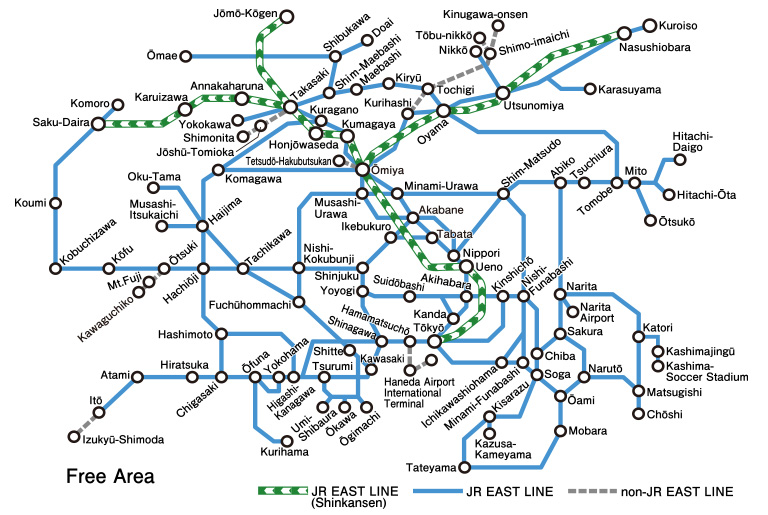 Use the JR Kanto Area Pass to see popular sightseeing locations on a budget!
* Based on a reserved limited express seat for one adult (during normal periods)
Trunk lines
Non-JR lines
Shinkansen