Sales of the JR Kanto Area Pass end on Friday, December 18, 2015.
Important Information
Special Promotion
Visit World Heritage shrines and temple amidst the beauty of autumn foliage in Nikko! Choose your own day during the Thursday, October 1 to Monday, November 30, 2015 period.
What is it?
The JR Kanto Area Pass is a discounted pass for unlimited rides in Tokyo and the surrounding Kanto area. Valid for three days, the pass is good for unlimited rides using reserved seats on ordinary cars on Shinkansen, limited express and other trains. The JR Kanto Area Pass makes it easy to visit popular tourist destinations such as Mount Fuji, Izu and Karuizawa.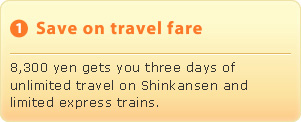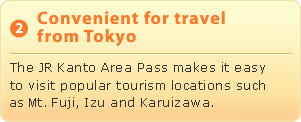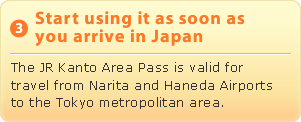 Valid Train Routes
Get on and off trains as many times as you like, using designated or unreserved seats on the ordinary cars of Shinkansen, limited express, express, rapid and local trains in the usage area shown below.
JR East Lines
Tokyo Monorail
Izu Kyuko Line
Fuji Kyuko Line
Joshin Dentetsu Line
Saitama New Urban Transit Line (New Shuttle) – between Omiya and the Railway Museum
The following limited express trains that directly run between the JR East lines and Tobu Railway lines: the Nikko, the Spacia Nikko, the Kinugawa, and the Spacia Kinugawa. Also, the local trains (including rapid trains) between Shimo-imaichi and Tobu-nikko/Kinugawa-onsen Stations.
Notes:
The JR Kanto Area Pass is not valid on Tokaido Shinkansens and JR buses.
A separate fee is required for travel outside the designated unreserved seating zone.
The Hayabusa, Komachi, and GranClass are not available. For usage, payment of limited express charges and GranClass charges is required.
On the Fuji Kyuko Line, separate tickets are required for the observation car of the Mt. Fuji Limited Express and to ride the Fuji Tozan Densha that climbs up to Fujisan Station on Mt.Fuji.
When traveling on reserved seating, please go to a Ticket Office (Midori-no-madoguchi) or a Travel Service Center at a JR East station before boarding and present this pass to obtain a (free) reserved-seat ticket. This pass itself cannot guarantee the availability of reserved seating.
You can use non-reserved seating with this pass alone. Please note, however, that some trains do not have non-reserved seating.
* All seats are reserved on the Hayate, Narita Express, Super-view Odoriko, Nikko, Kinugawa, and Spacia Kinugawa (Some other lines also have full reserved seating. Please ask our staff for more information). These trains require a reserved seat ticket.
The JR Kanto Area Pass Usage Area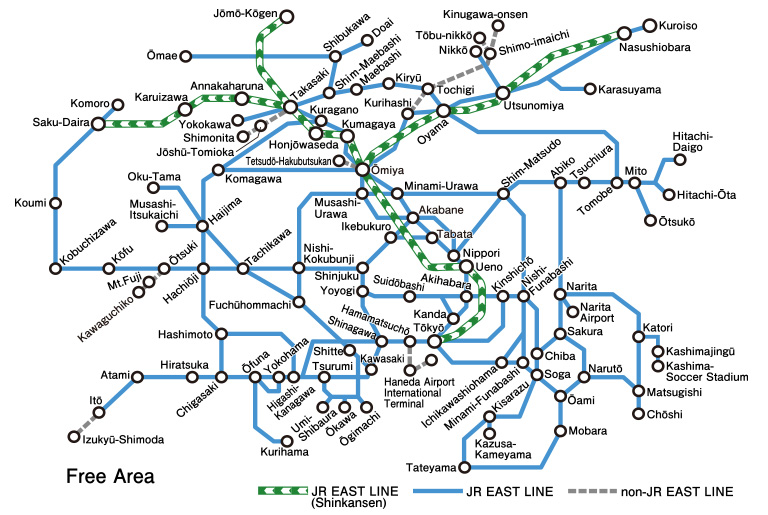 Sales locations
Notes:
Some Travel Service Centers are closed during the end-of-year and New Year's holiday season.
Office hours are subject to change and offices are subject to close without notice.
Purchase and use restrictions
The JR Kanto Area Pass is available for purchase and use only by holders of non-Japanese passports.
Always carry your passport when purchasing or using the JR Kanto Area Pass for identification purposes.
Other
Multiple passes may not be purchased for the same person for use on the same day.
The starting date of the JR Kanto Area Pass cannot be changed.
Refunds are available at JR Kanto Area Pass sales locations. The pass must be unused and the validity period cannot have started on the day the refund is made.
If the JR Kanto Area Pass has clearly not been used, a refund may be made after the start of the validity period. In this case, a refund fee applies. However, if a reserved seat ticket was issued with the JR Kanto Area Pass, no refund will be made after the departure time regardless of whether the pass has been used to ride a train.
Refunds are not made for canceled or delayed train service.
Lost passes will not be reissued.
Be sure to understand the conditions of use printed on this pass before using it.
As of October 2015.