Ekikara Hiking (Hiking from the Station) events are one-day events starting from stations throughout the eastern Japan area that anyone can participate in easily. They consist of hiking while experiencing the historical buildings and abundant nature of the areas around the stations. Participation is free of charge. Participation in the Ekikara Hiking event is very simple! All you need to do is apply through this website and then go to the reception counter at the hiking spot on the day of the event!
It is also possible to join the hike on the day of the event but a prior application is more convenient!
English-speaking staff is available to help you!
English maps are also available.
A wonderful free gift is included!
Customers who make a reservation through the Internet will receive another wonderful free gift as well!
There are no time limits, etc.
Please enjoy the hiking in your own way!

Hiking from Doai Station is a limited-period hike, available on any day of your choosing from Wednesday, October 1 to Monday (holiday), November 3, 2014. There is no participation fee, and it would make a wonderful memory of your trip to Japan. You can just turn up on the day if you like.
Date
Wednesday, October 1 to Monday (holiday), November 3, 2014
(*Except each Thursday, October 2, 9, 16, 23, and 30)


Original Can Badge
&
Hiking Map
(English Translation)
Application Time
9:30 a.m. to 11:30 a.m.
Nearest Station
JR Doai Station

Reception Area
Tanigawadake Mountain Museum
*For the route to the reception site, please see the map below.

Walking Time
Approx. 4 hours (including time looking round the sites)
Walking Distance
Approx. 10 km
Tour Fee
Free of charge
Lunch
Feel free to bring your own lunch.
Guide
This is not a guided tour. You can walk around there freely with a map.
[Route from Doai Station to the reception site]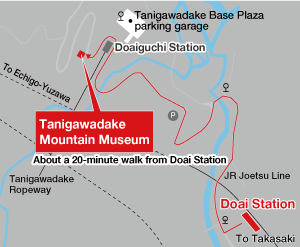 Points to Note:
You will be walking for around 4 hours so please wear comfortable clothes and shoes.
The reception facility (Tanigawadake Mountain Museum) is closed every Thursday so the hiking is not held on those days.
The hiking will proceed in the event of light rain and will be cancelled in the event of stormy weather.
After arrival at the destination, participants are free to go their own way. Please take care on your return journey.
For walking safely in nature, please reference the information below and take care concerning your clothing and the things you bring with you.
Hat
We recommend a hat with a brim to protect your head and neck from direct sunlight, tree branches, etc.
Shirt/jacket
We recommend a layered approach using long-sleeve clothing that is made of quick-drying material and that is easy to put on and take off. We also recommend that you bring a jacket to protect you from the cold.
Pants
We recommend pants that are made of quick-drying material and that allow for ease of movement. We do not recommend jeans or shorts.
Shoes/socks
Please wear thick climbing socks inside comfortable broken-in hiking or climbing shoes/boots.
Knapsack
In principle, any personal effects that you have should be carried on your back. A small knapsack for one-day outings should be sufficient. Don't forget to also bring a knapsack cover to protect it from rain.
Rain gear
Please bring separate top and bottom rainwear made of waterproof material. Be sure to bring this rain gear even if skies are clear.
Canteen
Please bring a canteen for fluid replacement.
Emergency provisions
Please bring some nutritive food that can be eaten without preparation (candy, biscuits, chocolate, etc.).
Refuse bag
Everyone should carry their refuse home with them. Please give us your cooperation in the regard.

This Hiking from Doai Station event uses a round-trip course in which the way out is a gentle uphill grade and the way back a gentle downhill grade. You can enjoy the different scenery views available on the two halves of the hike.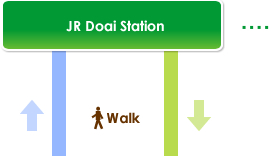 Opened on December 19, 1936, the station's northbound and southbound platforms are located in different places. The platform for northbound trains is located 70 meters underground in the Shimizu Tunnel so Doai Station is known as Japan's most extreme "mole station." To get from the platform to the ticket gate you have to walk up a stairway of 482 steps.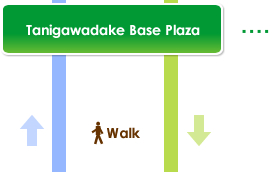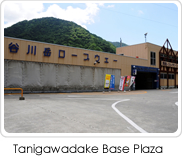 Tanigawadake Ropeway Doaiguchi Station is here along with the ropeway platform, shops, an information corner, and other facilities.
If you have time, we suggest you try riding the ropeway. With an elevation of approximately 1,500 meters, Tenjindaira offers a magnificent panoramic view of the peaks of Mount Tanigawa.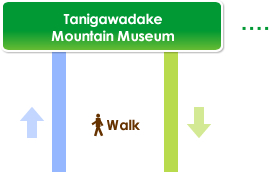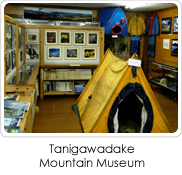 In a series of high-quality displays, this museum exhibits materials concerning Mount Tanigawa. A variety of items actually used on Mount Tanigawa have been donated and put on display, including climbing equipment and climbing magazines and books.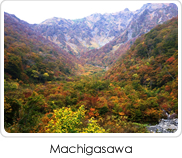 Like Mount Tanigawa's Ichinokurasawa, this ravine is famous as a rock climbing field.
In the past, climbers looking to take on the challenge of climbing the Ichinokurasawa rock wall would first polish their skills at Machigasawa. Also a mecca for spring skiing, in years with a large snowfall Machigasawa continues to host skiers enjoying spring skiing up until early summer so many people can be seen getting in some late-season training.
As is the case with Ichinokurasawa, it is possible to see some wonderful scenery at Machigasawa in the fall foliage season.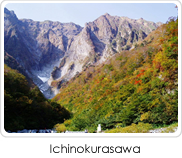 One of Japan three largest rock faces, and Tsuitateiwa has become a rock climbing mecca. Located on the east side of Mount Tanigawa (1,977 m), there are steep rock walls and complex terrain, and the weather is drastically changeable since the range is a central watershed. In the fall foliage season, the fall colors can be seen on the dynamic rock wall, and snow is visible on the summit, creating a vivid contrast between the white, red, and yellow colors.
[Adventure Festival]
Date: Saturday, October 4 and Sunday, October 5, 2014
Place: Takumi no Sato
An event for enjoying outdoor activities to your heart's content.
Over the two-day period, you can enjoy at a discount price outdoor sports such as rafting, canoeing, and bungee jumping. On the event grounds, there are mountain bike and bouldering competitions, and on the evening of the first day you can also view a fireworks display.


Gunma Prefecture sightseeing information

From Tokyo Station
Weekdays, Saturdays, Sundays and holidays
JR Joetsu Shinkansen Toki 305
Tokyo Station
dep.
7:08
Minakami Station
arr.
9:31
JR Joetsu Line for Nagaoka Station
dep.
9:47

Take the train from Tokyo to Doai Station! JR East offers discounted passes for unlimited rides.