The hiking event has finished. We look forward to serving you again.


Ekikara Hiking (Hiking from the Station) events are one-day events starting from stations throughout the eastern Japan area that anyone can participate in easily. They consist of hiking while experiencing the historical buildings and abundant nature of the areas around the stations. Participation is free of charge. Participation in the Ekikara Hiking event is very simple! All you need to do is apply through this website and then go to the reception counter at the hiking spot on the day of the event!

It is also possible to join the hike on the day of the event but a prior application is more convenient!
English-speaking staff is available to help you!
English maps are also available.
A wonderful free gift is included!
Customers who make a reservation through the Internet will receive another wonderful free gift as well!
There are no time limits, etc.
Please enjoy the hiking in your own way!

Please come to the reception counter on the day of the hike, where you will be given your Ekikara Hiking map (in English).
Advance reservations can be made over the Internet but participants are also welcome to just turn up on the day.
Date
Sunday, November 4, 2012


Original Can Badge
&
Hiking Map
(English Translation)

Note: The Can Badge may have a different design than the one in the photograph.

Application Time
10:30 a.m. to 11:00 a.m.
Nearest Station
JR Aizu-Wakamatsu Station

Reception Area
JR Aizu-Wakamatsu Station Special Reception Counter
Walking Time
Approx. 2 hours (excluding time looking round the sites)
Walking Distance
Approx. 4 km
Tour Fee
Free of Charge
Free Time for Lunch
Feel free to bring your own lunch or eat in a nearby restaurant.
Guide
If you start out at 11:00 a.m., you can walk with a local volunteer guide and interpreter guide (free of charge), who will add a unique local flavor to the walk with information on historical episodes at sites along the way.
Points to Note:
You will be walking for about 2 hours so please wear sturdy clothes and shoes, etc. on the hike.
The event will still take place even if it is raining on the day. In the event of rain please bring your rain gear with you.
Please take all of your trash home with you. Thank you for your cooperation.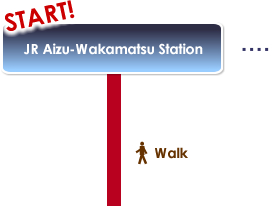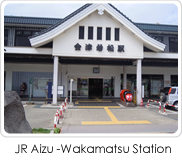 This station began operation as the Wakamatsu Teishajo stop on the Gan'etsu Railway, and at that time it was known as Machikita Teishajo. Not long after that, the municipal system was implemented and the city of Wakamatsu was born, resulting in a name change to Wakamatsu Station. To distinguish it from the Wakamatsu Station in Kyushu, the name was later changed to Aizu-Wakamatsu Station, and with the opening of the Heigun Line, the Gan'etsu Railway was renamed the Ban'etsu West Line.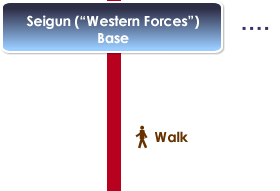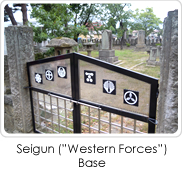 The forces of the new Meiji government that invaded Aizu during the Boshin Civil War (1868) included 30,000 troops from 36 domains (Choshu, Satsuma, etc.). This sacred ground is home to the spirits of the war dead of the more than 10 domains of new-government forces that fought in Aizu. Conditions here had deteriorated once, but restoration and maintenance were done in 1957.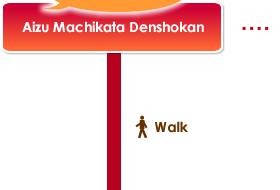 In conjunction with this guided-course event, tea is provided along with information on how to spend your free time. Here you will find Omachi Station Bicycle Rental (500 yen for one day), a variety of tourist information, rest rooms, ticket sales for Tsuruga Castle and Oyakuen park, and sales of traditional local products.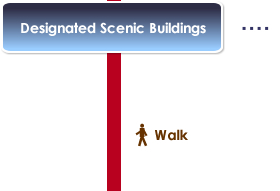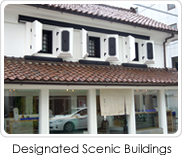 These buildings were constructed in the Meiji Period (1868-1912) in a storehouse-style of store architecture with thick mortar walls. The area has been a commerce center since the Ashina era. Lacquer ware production has long been a key core industry for Aizu, and even today there are many lacquer ware wholesalers in the Omachi district. Traditional buildings such as the Onodera Lacquer Shop can be found here.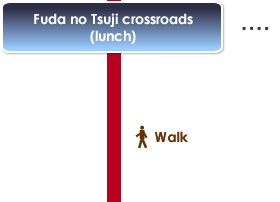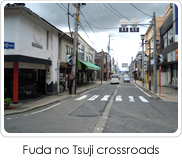 Starting point for the "Five Roads of Aizu" during the Edo Period (1600-1868), this crossroads was a place where official noticeboards were posted, and feudal lord Hoshina Masayuki posted his first such noticeboard here. There is free time for lunch here.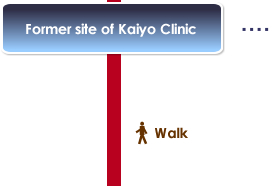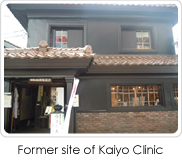 Built as the Dairokuju Bank building in the mid-Meiji Period, the bank closed after five years, and in 1891 the Kaiyo Clinic opened here. It was at this clinic that pioneering bacteriologist Noguchi Hideyo had his left hand operated on as a child. He used the second floor as a houseboy student, and it now houses the Noguchi Hideyo Seishun Hall. Graffiti written by young Hideyo is preserved on a storehouse pillar.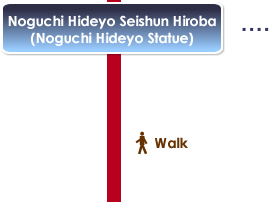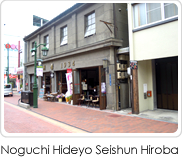 Noguchi Hideyo was an internationally known bacteriologist; he was born in the town of Inawashiro in 1876. In his early years, he lived in Aizu-Wakamatsu as a houseboy student, mastering three languages by studying on his own. The results of his efforts are known throughout the world. In this square there are stones that were used in the Edo Period residences of the Aizu Domain.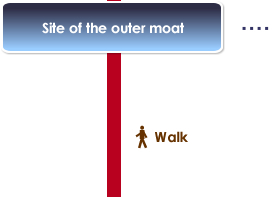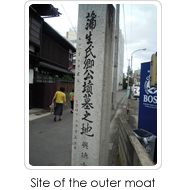 Here there are remains of the Tsuruga Castle outer moat, which had a circumference of 6,500 meters. When town planning was carried out by Gamo Ujisato (beginning in 1590), he moved all temples except Kotoku-ji outside the outer moat. At the time of the Boshin Civil War, fierce fighting took place at those temples so they served as a kind of outer defense perimeter for the outer moat itself.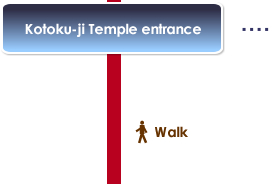 This temple is said to have been founded in 1287 by Ashina Morimune. After defeating the Ashina clan, Date Masamune used the temple as a temporary residence for his control of Aizu, and Toyotomi Hideyoshi located his residence here when he set out to discipline the Oshu region. When castle town districts were reorganized, temples were moved outside the castle's outer moat, the only exception being Kotoku-ji, which was allowed to remain within because of its history and special status.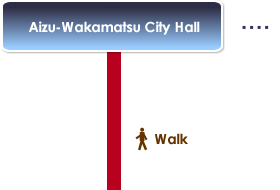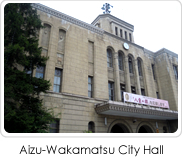 Aizu-Wakamatsu City Hall was completed on July 31, 1937 at a total cost of 170,000 yen, with a celebration ceremony being held in the city government assembly hall in the building. At the time there were few workers and many empty rooms so the building seemed almost deserted.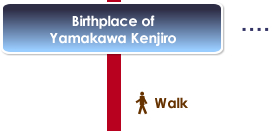 Born in Aizu-Wakamatsu, Yamakawa Kenjiro (1854-1931) was the son of one of the senior retainer families of the former Aizu domain. After studying in various places in Japan and then the United States, he went on to become president of Tokyo Imperial University and later served as president of Kyushu Imperial University and Kyoto Imperial University and as a Privy Counselor and a member of the House of Peers. He was honored with the title of baron.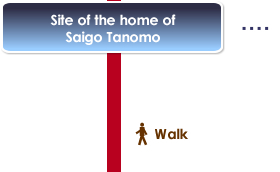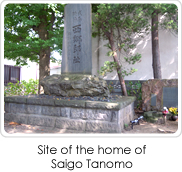 The year after his lord, Matsudaira Katamori, was appointed to the Office of Kyoto Protector (Kyoto Shugoshoku), Saigo Tanomo advised Katamori to resign from that office. As a result of this impertinence, Tanomo was dismissed from his position as senior counselor, and he spent five years under house arrest. He was recalled to duty during the Boshin Civil War, but his side was routed in half a day of fighting. At this point, tragedy struck with the mass suicide of 21 members of the Saigo family. Tanomo recommended that Katamori commit seppuku (ritual suicide), but when Tanomo's proposal that the retainers follow their lord in death was refused, he left the castle.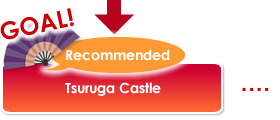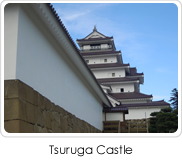 Originally known as Kurokawa Castle, Tsuruga Castle is said to have been first built by Ashina Naomori in 1384. Recently reroofed for the first time in 45 years, its black roof tiles were replaced by red tiles. A museum of local history is now located inside the castle. From the fifth floor, visitors can see the Aizu-Wakamatsu city center as well as the Aizu Basin and Mount Bandai.

Tohoku Shinkansen Yamabiko No.127
Tokyo
dep.
8:08
| | | |
| --- | --- | --- |
| Aizu-Wakamatsu | arr. | 10:57 |
More information about the Tohoku Shinkansen