Sightseeing Bus Tours
This regularly-scheduled bus is convenient for winter sightseeing in Tohoku from Sendai, Morioka and Aomori Stations. Tickets can be purchased up to the day before departure from the following Travel Service Centers.
Travel Service Centers
Ikebukuro StationSendai Station
From Matsumoto to Hida Takayama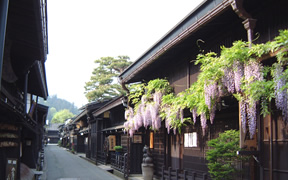 JR EAST PASS (Nagano, Niigata area) holders can purchase a round-trip ticket between Matsumoto and Takayama for 4,500 yen. That's less than half the normal price!
SADO - NIIGATA PASS
*JR EAST PASS(Nagano, Niigata area) holders only
The SADO - NIIGATA PASS is an economical transportation pass which combines a round-trip car ferry ticket and unlimited bus rides in Sado and Niigata!