"Front Line" Development

Development of a slim emergency stop button system with function to announce where it was operated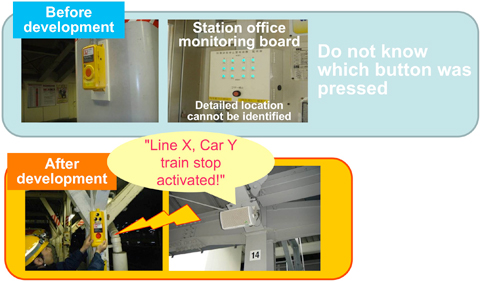 Emergency stop buttons are devices to notify the train and station personnel when an abnormal situation occurs on the platform and trains must be stopped. However, multiple emergency stop buttons are set up on the platform, making it difficult to know which button was pressed and resulting in time being taken to rush to where the button was pressed.
We thus installed wireless microphones to the emergency stop buttons and developed a function to automatically announce the location of the button pressed via the platform public address system. Furthermore, by adding an announcement function to the station office monitoring board, the location of the pressed button can be identified by the station office where the platform public address system cannot be heard.
We also made the button slim so it could be the same size as previous ones, allowing easy replacement with the developed device.