"Front Line" Development

Development of a Curing Mat for Tactile Ground Surface Indicators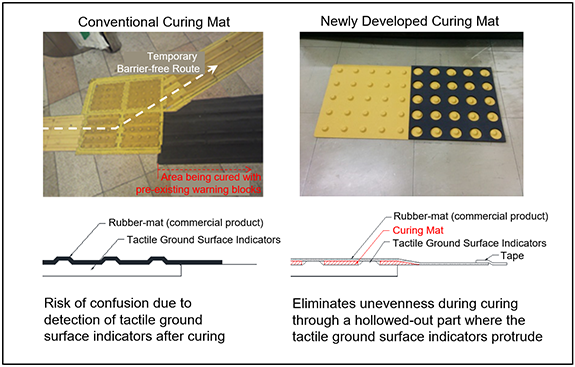 Barrier-free routes established to aid navigation for the visually impaired must sometimes be temporarily adjusted during station platform or concourse repairs.
When a construction detour of this kind was needed, we had covered tactile ground surface indicator pavement with a rubber mat. Using a thin mat meant that the old guides were still detectable, leading to confusion regarding the route. If a thicker rubber mat was used, the height difference between the mat and the floor was likely to trip customers.
In order to better guide our visually impaired customers, we have developed a curing mat where the mat has been hollowed out for the tactile ground surface indicators. Laying out our newly developed rubber mat leaves the perfect amount of room for the tactile ground surface indicators while ensuring there is no unevenness in the section being cured.