List of Recommended Itineraries for Aomori

We at JR East have planned out some great itineraries for visiting Aomori. Our itineraries allow you to enjoy an Aomori that is filled with wonderful places to see, from the famed cherry blossoms of Hirosaki Castle and the spring greenery and beautiful fall colors of Oirase Stream to the Shirakami Sanchi highlands, a World Heritage Site. We have charted out day tours and overnight tours for you to choose from, to suit your plans.
This is a great opportunity to travel to Aomori and see all the sights!
Day Trips
All of these tours can be completed in a one-day round trip from Tokyo to Aomori. These tours are recommended for people who do not have a lot of time but still want to enjoy Aomori.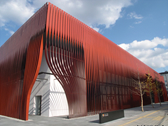 Wa Rasse – Nebuta House
This trip was designed to cover the most popular locations in Aomori City. Many sightseeing spots are conveniently located close to Aomori station, enabling travelers to enjoy Aomori even on a day trip.
Furukawa Market, Wa Rasse – Nebuta House, A-Factory, Aspam.

Overnight Trips
Here are some recommendations for one-night, two-day trips and two-night, three-day trips for those who wish to take their time in enjoying Aomori. Stay at inns with hot springs to relax as you enjoy your time in Aomori.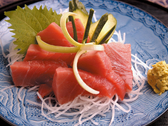 Tuna from Oma
This is a trip to take in the northernmost point of Honshu on the Shimokita Peninsula. The entire peninsula is a quasi-national park and includes Yokohama, a town famous for its fields of rapeseed flowers, which become vast swaths of yellow when they are in bloom, and Mount Osore, the largest sacred ground in Japan. In addition, the tuna of Oma is famous throughout Japan, and it has a superb flavor.
Mount Osore, Oma (the tuna town), the rapeseed blossoms of Yokohama between mid and late May.


Aomori Museum of Art
This is a trip that allows visitors to spend time taking in the sights of Aomori City, and it even includes excursions to its suburbs. Over the course of two days you will find that there is plenty to immerse yourself in, as you view the Jomon historical site at Sannai-Maruyama and the collection of Yoshitomo Nara's artwork at the Aomori Museum of Art.
Walking tour within Aomori City – Furukawa Market, Wa Rasse, A-Factory, Aspam, Aomori Museum of Art, Jomon historical site at Sannai-Maruyama.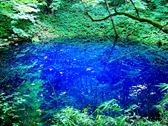 Juniko
This two-night, three-day itinerary is for those who want to relax and enjoy Hirosaki and Goshogawara. It is designed to allow you to enjoy the rich natural landscapes of Aomori from the train windows on the Gono Line, and it is also steeped in history and culture. Among the attractions is a visit to the home where the great Japanese author Osamu Dazai was born.
Resort Shirakami, Juniko, Hirosaki City, Goshogawara City.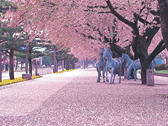 Kanchogai-dori in Towada during prime cherry blossom season
This trip takes visitors through the Hachinohe area, which is well known for its seafood. Since Hachinohe is a prosperous fishing port, you can eat cuisine that uses fresh, delicious seafood anywhere and at any time here. We were also able to put together a full itinerary because the adjacent city of Towada has lots of interesting locations for travelers as well.
The Hasshoku Center (a large market), Komaki Hot Springs (Aomori-ya), Towada Art Center, Kanchogai-dori in Towada.


Oirase Stream
This itinerary lets visitors enjoy the natural beauty of Aomori. We´ve planned this trip to be soothing, with a pleasant cruise on Lake Towada, and a walk along Oirase Stream, rich in spring greenery and fall colors.
Hakkoda Ropeway, Sukayu Hot Spring, Oirase Stream, Lake Towada.

Icon Guide
Features the vast natural beauty of Aomori.

Features the pleasures of Aomori´s delicious cuisine.

Features the pleasures of Aomori´s famous hot springs (onsen).
Features historical Aomori structures and traditional arts.

Features a full range of shopping spots including Aomori´s shopping malls.
Timetables and seat reservations