Baggage Services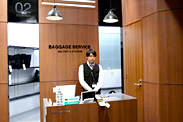 Temporary storage of hand luggage
Take advantage of our check-in services for hand luggage so you can take in the sights around Tokyo Station.
Hours of operation: 7:30 to 20:30
Fee: 600 yen per item (tax included)
Please note that checked-in luggage must be reclaimed on the same day before close of business.
For further details, inquire at the service window.
Delivery services (TA-Q-BIN)
We ship packages in Japan and abroad.
Prices for this service vary according to factors such as shipping destination, and the size and weight of the package.
Please note that restrictions apply to certain items.
For further details, please see the following website:

Porter services
Porter services are available in the locations listed below within Tokyo Station.
・The Shinkansen (JR East, JR Central)
・N'EX
・Keiyo Line
・The Hato Bus loading areas
・The taxi loading areas
・The Airport Limousine loading areas (Yaesu south exit)
・At Tokyo Station Hotel
Porter services are offered in English and Japanese.
Reservations available 7:30 - 18:00
The fee for porter services is 1,500 yen for up to three items (size and weight restrictions apply).
These services are not available for certain items such as skis, snowboards and folding bicycles.
If there is not adequate time for the porter to reach the destination before the boarding time, requests for porter services may be denied.
JR East does not bear any responsibility for failure to arrive by the boarding time due to delays caused by station congestion or the like due to unexpected events in the station such as inclement weather, a delayed train or an unscheduled stoppage.
Services are available only at the service window. Please see the service window for further details.
Currency Exchange / ATM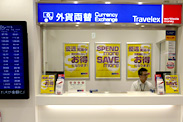 Currency exchange window
The currency exchange window provides cash exchanges in 33 currencies, and sells traveler's checks and other products.
Foreign currency exchange ATMs
Automated machines providing cash exchanges in seven currencies.
See the website below for further details.
http://www.travelex.co.jp/JP/For-Individuals/Products-and-Services/Products-and-Services-for-Individuals/
ATMs
Use credit and debit cards issued in other countries to withdraw Japanese yen.

See the website below for further details.